How to Approach a Girl for Dummies
a guide on how to talk to the girl you like, written by a dummy for dummies.
by the_foreign_guy
[DISCLAIMER IN RED FONT: the_foreign_guy is not an expert in this field. He has no phD in talking to girls. Use the following advice at your own risk. the_foreign_guy is not responsible for any damages, physically and emotionally. Results may vary.]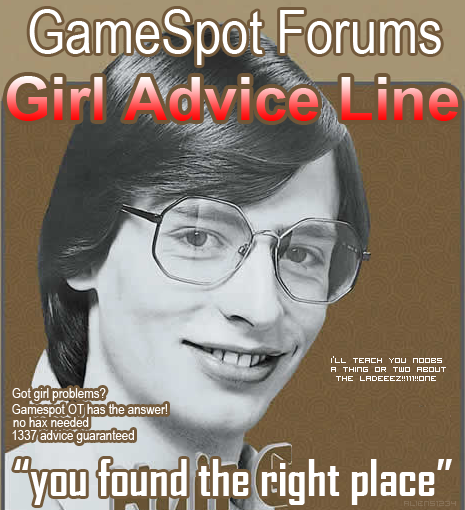 Introduction

The influx of girl advice threads has driven me insane, so I decided to make a guide. Anyways, I created this guide for you, the average gamespot poster. Enjoy and use this at your own risk!

Before You Begin...

Remember that girls are human beings. They're not strange monsters or goddesses. They are completely approachable, try not to put them on a pedestal. Infact, do not try to think of them as objects that you can "win" and "collect" or "catch 'em all."

The Approach

Want to know a secret? You want to know the best way to get that girl to be your girlfriend? Well, the answer is very simple. TALK TO HER!!! I cannot stress that enough. Talk to her, get to know her more. Let her to get know you more. Seroiusly, how can she like you if she doesn't even know you? Make direct eye contact, (that may be uncomfortable for you at first), but please do not look at her chest.

What do you talk about? Talk about anything and everything that interests her. Girls love to talk, and girls love to talk about themselves. Ask her questions, but don't interrogate her. Just follow through and be interested in her. (You are interested, aren't you?) One conversation will lead to the next, and before you know it, you time will fly by. Talking is the very best way, and relationships cannot build without communication. Also, be yourself and DO NOT lie. Lying will get you in trouble in the long run. Just be honest.

Girls like guys they can be comfortable with. Girls like guys who make them laugh and make the worse days seem good. You're saying to yourself, "I can't be that guy, I just can't be." That's your first mistake. You can be that guy, but you don't have the guts to do anything because you're too busy pitying yourself.

Asking Her Out

Once you get to know her more, ask her out at your own discretion. You have nothing to lose. If she says no, you're back to normal being single again. If she says yes, then yay for you, you're in a relationship now. Take a chance.
Remember, if she says no, it's not the end of the world even though it seems like it. There will be other girls, there always is. You guys reading this are most likely in high school or college. Serious relationships will happen later in life, and most high school relationships aren't very serious anyways. Don't worry about it!
What? She said Yes!?!

Good. Don't mess up. Don't be an idiot and cheat on her and later ask why she broke up with you.


FAQ

Q. What is a girl?
A. They are mythical creatures heard in legends.

Q. Why should I take your advice?
A. You shouldn't. Use it at your own risk.

Q. But I'm not good looking enough. :cry:
A. That's not even a question. And, you have no self-confidence. Besides, most girls are interested in personality more than looks. Looks is important, but not as important as personality.
Q. Didn't you post this ages ago though? Or is it like updated or something?
A. You mean this thread? Yes I did. I'm just sick of all these girl advice threads that I decided to do an update.
Troubleshooting

The girl doesn't like me.
Are you talking to her? Does she even know you exist? Talk to her.

The girl still doesn't like me.
Move on and forget about her.

She always bothers me when I play my videogames.
Spend some time with her. It's okay to take breaks for a while, but if you chronically avoid her, then you're not ready for a relationship.
What Not To Do
-Touch her shoulder.
-Use the pickup line,"Say baby, you want to find a remote access point with me?"
-Anything this guy tells you to do.
Words of Wisdom from Other Users


may I add my words of wisdom?

[Warning, unformatted rantings of a caffinated brain]

When people ask for relationship advice, the absolute most common response is "just be yourself"

And in my opinion... that is the absolute worst advice one could give. :| By "just being myself" I have ended up not getting any dates, or any girls interested in me on a deep level for 20 years and some change.

But what should the advice be that a questing relationship seeker gets. Well, I don't say "just be yourself" I say "be who you want to be"

They seem quite similar, but are very different. In no way am I telling you to put on a false facade when around girls you're interested in. that's worse advice than JBY. I say "be who you want to be" for one reason, and one reason only. Guys asking for relationship advice have been themselves the whole time.

Be who you want to be. Essentially means:

Ask yourself this question: If I were gay what traits would I like to find in a guy?
Buff? Personable? Funny? Intelligent? Kind? etc
Pick 3-4 traits and then mold yourself in your day to day life to exemplify those traits.
Want to be personable? talk to everyone you meet*
Want to be funny? Make everyone you meet laugh*
Want to be more knowledgeable about stuff? READ UP ON THINGS THAT ARE INTERESTING
Want to exemplify kindness? Volunteer.
You know the drill.

And the awesome thing about that, is not only can you use these ideas to pick up girls, you can use them in your every day life to great effect.

Essentially what I'm trying to say is generally improve yourself and people (primarily girls) and opportunities (with said girls) will flock to you.

"What the hell do the asterisks(for teh idortz out there this is an asterisk >*) mean?" Good question. The asterisks, if you'll notice are next to things that are about everyone you meet. Now I don't mean people you're introduced to at parties. People you meet EVERY DAY. People in line next to you at taco bell, people browsing the same isle as you in wal-mart, People sitting next to you at starbucks. Anyone And Everyone You Meet.

"But BD, what if they think i'm an idiot?" haha, silly, silly you. What are the chances of you seeing them again. If you live in any city or town that is on a map, you are likely not to see them again.

"Why talk to everyone." To get you comfortable in your own skin. A person should be comfortable as themselves before they seek the companionship of another. As many know, I'm fugly, but I'm confident enough in my personality that when I talk to someone, they will be generally interested. A cool fact I learned, People Like To Be Talked To.

More to come

blooddemon666
About self-confidence
Alright... first off I highly recommend everyone buy the book "How to Win Friends and Influence People" and "How to Stop Worrying and Start Living" by Dale Carnegie. These might be the only self-help books I will ever recommend. It is recommended reading for anyone in Marketing and Sales as well and I have used all the stuff in the book in my modules and I am summarizing most of it here as well.

Also, many of the things I will say will sound like common sense and DUH. But as I said, reading and knowing are different from actually exercising what you read and learn. So take whatever I have to say in.

Self Confidence

Many people confuse self confidence with being conceited. To be perfectly honest - they are one and the same thing, but one is fueled by the idea "I AM BETTER THAN YOU" and the other by "I AM WHAT I AM". Gaining self confidence is not an overnight thing and there are a few things that need to happen in order to acheive it.

1. YOU ARE UNIQUE. Self explanatory.

2.YOU ARE IMPORTANT. You matter and your opinions matter, just as much as the person next to you, the president of the United States or ANYONE ELSE.

3. YOU ARE NOT PERFECT - no one is. Accept that you can make mistakes. Accept the fact that not everyone will like you. Accept rejection - you cannot please everyone as everyone can not please you. And that it is okay if they dont because you wont. For every person who doesnt like you - you will have someone who does. Many people who lack self confidence can not get passed this. They fear so many things that HAVE NOT HAPPEND. They waste countless hours thinking of what ifs, what nots, and couldhavebeens.

3. KNOW YOUR STRENGTHS AND WEAKNESSES - keep a list if you have to. Some people are not aware of their strengths and weaknesses. I HIGHLY recommend asking people around you what they think your S/W are. You'd be surprised at some of the answers. It can be as deep or as shallow as you want. Knowing this will help you focus on something positive and help you improve the negative.

4. LOVE YOURSELF - If you did #3 - then it is impossible to not do #4. Energy transfers. Everyone can find something about themselves they love and once you know what you love about you it is easier to share it with others.

GETTING PEOPLE TO LIKE YOU (aka how to be a good social butterfly)

Self confidence builds as well when this is done right. Its really simple things - common sense, again as I said. But easier said than done.

1.SMILE - a real geniune smile. Smiles are contageous. Pass it on.

2. A PERSON's NAME IS IMPORTANT- That is the sweetest word to someone else's ear. Their name, in a positive light.

3. MAKE A PERSON FEEL IMPORTANT - When you interact with others, making them feel important is the best way to win them over. Lets face it, a person loves to talk about themselves. Encourage it! Be interested in them. Be interested in what they have to say. This ties in with #2 of self confidence - if you build someone else's self confidence - they will only think highly of you which will help yours. It goes both ways! Do your research on someone you meet or are about to meet (its so easy nowadays with stalker friendly internet information available) and educate yourself on things that INTEREST THEM! (This is also a wonderful way to keep conversation going). *please note: Yes, what we are trying to achieve here is to get the person to talk about themselves - but this does not mean that you LET them do all the talking. A conversation is a two way street - that is why I am saying educate yourself because you will actually be able to bounce back geniune feedback!

4. DONT CRITICIZE BUT PRAISE - People make mistakes (as mentioned) but instead of cricizing, guide them to the right path. Praise them for their efforts, and sympathize with what they are going through when they make mistakes - since you have and will make one too.

Now you're all asking yourself WHAT ABOUT ME?! WHEN DO I GET TO TALK ABOUT MYSELF?! - because we are important too right? Well, in a perfect world, both people would have the same mentality then it would be super easy to maintain this relationship. But right now, what we are going for is this - if you invest time in getting to know a person and centering your focus on them when you meet them, they will like you. And when they like you, they would want to be around you more and they would want to get to know you as well.

A person with a positive impression of you will most likely:

1. Go along with your way of thinking

2. Make a friend of you for life

====================================

Sorry if that didnt make sense. I might edit it more when I am not as brain dead. But this is the jist of my module for my sorority. We do this every recruitment period. The concept is "WE WANT THEM TO WANT US". Which works fabulously for anything.

And yes, I know a lot of your guys goal is to NOT be in the friend stage with the girl. But to be perfectly honest on that note - if you guys focus on that too much, you mess up and get stuck there anyway. Just let the ball roll. Feel things out and do what you gotta do in a given situation. And yes, girls dig the self confidence and the being liked by others. Its very attractive.

Sajedene
How to use a phone with girls: By Premier1101

Hey lucky guy, maybe you're a step ahead now and landed yourself a pre-set date or phone number. Good Job! Now comes the hard part.. the follow through. Most girls when they give you their number don't want you instant texting her your whole life, and they don't give it to you to go back a week later to say "what's up I'm bored". There's that time frame where chatting is golden. It is pre-determined when you actually get the number, but 2-3 days should seem right if no plans were made ahead of time. Remember that rushing sounds desperate and procrastinating sounds lazy. But also remember that the later in the week, the less time you have to get something set up for the weekend!

First step: the opening call/text-

So when she gave you her number or accepted a date, did she ever say call me or text me whenever? That is highly important because girls will be watching for a call or waiting for a text, especially if given a certain time-frame. Nowadays, texting has become much more common-face and great ease-in to any relationship, but you have to ask yourself the first question because if her plan makes her pay 15 cents a text, she might be mad if she said call; for her minutes may be different. Always ask during the first conversation! Ask if calling or texting is better and you say what you prefer too. First thing you should do is introduce yourself, the cleverly the better, but don't sound like a smartass, also think about what you can say; find some common ground. If she's interested in you than you must be interesting, so find something easy to talk about, sports, courses, something at school or outside, friends etc.. Its simple. Also included in your first conversation is your plan. How do you plan to meet?When and where? Be confident in what you want to do, you were the one who set this up right? Get a nice intro, ease into convo, and exit with plan-o, jk... but yeah that.

Eventually you'll learn which she prefers and will be txting I heart U! and saying "No you hang up" before you know it.. But remeber these hints:

Always ask questions! Girls love talking about themselves, Girls love talking about others, Girls love talking. Period. Get them chatty and they'll be looking forward to splurging on you. But also dont give up too much info, make her poke and prod to get answers, they like a little challenge...

If you are nervous, take a breath, and stop to think. Keep uhs and ums to a minimum. Also keep stuttering to a minimum. You will not like it when she mimics you for jokingly stuttering and you continue on with it...

Make sure you are talking to her and not her family, friends, or siblings, at least for an extended amount of time. I'd say one minute is sufficinet enough to say "Hi what's your name? fake laugh at dumb joke, uh-huh" thenpolitely ask to speak back with the girl. Be courteous when on the phone, because if they like you over the phone, they will more than likely smile at the girl they hand it to and leave a little impression for her to pick up on...

Make sure you guys get your jargon sorted out, it means that you need to that lol= I laughed and etc... if she's txting ? a lot, you need to stop before you send and read it to make sure that someone else would understand it, then send it. Screwing up a txting conversation or not saying things clearly is a breakdown in communication. Not something you want with a new girl.

Premier1101
Conclusion

tl;dr - Talk to her!!!
I'll add to the guide whatever I see fit. While this might not stop "girl advice" threads, it'll help keep the number of them down.