*****************************************************************
*Links to other FAQS:
*
*Graphical Comparison FAQ
*What you get, and what you need.
******************************************************************
If you are new here, you might want to consult this FAQ first. This is a first time I wrote a FAQ so don't hesistate to report errors.I advise you to NOT quote any of my information, it'll keep the FAQ running smoothly and people won't have to scroll down a lot. Another I want to point is that this FAQ was NOT to answer questions about GameSpot. If you have a question on anything non-Wii related about GameSpot, go here. Feel free to PM me about any errors. The Table of Contents is currently being worked on for fast access.
(Use Ctrl and F to scroll down)
___________________
Table of Contents
The Console
Games
Controller
Virtual Console/WiiWare/Backward Compatible
Specs/Techs
Internte Connection
_________________
I. The Console
Question: What is the "Nintendo Wii"?
Answer: The Nintendo Wii (as in "we"), formerly codenamed Revolution, is the successor to the GameCube. As you can see, the Wii's size is about the size of three DVD cases stack together. The gray is part you see at the bottom is actually the "stand" in which you put the Wii on when you want to put it in vertical stand. It can still be played horizontal. The Wii retails for $250 in the U.S., 25,000 yens in Japan, 249 euros in Europe. The Wii was released in the U.S. in November 19, 2006; December 2, 2006 in Japan; December 8, 2006 in Europe. Except in Japan, the Wii will be bundled with Wi Sports. There are rumors that Nintendo will drop the price $200, but it will not come with Wii Sports. However this is not confirmed. As of June 2007, there are currently no other color options except white. It is unknown when the Wii will come in different colors.
Q: Why "Wii"?
A: Straight from Satoru Iwata (Current president of Nintendo): "While the code-name 'Revolution' expressed our direction, Wii represents the answer. Wii will break down that wall that separates game players from everybody else. Wii will put people more in touch with their games...and each other." In other words, Nintendo called it "Wii" so that it would be easy to be pronounced on any language. Here's a video of the introduction. It should worth noting that the two "i"s represent internactive. Also [From GameSpot] another note is that "ii" is Japanese for "Good".
II. Games
Q: What games will be on the Wii?
A: Here is a list complete list. http://en.wikipedia.org/wiki/List_of_Wii_games
Q: How much are the games going to cost?
A: Nintendo stated their (first party) games will not be over $50.
III. The Controller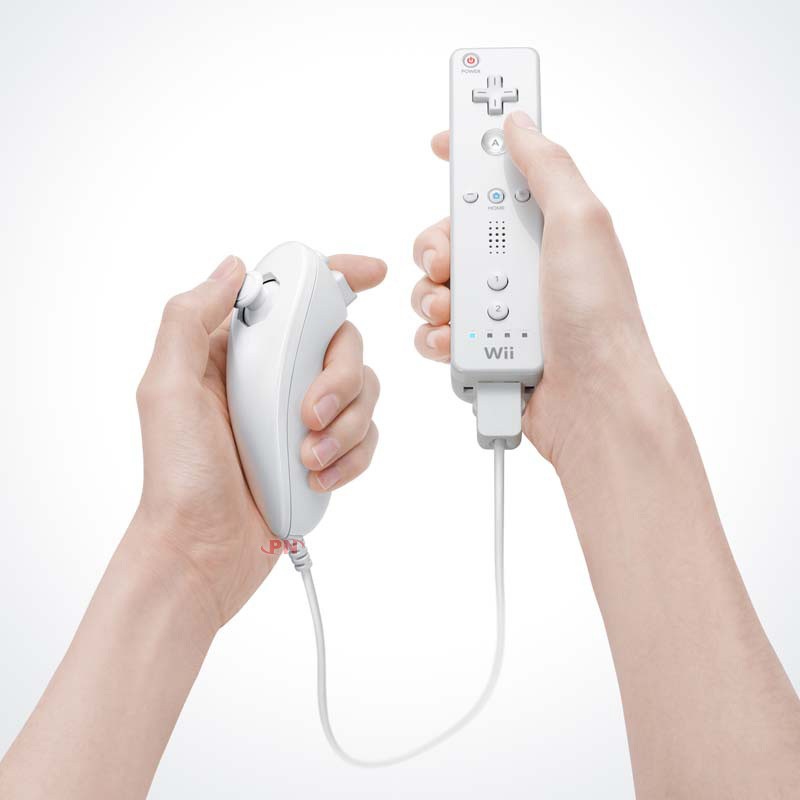 Q: Why the different game pad? What is going on?
A: No worries, although it may appear to be but a TV Remote, this is actually the controller. However, looks can be deceiving. You see, the controller has a 3D-free space. What that means is that moving the control will actually interact with the game. For example, a first person shooter like Resident Evil 4: Wii Edition will have a cursor on the screen, meanwhile, in Legend of Zelda: Twilight Princess, you can use the Wii Remote to swing Link's sword.
Q: What is that attached to the controller?
A: That is the "Nunchuk attachment". It has it's own motion sensor as well, but it's more similar to the PS3 controller's tilt sensor. For more information on the controller accessories see the accessories section.
Q: What's this "MotionPlus" attachment I keep hearing about?
A: Announced on E308, the MotionPlus will add more sensitivty to the controller. It'll have an attachment at the bottom, so you can still plug in your Nunchuck/C lassic Controller/etc.