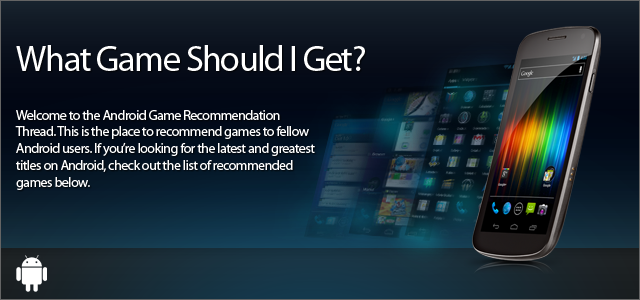 Please don't hesitate to recommend your favorite games. I'll happily add it to the list*.
Looking for a specific genre? No problem. Here's how:
Press Ctrl + F
Enter the desired search code
Press Enter
So, for example, if you're looking for the RPG section, you'd type "#RPG" (without the quotes).
Genre and search code:
Action [#ACT]
Adventure [#ADV]
Arcade [#ARC]
Cards [#CRD] and Casino[#CSN]
Casual [#CSL]
FPS [#FPS]
MMO [#MMO]
Onlive [#ONL]
Puzzle [#PUZ] and Word [#WRD]
Racing [#RAC]
RPG [#RPG]
Sports [#SPT]
Shooter [#SHT]
Simulation [#SIM]
Strategy [#STR] and Tower Defense [#TD]
For reference, I've listed the games in alphabetical order below.
GAMES:
2XL MX
A Space Shooter For Free
ABC Mysteriez: Hidden Letters
Age of Zombies
AirAttack HD Part 1
Andoku Sudoku 2
Angry Birds
Anomaly Warzone Earth HD
Apparatus
Asphalt 7
Asteroid Defense 1.0
BSwift
Clouds and Sheep
Contract Killer
Cytus
Darksiders
Destroy Gunners SP
Diversion
Draw Something
Dungeon Defenders: Second Wave
EDGE
Final Fantasy III
Flick Golf!
Flick Soccer!
Frenzy Fugu Fish
Fruit Ninja
Game Dev Story
Gem Miner 2
Great Little War
Greedy Spiders
HeavenHell
Homerun Battle
HueBrix
Illusia
Inotia3: Children of Carnia
Kami Retro
Karoshi
Lane Splitter
Lane Splitter
Lego Batman
Lego Harry Potter: Years 1-4 &Lego Harry Potter: Years 5-7
Lego Pirates of the Caribbean
Max Payne
Minecraft
Modern Combat 2: Black Pegasus
Muffin Knight
N.O.V.A. 2 HD
NEED FOR SPEED Shift
Net Big 2
NinJump
Ocean City
OnLive
Oscura
PewPew
Plague Inc.
Pot Smash
Puffle Launch
Pumpkins vs. Monsters
Raging Thunder
Rayman Jungle Run
Riptide GP
Robo Defense
Robot Unicorn Attack
Rocketron
Running Fred
Samurai II: Vengeance
Shadow Gun
Shoot the Apple
SimCity Deluxe
Sky Gamblers: Rise of Glory
Sonic CD
Split/Second
Stick Criket
Temple Run
They Need to Be Fed
Tiki Kart 3D
Tiny Tower
Turbofly 3D
Virtual Table Tennis 3D
Wind up Knight
Wordoid
Words With Friends Free
World of Goo
Yoo Ninja!
ZDefense
Images are hotlinked from various source.
*Just to note, since there are clearly people using this thread to spam their games, I'm going to add some conditions before games are added to my list. You must meet 2 of the following conditions:
The recommending user must be level 10
The games must be out for at least 60 days
It must have at least 500 reviews
The games has at least 10,000 downloads
I think that's fair, we'll see how that works out for now.