Ha! got ya. :lol: You thought I was done with Guild Wars didn't ya.;) Well, I'm over half way done. The first two games are complete, Prophecies and Factions. Working on Nightfall now, then finally Eye of the North.:D
Here's a few more images for your enjoyment.:P
This is the inside of Kurzick de House. Yes, my guild sided with the Vampires.:P Anyone who knows me, knows I love vampires.;) as well as Wolves.
Oooo what's this? Well one of my heroes now has the exclusive pet, The Phoenix.:D Which I was able to get after completing Factions. yay! got one!
The next two pictures are my newest and was taken yesterday evening as my team entered a new area of the game. It's in EotN, we were playing in this area, because it was bonus weekend, and we earned double EotN points.;)
The area is Riven Earth and it is just beautiful.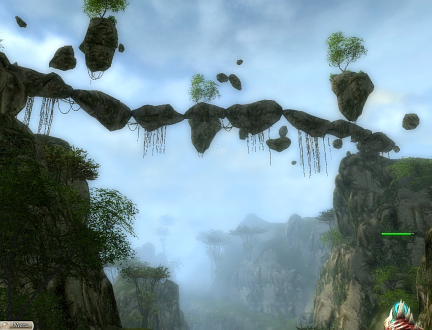 on the home front: Dad is doing good. I have my power back. So life is good.:D
Hope you enjoyed. Til next time, keep smilin':D
~Shewolf aka Nel :)