Hello my friends,
I started an epic journey in 1997 and finally the end is near. Wow, 11 years of stops and goes, waiting to continue my journey that started in the Westland region of the New World. So what journey could I be talking about you may be wondering? Well, some of you have also taken this journey or like me nearing the end of it. While others have never heard of it, or some might just be beginning their own journey. So what exactly am I talking about? Well.....
***The Sword of Truth series***
by Terry Goodkind
Sometime in 1997, while in a bookstore, (my home away from home;) ) I came across this title Blood of the Fold. Picking it up and reading the back of the book and looking just inside the jacket, I seen it was the third book in a series called The Sword of Truth. I was in luck that the bookstore was still carrying both the 1st book Wizard's First Rule and the 2nd book Stone of Tears. I purchased all three that day.
I embarked on my journey with Richard Cypher and his grandfather Zeddicus Zu'l Zornader (otherwise known as simply 'Zedd'). Along the way the main characters in which the story is created around become known: Kahlan, Nathan, Anne, Addie, Cara, Nicci, Chase, Emperor Jagang to name a few plus a host of secondary characters. While the story is about Richard and Kahlan, my favorite character is Cara. I really like her attitude.;)
Year of release:
Wizard's first Rule, 1995; Stone of Tears, 1996; Blood of the Fold, 1997; Temple of the Winds, 1998; Soul of the Fire, 1999; Faith of the Fallen, 2001; The Pillars of Creation, 2001; Naked Empire, 2003; Chainfire, 2005; Phantom, 2006 and finally...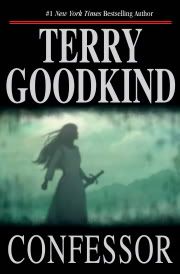 November 2007 hardcover
newly released in paperback 2008.
Since I started this series in paperback form, the wait between each book was extended, of course.:P In 2001, Debt of Bones was released as a prequel to the series which is the story of Zedd that gives a little more about Zedd's background.
Two long years of waiting to see how this story will end, and now I'm on the brink of learning all the answers. Another exciting event will be starting Nov. 1st The Legend of the Seeker...
[BURBANK, Calif. Disney & ABC Domestic Television is bringing a new first-run, live-action weekly series to the syndication marketplace for a Fall 2008 launch, it was announced today by Janice Marinelli, president, Disney's & ABC Domestic Television. From Executive Producer Sam Raimi ("Spider-Man," "Spider-Man 2," "Spider-Man 3" and "The Evil Dead"), the one-hour weekly series is based on Terry Goodkind's bestselling epic fantasy series The Sword of Truth...] source: Terry Goodkinds website.
This new TV series (22 eps.) will cover Wizard's First Rule. I'm hoping they do the book justice, and since Terry Goodkind had his hands in the making of the series, I'm more hopeful it will be good.:)
Want to learn more? then check out these websites.:D
Terry Goodkind Official Website
Wikipedia: Sword of Truth series by Terry Goodkind
Legend of the Seeker: TV series

So what is next after I finish this series you may wonder? The Wheel of Time series by Robert Jordan which was recommended by my good friend Nate ;)
If you like fantasy books, I highly recommend this series, but be warned a couple of the books in the middle can be hard to get through and has turned many away from the series. :( I suggest though you push through them as the story does pick back up and is worth the effort.:)
Now I'm going back to "Confessor" ;)
Keep smilin' :D and see ya in the forums :P
~Shewolf aka Nel :)