Wow!!!!! It's been a while.
I'm sure some of you thought I fell off the face of the Earth. Well in a way I did. :lol: Guild Wars aside (which had me hook, line, and sinker), before Christmas a house became available. What I assumed would be a simple matter turned into a three month nightmare and waiting game. Do I pack or not pack? Is the house ours or not? What's the hold up? Argh! a true nightmare. Didn't know if I was coming or going.:? Finally, we got the house and since I refused to pack another box until the papers where signed, sealed and delivered, it then became a mad rush.
See I had two weeks to get the house painted and cleaned, stuff moved in, all before May 4th. Now the old place is ours and we can take our time going through and getting the rest of the stuff. The rush was due to a friend from England coming to visit. Some of you may remember him. S_Jake aka Ark.
Yes, Jake is here, staying in my house. He got here on May 4th :) and leaves on May 21st. :( We are having a great time. Latte428 aka Tess came to visit as well. She came down on May 7th and left on May 12th. We got to celebrate, sort of, Jake's Birthday which was May 11th. :) Here's a picture of the three of together.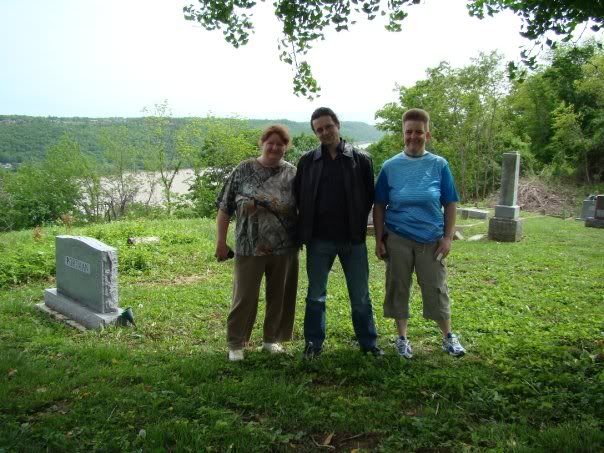 Yes, I took them to a cemetery. :lol: but if you see the view behind us you can see why. ;)
Here's a pic of Jake and I ;)
We've been having a blast shopping, talking, and playing games of course. That when I can pry the DS out of his hands :lol: Teaching him how to play Eurche, Spades, Uno, and Skip Bo. We took him shooting this morning. Still need to set up the dart board and play a game of darts before he leaves.
Well you can see why I haven't been around lately. Hopefully in the very near future I'll be back in full force. I miss everyone, and have missed so many blogs. I'll have a lot of catching up to. :)
Til Then Keep smiling :D
Shewolf aka Nel ;)