"That's the hardest part isn't it? The blank page. Look at it, just sitting there, mocking you." – Frank Barone from the show Everybody Loves Raymond
That's what happens with me. Everytime I go to write a blog, I have to deal with getting past the blank page :roll:. I'm sure you all go through the same thing. The quote stated it in the best way I could think, and I like it, so I put it down. Anyways, this marks the beginning of my favorite anime series/anime character series. These are series that are well done in my humble opinion :P and the mentioned individuals are characters that stand out to me, either because of humor, personality, coolness, and maybe other factors.
Conan Edogawa (Shinichi Kudo) – Case Closed
The modern-day Sherlock Holmes of the anime world, Shinichi is a mystery-solving high school student. Following a strange case leads to him getting ambushed and fed a weird chemical that shrinks his body down to kid size! His memory is intact, but who will believe him? He then assists his girlfriend's dad (as Conan) with various cases from the shadows while he attempts to find a way to reverse the effect on his body.
Shinichi/Conan is a very clever character whose wits are always sharp and it's entertaining to watch him figure out a case. The fact that he has to keep his sleuthing a secret at the same time adds quite a bit of humor, and most of the cases are ingeniously written. If you're looking for a fantastic murder mystery series, then look no further ;).
Konata Izumi – Lucky Star
An average high-schooler who enjoys interesting discussions with her friends, all forms of anime, and any video game she can get her hands on. Her personality is incredibly lovable, and she's always got something funny to say :P.
Honestly, those who have watched this series can tell you they relate to Konata in some way, some people more than others. She's a very relatable character. I mean let's face it, we all love video games, right? Like Konata, we've probably spent some late nights enjoying our favorite games. At some point, you've probably asked your friends to let you copy their math homework or some other assignment, like Konata. And chances are if you enjoy anime, then Konata is right behind you. Plus, with her real-life conversations about food, holidays, school, and other things, there's no doubt that you'll agree with something that's stated. The entire cast of characters is very well done, but Konata's the obvious stand out. To put it simply, slice of life series don't get better than this.
Takeya Ikuhara - DearS
An average high-schooler who lives on his own and has a part-time job. His town is very interested in the DearS race, special aliens who enjoy helping people, but he couldn't be less interested in them. He has a pretty simple life, until he bumps into "Ren" one day, then his whole world gets turned upside-down.
You can't help but laugh at the events that happen to this guy. Takeya's living a regular life, then suddenly meets a "broken" alien who insists that he's her "master." She's not exactly broken, but rather hasn't learned a lot of things to be completely helpful, which means that Ren is a constant handful :P. He attempts to continue with his regular life, but soon realizes that that life$tyle has been thrown out the window (like most of his stuff after Ren's finished "cleaning up" :lol: ). Over the course of the series, he starts to appreciate Ren more and more, and finally admits to caring about her and not wanting her to leave. It's a really funny series, with a few dramatic moments, and makes for a fun anime to watch :D.
Takashi Komuro – Highschool of the Dead
An average high school sophomore in a traditional school setting. He's a bit of a slacker and thinks on the past from time to time, about things that could've been.
Takashi's an interesting character. He's a friendly guy, but he's got his share of conflict to deal with, including a painful past relationship that haunts him. He's not a bad guy, just the opposite in fact, but he's not the best at taking action when he should, or saying the right thing. Hell, what teenager is? Adding insult to injury, Takashi gets thrown into the zombie apocalypse. Over the course of staying alive in the series, Takashi's leadership abilities start to show, he becomes more confident, and he starts getting close to the girl he always loved. He works well with his team of friends, and together they overcome many tough obstacles. This is my favorite anime series, and it's definitely worth a shot if you're interested in zombies/apocalyptic/action series :D.
Medabee – Medabots
In the 22nd century, Medabots are seen everywhere, always alongside the person who bought them, or their "teammate." Battling with these robots is a common pastime, but adding to the fun is that these robots have personalities and talk back and forth with their Medafighters.
Medabee's backstory is actually pretty interesting. His Medafighter, Ikki, was short on money, and at a crucial moment, could only afford to buy him. Keeping this in mind, Medabee is an older model, and yet, he finds a way to win every battle that's thrown his way. However, Medabee is a hothead, and so is Ikki to an extent :P. Watching them fight is always funny, and the fact that they're so similar is even better. As they continue battling opponents, the situations change. In the beginning, it's just for fun, then it grows into tournaments, then to save the world, and finally the world robattle tournament/saving the world again (interesting order, right? :lol: ). It's during this final tournament that Medabee learns some crazy stuff about his and all Medabots past. The entire series is hilarious, has awesome action, and never gets boring to watch, so if you're looking for a great series to watch, you can't go wrong here. (On an extra note, this is one anime series where the English voices are a lot better than the Japanese cast)
Lan Hikari – Megaman NT Warrior
A boy who lives far into the future, when the internet has become a complete and crucial part of everyday society (even more so than today). Net Navis (digital programs with personalities) are also widely used for running errands, netbattling, and just acting as friends to people.
Lan's an average kid; he's not a fan of homework, he helps his friends when he can, and he has the habit of being late :P. He's also a pretty sharp guy when it comes to netbattling with Megaman. He gets thrown into a big tournament fairly early, and what a tournament it is! The powerful final match awakens a powerful entity that actually deletes Megaman (he gets restructured later) and almost messes up the whole world! From that point, ferocious attempts to destroy the Net become a common occurance, and Lan and Megaman fight to protect everyone (sometimes barely defeating an enemy). Throughout the chaos, Lan manages to keep his cool, and always has a positive outlook. He also adds some humorous moments to the series. Overall, another well done series.
King DeDeDe – Kirby: Right Back At Ya!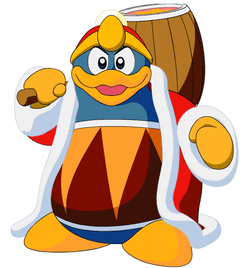 Self-proclaimed king of Cappy Town, DeDeDe is a bumbling and selfish ruler who gets nothing useful done. Once Kirby crash lands into town, the king has one goal: get rid of Kirby.
King DeDeDe is a memorable and funny guy. For whatever reason, he just hates Kirby and wants to get him out of town. Everyone loves Kirby, and the king can't stand it. So what does he do? He orders monsters from across the universe to go after Kirby and racks up a huge debt :lol:. He's also always got schemes going, and his trademark laugh is heard quite a bit. He does bad things, but he goes about them in ridiculous ways and never succeeds in what he's trying to do. Basically, he's a bad guy you can't help but love. Each episode has a separate "story" of sorts (there isn't a set plot until the end), and they're just funny to watch, so if you're a fan of Kirby or simpler anime series, then give this a shot.
Sonic the Hedgehog – Sonic X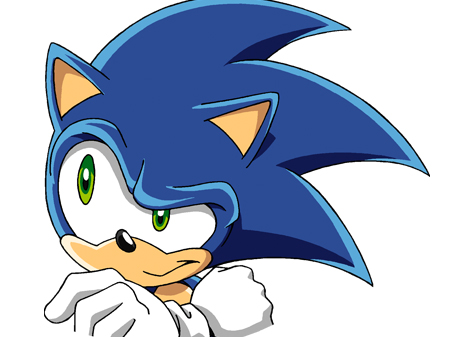 A blue hedgehog that can run faster than the speed of sound. He's the sworn enemy of Eggman, the evil tyrant of Sonic's world. Wherever Eggman appears with a horde of evil robots, Sonic is always there to stop him. During one of Eggman's latest schemes, the chaos emeralds are tampered with, resulting in everyone getting teleported across space and time to another world. It's here that Sonic meets Chris Thorndyke, a kid who's kind, but bored with his regular life. After some stuff happens, Sonic starts living with Chris and stops Eggman when he surfaces.
Sonic's as cool as ever in this series. Despite some simplistic stories and the weak Chris Thorndyke character (insert joke here), the series does very well. It doesn't matter where Sonic is as long as he "can run free and relax." He adapts well to our life$tyle :P with frequent breaks in the easy pace created by Eggman. I don't know what it is, but something about Sonic in the city just seems right. Maybe it reminds me of Sonic Adventure and hanging out in Station Square. Either way, it works. The first season has some funny and entertaining episodes (with some good action here and there), season two has more humorous episodes, as well as SA and SA2B game adaptations which are done pretty well. The final season is the best, where lethal Metarex robots cause the group to travel into space for some ferocious battles. Again, if you're into simpler anime series (or Sonic in general), then check it out.
That's it for part 1! Update: Finished .hack//Legend of the Twilight and am 12 episodes into .hack//Roots (pretty good so far). Part 2 will come sometime…..later :P. Thanks for reading! :)