This is an outrage right? I mean I haven't posted a proper blog in almost a month once again, but that's because I've been lazy, and haven't really had anything to talk about. Then I remembered I've bought a few things over the last few weeks, and I really want to share with you what I got, so let's get right into it!
Sonic The Hedgehog #231 & #232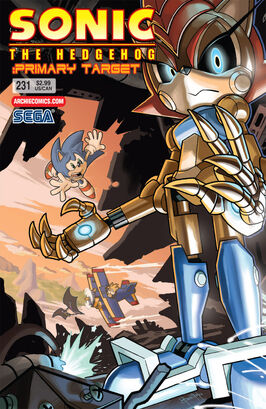 If there's one non manga related comic that I keep up on it's the Sonic The Hedgehog series of comics, and I picked up my copies of issues #231 and #232, and I've got to say, things are getting really interesting in the comics. I really hope they can keep up the momentum with the comics. I'd explain things, but it's kinda hard, you'll just have to guess yourself from the covers. :P
Sonic Generations Original Soundtrack: Blue Blur
I'm usually never one for getting imports because they either cost too much, or sometimes you're sold fake copies, but thanks to determination and stubbornness, I was about to get my hands on the soundtrack to Sonic Generations without breaking the bank, and with 3 discs, and 90 tracks, I think it was well worth the thirty-five dollars I paid for it.
Super Sonic Wall Scroll
Now I admit I've never owned that many wall scrolls since most of them either went missing, or got lost thanks to not paying attention, but since I finally got out of my living room, and into my new room, I thought it was about time to get a little something else for my room, and got this off of Amazon for fifteen dollars, not bad I must say for an awesome wall scroll.
John Carpenter's The Thing: Collector's Edition
I recommended this film back in October on my camp horror list, and although I did mention it, I never actually owned a copy of the film, and after talking to a few of my friends, I decided to get the collector's edition since it came with some outstanding bonus features, and it was worth the ten dollars. I've watched the film again, but haven't even watched all the special features of the film.
The Walking Dead: Season One Special Edition
I love zombies, and the films they star in, but in the last few years, zombies started to get stale because most of the time each movie would present a group of survivors, and how they get away from the undead. It got boring because you could easily guess what was going to happen next, but along comes The Walking Dead, and I've got to say despite being another zombie based series, it actually does something different, and focus on how the survivors cope with undead threat, and the hardships they face. It's definitely one of the best series on television right now, and I'm glad I got the first season on DVD. It's worth it for any fans of zombie films, and drama alike.
The Walking Dead, Vol 1: Days Gone Bye
Like a lot of people I started off by watching the TV series of The Walking Dead before I actually started reading the comic version. So I thought what better way to get into the comic by buying the first volume of the series, and just like with the TV series, it's definitely one of the better zombie stories out there, and although it's different from the TV series, they both are amazing in their own right.
That pretty much concludes yet another purchases blog. I'd love to add more, but even I've got to save my money for other things. I'll see you on the boards, and in the unions like usual! :D :P