For a whole year, I've been sitting on my hands when it came to catching up on my GOTY posts. You might remember the last one I wrote was for 2003, and I wrote it about a year ago. The printed packet with each year's game purchases, complete with honorable mentions, runner-ups, and winners, has been sitting beside my nighttable all this time. Honestly, I think it was just that I didn't feel like sitting down to type out another six lengthy and highly formatted GS posts when they each take at least an hour each. So, here's my solution. I would still like to write a lengthy and highly formatted GOTY post for last year and would like to keep that tradition going into the future.
But for all the years in between, we're going to take the super abridged route.
Please remember that when it comes to determining a GOTY, I never revise or reverse my decision. The games listed for each year were released in that year but not necessarily played in that year. For example, those of you that know me pretty well will probably be really surprised by 2007's choice, but I voted based on how I felt about the games that came out that year that I'd actually played, in that year. That's how I roll; that's what sounds fair to me. So, yeah, some games miss out on due praise, but that's my own fault.
At any rate, read on and let's discuss!
----------------------------------------------------------------------------------------------------------------
2004
Honorable Mentions:
Super Mario 64 DS (DS)
Myst IV: Revelation (PC)

Runner-Ups:
Star Wars: Battlefront (Xbox)
Halo 2 (Xbox)

Winner
World of Warcraft (PC)

----------------------------------------------------------------------------------------------------------------
2005
Honorable Mentions:
Mario Kart DS (DS)
Wipeout Pure (PSP)

Runner-Ups:
Advance Wars: Dual Strike (DS)
Star Wars: Battlefront II (Xbox)

Winner
Meteos (DS)

Games that didn't make the cut:
Castlevania: Dawn of Sorrow (DS)
----------------------------------------------------------------------------------------------------------------
2006
Honorable Mentions:
Metroid Prime: Hunters (DS)
Mario Hoops 3-on-3 (DS)

Runner-Ups:
Mega Man ZX (DS)
Yoshi's Island DS (DS)

Winner
Final Fantasy XII (PS2)

Games that didn't make the cut:
Castlevania: Portrait of Ruin (DS)
New Super Mario Bros. (DS)
Final Fantasy III (DS)

----------------------------------------------------------------------------------------------------------------
2007
Honorable Mentions:
Etrian Odyssey (DS)
Final Fantasy Tactics: The War of the Lions (PSP)

Runner-Ups:
Super Mario Galaxy (Wii)
Uncharted: Drake's Fortune (PS3)

Winner
DK Jungle Climber (DS)

Games that didn't make the cut:
Pokemon: Diamond Version (DS)
Sonic Rush Adventure (DS)
Mega Man ZX Advent (DS)
Lego Star Wars: The Complete Saga (DS)
Geometry Wars: Galaxies (DS)
Final Fantasy XII: Revenant Wings (DS)
Geometry Wars: Galaxies (Wii)
Ratchet and Clank Future: Tools of Destruction (PS3)
World of Warcraft: The Burning Crusade (PC)

----------------------------------------------------------------------------------------------------------------
2008
Honorable Mentions:
Professor Layton and the Curious Village (DS)
Soul Bubbles (DS)
Runner-Ups:
Chrono Trigger (DS)
MotorStorm: Pacific Rift (PS3)

Winner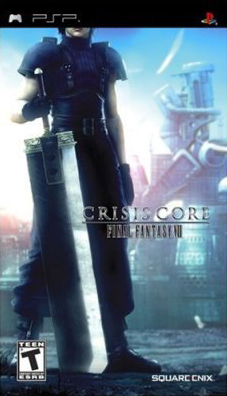 Crisis Core: Final Fantasy VII (PSP)

Games that didn't make the cut:
Castlevania: Order of Ecclesia (DS)
Etrian Odyssey II: Heroes of Lagaard (DS)
Final Fantasy IV (DS)
Kirby Super Star Ultra (DS)
World of Warcraft: Wrath of the Lich King (PC)

----------------------------------------------------------------------------------------------------------------
2009
Honorable Mentions:
Suikoden Tierkreis (DS)
Dissidia: Final Fantasy (PSP)
Runner-Ups:
Ratchet and Clank Future: A Crack in Time (PS3)
New Super Mario Bros. Wii (Wii)

Winner
Uncharted 2: Among Thieves (PS3)

Games that didn't make the cut:
Henry Hatsworth in the Puzzling Adventure (DS)
Professor Layton and the Diabolical Box (DS)
LittleBigPlanet (PSP)
LittleBigPlanet: Game of the Year Edition (PS3)