Before I forget, Happy Belated Birthday from JPG to katamari! Also, Ball State is 14 in the nation. We are climbing the ladder! Got to maintain my composure. Relax... because here's number 24!!!!!!!!!!! :D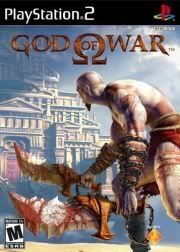 There's something about mixing mythology and video games that sound so appeasing to me. Especially one that is well done as this. God of War brings to life the words on the page that I read daily. Being an old fogey of literature (my username says it all), this is a game that has no choice but to appear on my list.
Aside from our kick butt protagonist, Kratos, it has familiar faces and references that is welcome. Not only that, it feels like something that I would read. The story definitely wraps you up in this world because the content is used appropriately. It opens up these stories and seals them up creating an air tight system. God of War recreates my world in literature WITHOUT screwing it up. Now that is awesome!
God of War's graphics are eye-popping. It is the most beautiful game that I have ever seen on the Playstation 2. It proves that graphics and gameplay CAN work together. On that subject, the gameplay is something special. The puzzles are original and brutal. Fighting in God of War is so fluid and intuitive. Something inside me laughs in glee when I rip off the wings of a Harpie. I hope I'm not the only one. :shock: :twisted:
The sounds of God of War are a real auditory experience. It's the first time I have heard a full symphony orchestra inside a game. It's exhilerating! The shrieks, screams, and sizzling of the Blades sound great! Don't get me started on the narrator. Linda Hunt's voice ties the bow on the present. This game ROCKS!
God of War's story is something right out of my books. The visuals warm my heart with their gloriously bloody characters and massive architecture and bosses. Linda Hunt and the rest of the sound and music are intense. Plus the gameplay is polished in every single way. For these reasons, the first God of War is number 24 on my list!!!