I am just about over with my torture. I mean semester! The clamps of the 20 pager is tightening in many ways. Mostly because of it due next Tuesday! I have yet to work on the header thing, I'll have time for that eventually. At least everything else is done and I can enjoy myself for now. So, I bring to you another awesome Top 25 blog! Here's Number 18! :D
There are two PC games on my list. There are also two basketball games on this list and this is one of them. I know I know there are a lot of twos in here. lol. I would guess that no one has heard of this game. If you have, awesome! :D This is an RPG that revolves around Charles Barkley! Yes, you heard me right... Charles Barkley. If you have not heard of him, he is a hall of fame basketball star that is not afraid to speak his mind. He is completely insane! Want some proof? I'll give you some quotes! Ala katamari way of quotyness! :P
"If you go out with a girl and they say she has a great personality, she's ugly. If they tell you a guy works hard, he can't play a lick. Same thing."
"I'm just what America needs - another unemployed black man." -Upon retirement.
"My goals are to play the piano and get really, really, really fat."
You play as Charles in the post apocalyptic world where basketball is illegal. I shudder to think (twitch). The game itself uses SNES graphics and music. However, the SNES had some of the best music ever and so does this! Wow does it sound wonderful! It really gets your heart pumping at places. The dialogue is absolutely hilarious and the many references to Space Jam are lovely, hehe. What's Space Jam you ask? Well..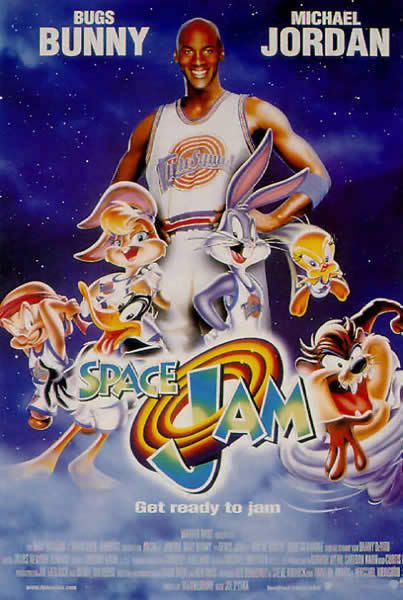 Did I mention I love basketball? lol. I think it's noticeable. Anyhow, the gameplay is also amazing. Back in the day, I would never have thought that I would be writing a top 25 games list with an RPG based on Charles Barkley! A Sports game, yes, I can see that, but an RPG? :P You get to dictate this turn based game. Similiar to Chrono Trigger. Except with basketball! :lol:
This game is great. I could go on about it forever. It is amazing in delivery, gamplay, graphics, and sound. Anyone could enjoy this, even if you don't appreciate the sport, the satire and biting humor will get you. If not for the great RPG mechanics. That is the reason why Barkley, Shut Up and Jam Gaiden: Chapter 1 of the Hoops Barkley SaGa is number 18 on my list! But I'm not done yet... :P
I can share this with you! If you are interested, download it and give it a shot. What do you have to lose? ;)