So I notice that everyone is wondering of the blog I did the last time. This is the essence of a band called Dead Can Dance.
Brendan Perry and Lisa Gerrard created music like nothing else anyone has ever seen. They broke up a while back ago, but their music lives on. The name says it all, "Dead Can Dance" is an anagram. Not only does is it playing with a word like "decadance", it's also true of every sense of the word. Their music brings the past to life, they played music that was popular wayyyyyyyyyy before the twentieth century. I quoted from their songs, "Fortune Presents Gifts Not According To The Book", "Severance", "In the Kingdom of the Blind, the One-Eyed Are Kings", and "The Carnival Is Over". It is absolutely riveting how well they give us a sense of the past and how it repeats. From Renaissance music to African Drums, Dead Can Dance does it all!
Not sure if any of you have heard of Salad Fingers. Salad Fingers is a strange man with lots of weird things about him. He likes to touch rusty spoons and wants to go to France one day. Not to mention that he enjoys the pleasures of nettles and has three best friends named Hubert Cumberdale, Majory Stewart Baxter, and Jeremy Fisher. I suggest watching him and his wacky adventures. There's eight of them. You can find them on Newgrounds, here.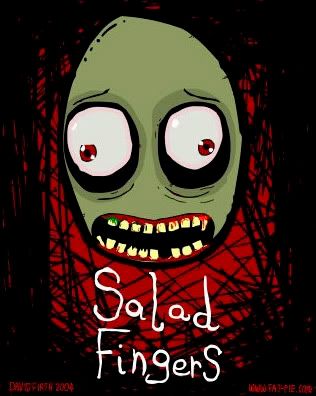 What surprised me is that David Firth, the creator of Salad Fingers, does techno music. I'm not really a fan of techno music, but David's is dynamite! I really love it. He goes by the name Locust Toybox when he comes out with his albums. It's absolutely wonderful work he does, animation or music. Because he's done other animations too, which are just as strange (or more so) as Salad Fingers. It's really neat how that works out. Besides, when you expect whistles, it's flutes!