Great. Just... great.
I have 9 days left here on GS before I leave.
Why?
Well, by right I shouldn't be telling you this, since it's supposed to be a private family affair.
Let's just say that all the while my father has owed like 5-6 banks 5 digit sums. He couldn't pay off his debts, so the interest adds on and on for years... Last year he got sued by one of those banks to be precise, Standard Chartered, with whom he has a debt of aprox S$40 000 (US$22 500 aprox) and has been declared bankrupt. The creditors have also went to the court to declare seizure of property (ordinary procedure when someone is declared bankrupt) and well... they took stock of like everything in the house.
Oh. How did he accumlate such a debt of close to S$100 000? He bought a lot of stuff on credit. He treated all his 'pals' to drinks and gifts every night. All for his pride. Ridiculous thing is he never gave a single cent to the family.
I thought they had forgot about it... but apparently no they didn't. In fact they're going to seize all those stuff... including my computer which I paid for with my own money (WTF they rejected my claim) and well... poof the house is going to be empty.
When they're going to do it? Feburary 7th.
So... well... I guess I won't be able to celebrate my birthday here, which falls on the 9th of Feburary (terribly sorry MoonFoxx)... and I'll probably have to forward my 10k post party.
I don't want to leave. But I have to.
I'll miss you guys and girls... Man... ... So well, feel free to PM/IM or email or contact me within this 9 days (including today) with whatever messages/queries... because after that I'm a goner.
Proof for those who think this is fake: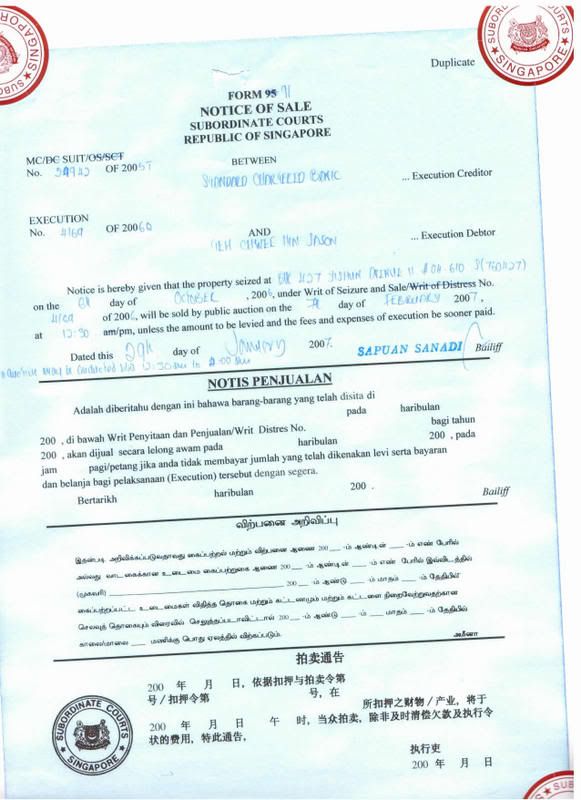 I can send you the full-size version via WLM if you want. > >