Well, the big topic is still focusing on Christmas, which was very nice this year. Had some family over on Christmas Eve and played some games. We played Blokus a lot. It is a very addiction, simply challenging game. I had gotten it from a co-worker for Christmas and love it! We also played the card game Rook, which was pretty fun too. We then exchanged some gifts and I got Super Mario All Stars Limited Edition for the Wii and some really nice hand crafted Pakistani onyx stone goblets. We also got a steam mop!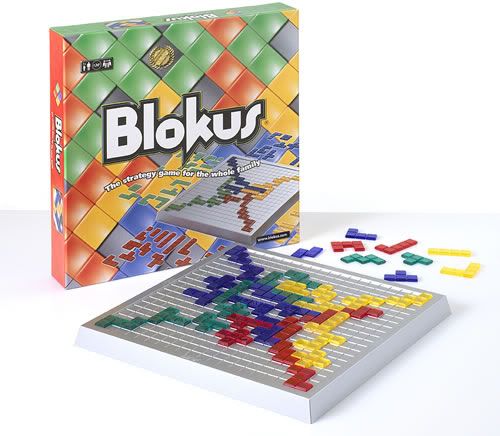 So, we were up late playing games and then we went to my parents Christmas morning for breakfast and more gifts. I got a nice electric tooth brush, the board game Sorry!, new dress shoes, large set of drinking glasses, new pillows to go with the new mattress I got myself, and restaurant gift cards. We also got a shop vac, circular saw, some wine, and tickets to go see Wicked the Musical!!! So, get to go to Indianapolis, IN this week to go see Wicked, yay! Then after Christmas morning, we went to my grandparents for dinner with lots of family.
I'm still playing Sakura Wars for the Wii and Luminous Arc for the DS. Almost finished with Sakura Wars and I'll put up a review when I do. But more importantly, I am still really enjoying Luminous Arc. I love these strategy RPG's like this. Fire Emblem is probably my favorite series. Luminous Arc is really filling that niche nicely. I didn't care for the Final Fantasy Tactic's games, but I think I may go back and give them another chance eventually. I also didn't care for Disgaea, but don't think it's worth another shot for me. Oh well, anyways, after I finish Sakura Wars, I think I will start Deadly Premonition for the 360. So, looking forward to that.
Watched the new Doctor Who Christmas special the other day. It was really just ok. Kinda eh, actually. I'm still really looking forward to the new season. The preview looked interesting. But the last few seasons were just so great and I still miss David Tennantimmensely.
I need to get back to watching Blood+ since it has been a while now. Also trying to kick up the notch on watching movies. We just watched this movie called Exam last night. It was pretty interesting, but nothing to super. But, I would recommend it. It involves a group of people put in a room to take an exam as the final step in trying to get a job. They are given a small set of rules and find them selves left with seemingly bank pieces of paper and no idea what they need to do. It is interesting to watch them work with and against each other to figure out what question they are actually trying to answer.
So, in summary, play the blokus board game, play Luminous Arc for the DS, and watch all seasons of the Doctor Who 2005 series. Enjoy!