With only a few days until Nintendo's big two-hour event, I'm sure anyone reading this has seen more than enough E3 prediction blogs. So let me get something out of the way right now.
Vitality Sensor, 3DS, Zelda Wii.
Done. We know they'll be there. We know they'll be interesting. Even the Vitality Sensor, even if nobody buys one, will be worth talking about. That's a given. What I'm here to do is make my own set of wild, unfounded predictions, as many of you know I like to do. One thing, before I start, I'm sick as a horse right now. So if I say something weird, keep in mind that purple monkey dishwasher.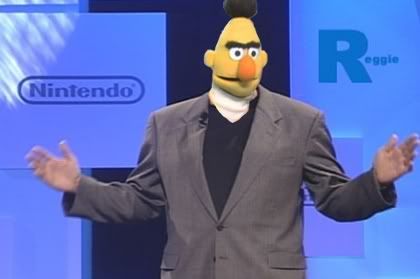 Remember this? It's really gonna happen this time. No foolin'.
Zelda Wii aside, we're gonna see some Newer Super Mario Bros Wii. Maybe this time with turnips to throw and art more reminiscent of Mario & Luigi RPGs.
Scribblenauts is coming Wiiward.
Trace Memory 2, Fatal Frame IV, Project HAMMER, Cosmic Walker, Strong Bad's CG4AP Season 1, Tales of Graces, The Last Story, Earth Seeker, Xenoblade (Monado), Ninokuni, Retro Game Challenge 2, 7th Dragon and of course, the Earthbound Collection, are all given a North American release, under a new product line Nintendo has established along with various third parties. This product line takes games that the suits believe will be abysmal sellers, and releases them in limited quantities with a lower price point. Perhaps Wal-Mart exclusives, or Amazon only. The point is, the games are made, there are no development costs. A lower price would encourage more people to try the title and the limited quantity keeps frightened stock holders to a minimum. Of course I'm no economist.
On that note, Nintendo and it's third party partners will also announce Kirby Wii, Earthworm Jim 4, Bully 2, Animales de la Muerte, Professor Layton and the Unwound Future and Rabbids Travel in Time.
Rabbids Travel in Time is not a mini-game collection, but a game similar to Rabbids Go Home. Much better idea.
Nintendo announced that it has saved Cing from the horrors of bankruptcy and has taken them in as their newest second party. First order of business: Release The Last Window. Second order? Develop Little King Story 2.
It's revealed that, oh man, the 3DS is the successor to not only the DS but the Wii! It has an HDMI out and will run titles on your TV or on it's dual screens. Crazy!
Was I forgetting something? Hmm.. sure feels like it.
...
Oh right!
Nintendo buys Capcom.
By this Christmas, all will be right in the world. And it was E3 2010 that made the world a better place. Thuh end.