Long time no see. After being here for nearly five years, I have to say I'm burnt out. Not just with the website, but mostly gaming in general. None of it really holds the same magic or glamor that it used to. Getting into childish debates on why system x is better than system y just doesn't cut it anymore, even though I enjoyed it for years. I'm not exactly happy with this change, either...if I could make myself feel the way I used to about games and talking/arguing about them, I'd do so in a heartbeat. I can't unfortunately. Save for a select few, I don't even know what games are coming out in the near or far future, and titles that would have grabbed my interest months before they came out only get my notice when they're in the bargain bin at a Gamestop I'm passing through. It's really unsettling, but this is just part of adulthood, I guess. God willing, I'll break out of it someday.
Moving on, a new gun purchase; the famed Mauser C-96 "broomhandle". Inarguably one of the most famous firearms i history, it's a relic of an era long gone. First made in 1896, its practically unmatched quality (before or since its introduction) makes this pistol a jewel in and of itself. It even manages to stand out amongst other works of German manufacture in this regard. They really don't make them like this anymore.
The distinct shape has lent it to much infamy, and has made it one of the more crowd-pleasing weapons in cinematic history (take another look at Han Solo's blaster). You aren't going to find many pistols out there with the magazine in front of the grip or trigger, and the grip is absolutely unmistakable. Speaking of magazines, this pistol isn't loaded like most people are familiar with. It has no detachable magazine (most don't, anyways), and it is fed via stripper clips through the top.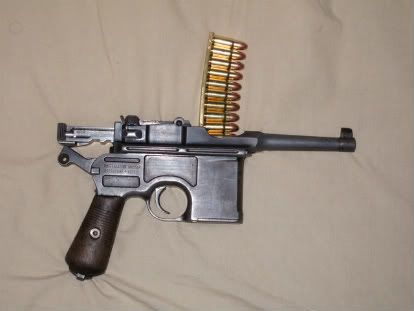 The C-96 tends to shoot the 7.63mm Mauser round, which was the most powerful handgun cartridge in existence until the .44 Magnum came out decades later. Even today, it's considered quite potent due to its speed and surprisingly high capabilities of punching through kevlar and armor. It didn't have much commercial success at first, although it started earning notice after Winston Churchill chose it as his prefer ed sidearm during the Mid-East and Boer conflicts at the end of the 19th Century. A good number of C-96s converted to 9mm during WWI, and had large red 9s carved into their grips so the troops did not load 7.63 Mauser into it (or vice-versa, either scenario very easily leading to disastrous results). After the war, it finally started to obtain seething reminiscent of commercial success. One of its biggest scores was in, of all placesm Russia during the Revolution. It was popular on both sides, but the radical, communist Bolsheviks took a particular liking to the short C-96 model, and placed large orders for them from Mauser. This earned this particular model the nickname "bolo", a monicker for the Bolshviks. This is model I came to possess. Once it's production finally halted in 1937, a little over one million had been made by Mauser. A number of countries made unlicensed copies of it during this time and decades afterwards, two of the most famous being the Chinese .45ACP "Shanxi" and the Spanish fully-automatic "Schnellfeuer". Unless you're a collector though, it's best to go for the true and blue German production. It'll cost you a pretty dime, though. Ones in decent condition often start out at $1000. Despite this, I'm more than happy with that price. The broomhandle was one of the first guns I've ever wanted to own, and I kept the dream of having one long after. It's an absolute joy to fire, and I never see myself selling it.