After seeing the magazine clipping of the song list in Japanese, I translated them for all you Katamari Damacy fans. There's lots of returning artists but tackling different songs and lots of remixes of old songs as well as a few new songs too. I added lots of links to the bads' websites and some videos but Gamespot takes out all formatting so you will have to see my original here for those.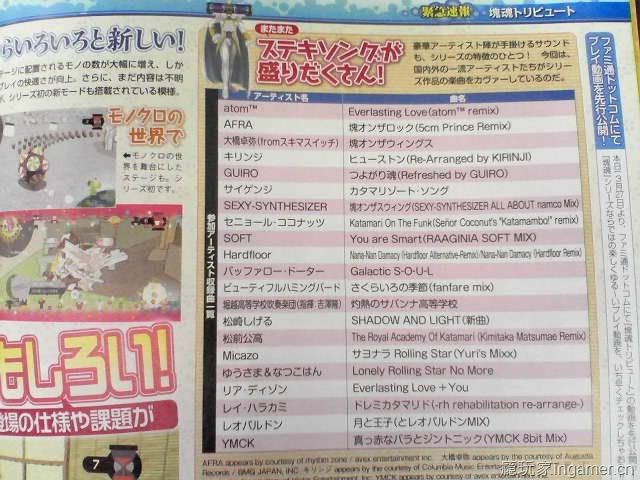 atomTM - Everlasting Love (atomTM remix)
AFRA - Katamari On The Rocks (5cm Price Remix)
Takuya Ohashi (from Sukima Switch) - Katamari On the Wings
KiKi Kirinji - Houston (Re-Arranged by KIRINJI)
GUIRO - Bluff Spirit (Refreshed by GUIRO)
Saigenji - Katamari Sword Song
SEXY-SYNTHESIZER - Katamari On The Swing (SEXY-SYNTHESIZER ALL ABOUT namco Mix)
Señor Coconut - Katamari On The Funk (Señor Coconut's Katamambo remix)
SOFT - You are Smart (RAAGINIA SOFT MIX)
Hardfloor - Nana-Nan Damacy (Hardfloor Alternative-Remix)
Buffalo Daughter - Galactic S-O-U-L
Beautiful Hummingbird - Cherry Blossom Season (fanfare mix)
Horikoshi Wind Ensemble - Sunbaked Savannah High School
Shigeru Matsuzaki - SHADOW AND LIGHT
Kimitaka Matsumae - The Royal Academy Of Katamari (Kimitaka Matsumae Remix)
Micazo - Sayonara Rolling Star (Yuri's Mixx)
Yuusama & Natsukodachi - Lonely Rolling Star No More
Leah Dizon - EverLasting Love + You
Rei Harakami - Do Re Mi Ka Ta Ma Ri Do* (-rh rehabikitation re-arrange-)
Leopaldon - The Moon And The Prince (Leopaldon Mix)
YMCK - A Crimson Rose and a Gin & Tonic (YMCK 8bit Mix)
*A pun using the syllables of Katamari in the Solfeggio system of singing i.e. Do Re Mi Fa So La Ti like in Sound of Music.
I love that there'll be a hardcore chiptune version of Nananan Damacy by Hardfloor and that my favourites YMCK are doing a cover of A Crimson Rose and a Gin & Tonic from the first game.