I've seen about 700-800 movies in my lifetime by my estimate. I know it's a broad range but it's hard to pinpoint every movie I've seen. These are the 20 best movies I have ever seen in order.

20. American History X


Just an all around excellent movie with a compelling story, excellent emsemble cast, and great direction and vision. It will go down as one of the best movies about racism and it'll also go down as one of those movies that is necessary viewing. It's a terrific movie well worth seeing and it's one of the most powerful movies I've ever seen.

Trailer
19. Full Metal Jacket


Stanley Kubrick is one of my favorite directors for a reason. His films are entertaining, perfected, and you can always count on them to both entertain and stimulate. Full Metal Jacket is one of the best movies about war I've seen and I love it. After countless viewings it still holds up as being a great war movie.

Trailer
18. To Kill a Mockingbird


Another of the best movies concerning racism ever made. Gregory Peck gives the performance of a lifetime as Atticus Finch and this film though slow in the beginning is one of the more 'riveting' movies out there. It's a really well done movie and even if you thought it was boring to read in English the movie is well worth your time.
17. Goodfellas


I'm with Roger Ebert on this one, Goodfellas > Godfather. This movie is all around awesome. That is all.

Trailer

16. OldBoy
This is a movie that succeeds on many levels. For one it is an engaging thriller, it has strong performances, it's got great atmosphere and it's just really well done. I loved it and I had really high expectations. It's rare to see films like this.

Trailer

15. Platoon
Platoon is one of the best war movies ever made because it's unflinching. Oliver Stone had balls and he showed what he saw in Vietnam. What came out of this was one of the most haunting war movies ever made and it still stands as a great movie and a true testament to Oliver Stone's talent. It's well worth seeing if you're a fan of war movies.

Trailer

14. Citizen Kane




It is the movie that spawned modern cinema. It created new techniques that would forever change the way movies were thought of and made. Citizen Kane was not only a technical marvel for it's time but it also tells one of the best stories ever told. Don't let it's age fool you, this is a timeless movie.

Trailer: Excuse it's Lameness
13. Reservoir Dogs
One of the best crime thrillers ever made. The film has you on the edge of your seat and it's just well done. It was Tarantino's first movie and it will go down as possibly his best. You should see it if you have not already, this is a really well done movie.

Trailer
12. On the Waterfront


This movie is pretty underrated but I can see why. It's overshadowed compared to Brando's later work and that is a real shame. This is one of the best performances I've ever seen and this is a movie anyone should see.

Trailer
11. Taxi Driver
If you don't like this movie you should re-evaluate your taste in movies. :)

Trailer
10. Pan's Labyrinth
If it doesn't bring you to tears you may have no soul. This film is amazing and it's one of the best films made since 2000. It tells a really compelling story from start to finish and the premise is so original and so well done. The acting is superb. It's terrific.
9. Yojimbo
If there is an underrated director it's Akira Kurosawa. He has made an endless list of ****cs yet his films are unknown to many Americans. This man is godlike and his influence on western cinema is unrivalled. Yojimbo is a ****c. See it.

Trailer: Badass
8. The Good, The Bad, The Ugly


The best western movie and Eastwood's definitive movie. This film is an all 'round good time you must see.

Trailer

7. Pulp Fiction


Tarantino's best movie and a movie that well go down as a ****c. This film was robbed at the Oscar's but we know better. One of the best ensemble casts in a movie. This movie is just engaging throughout and it's near perfect.

Trailer: Extreme Badass
6. Slumdog Millionaire
This movie is amazing. I never thought I'd enjoy this movie as much as I did but I've seen it a good 6 times now. It never gets old and it's really well made. The technicalities of this movie are perfect and it's one you must see. It's still in theaters...

Trailer
5. Apocalypse Now


An amazing movie set in a war that's not about war. Just go see it but don't see Redux see the original.
4. Do The Right Thing


This film is just outstanding and this is the best movie about racism ever made. I love this movie. It's just amazing.

Trailer

3. Ichi The Killer
Outstanding, see the uncut version for an intense thriller. This movie is just so underrated and it's really love/hate. You can tell I love it though.

Trailer
2. Clockwork Orange
God, I love this movie this much. It's so well made and it's Kubrick's best work to date. See it.

Trailer
1. City of God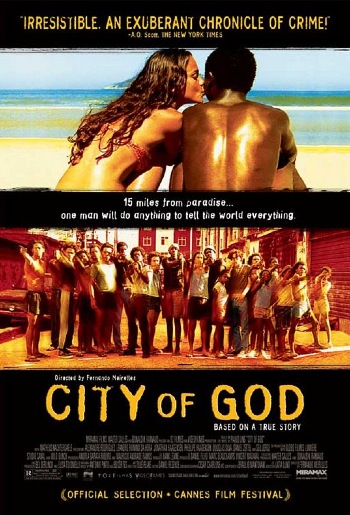 I could talk for hours saying why this is the perfect movie, I'll shorten it. This movie shot so perfectly it's not even funny. The cinematography boggles the mind. The film also has an amazing soundtrack and great editing. The film has some of the best performances on film too and this ensemble cast is the best I've ever seen. It's amazing they were mostly first time actors. The film also has a really well done story and I don't think I'll find a more perfect film.

Trailer!