As promised, here are my Top 6 films of 2009. 2009 on the whole was a pretty good year but to me, it didn't compare as much to the years before it. Here is hoping for a wonderful 2010 though and beyond. Without further delay, here are my Top 6 films of 2009. This is in order.
-------------------
6. Black Dynamite
Black Dyanmite is a shining example of a spoof film done right. Anyone who's ever seen a Blaxploitation film automatically will understand this film. From Dolemite to Blackbelt Jones, no film is safe and this film is just utterly hilarious. The writing is sharp, the campiness is intact, and the laughs just never end. I can't remember seeing a film this funny actually.
Bullhorn & Black Dynamite = Two of the funniest characters this year.
It's just a total good time and I think of all the movies of this year, I had the most fun watching it with a group of friends. Black Dynamite didn't do well business wise but to anyone who's seen it, the film is a cultural success in that it lampooned a genre which for the most part, is relatively lighthearted to begin with.I encourage anyone who enjoys good comedy to see this film.
5. Inglourious Basterds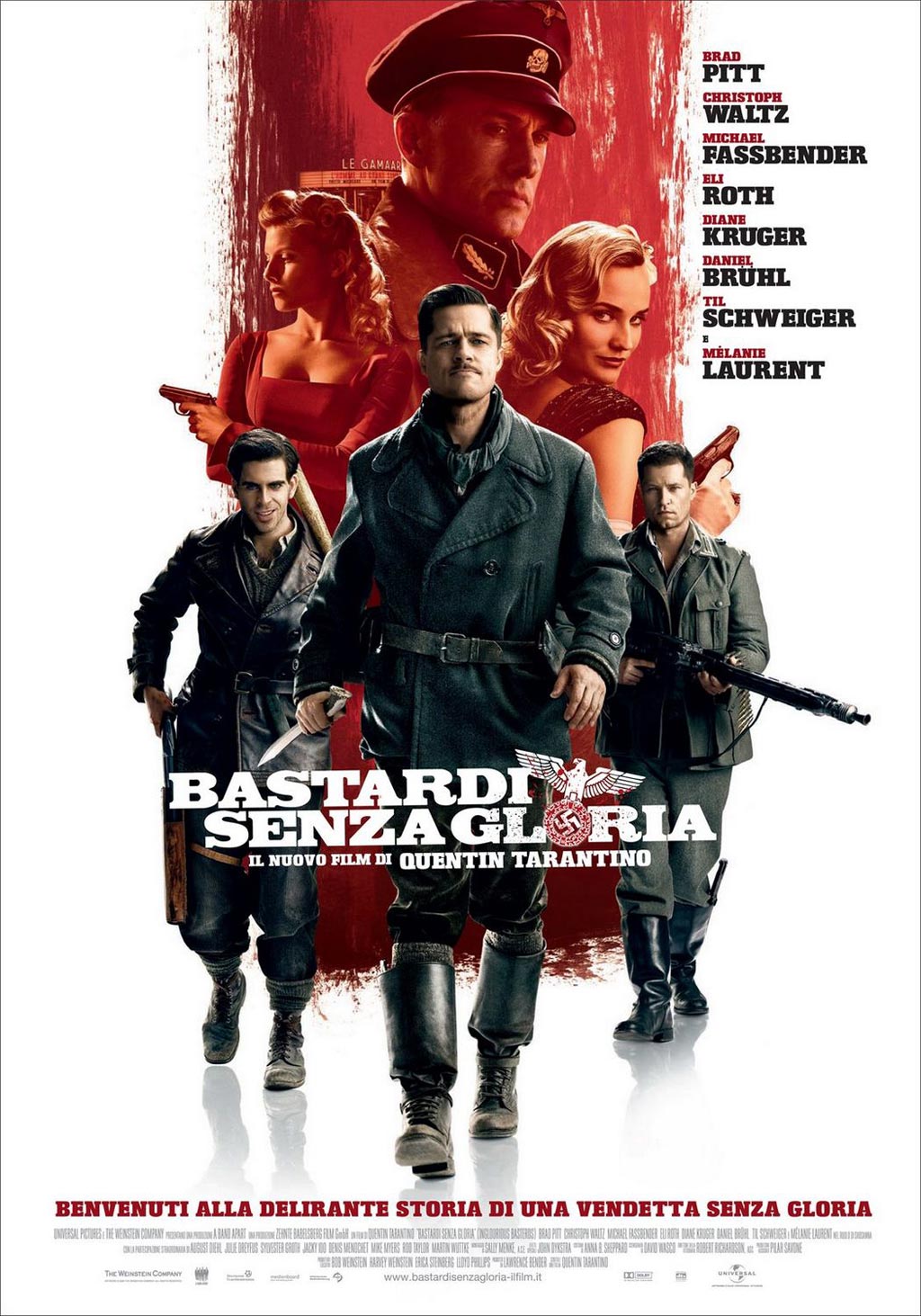 I can't say I had high hopes for Basterds. The movie was rife with delays and in it's early stages, the casting and concept of the film seemed awful, cliche, and done. Fortunately though, Tarantino lived up to the decade of hype by giving us what perhaps amounts to his best film since Pulp Fiction some sixteen years ago. Basterds is a sharp film rife with intelligent dialogue, humor, brutality, and entertainment. It is is a pulp World War 2 film which is by no means meant to be serious. It is a great time and there are few films this year that are as entertaining and as unapologetic as Basterds. The performances were all spart on with Christoph Waltz being the clear showstealer as the cold and somewhat likeable Hans Landa. All in all, you'd be hard pressed to find a better action movie from this year and Basterds represents the best of the summer blockbusters (if it can be called that) of 2009.
4. Sin Nombre
Sin Nombre is a hybrid; part gangster narrative, part love story, and part migratory tale. It tells the story of Sayra, a poor Honduran girl who embarks on a journey to illegally emigrate to America with her father and uncle. Some films have tried this before, but few have shown such a horrifying and detailed representation of it. This truly is the trip from hell and it is made no easier with the introduction of Casper, a conflicted member of the brutal and terrifying MS-13 gang. As their journeys intertwine with one another, the film just keeps going and keeps gaining momentum as time goes on. By the end, it is a wholly fulfilling experience and it represents one of the finest debuts of 2009 up with the ranks of films like Moon. Paulina Gaitan, the girl who plays Sayra, delivers one of the best performances of the year and the entire supporting cast is able to play their parts extremely well. Sin Nombre is one of my favorite films of the year for many reasons, but above all, it rises to number four for the very fact that it tells a story which is important to tell. People can be against illegal immigration, but when you see what some of these people have to go through, you can only feel all but sympathetic to their disposition in society.
3. Up In The Air
Jason Reitman has proven himself to be one of the most consistent and most talented directors in the business today. Up In The Air continues his streak of quality as he crafts a story of realization and quasi-romance. Ryan Bingham, played by the always excellent George Clooney, has a life of flying around the country continuously and firing people. His addiction to never settling ultimately shatters when he finds his company is grounding all workers due to the poor economy. He suddenly finds himself confused but all looks up when he meets two women, Alex Goran and Natalie Keener. Pound for pound, this movie is pure quality. With sharp writing, a manifestation of our own poor economy, and great performances from all actors, this film should resonate with anyone who sees it. The beautiful Anna Kendrick actually represents one of the best actors in the film as though almost all her scenes include George Clooney, she is able to act on an equal level with him, impressive for someone who is only 23 some odd years old. Up In The Air is a film for anyone and I encourage you to all see it.
2. Up!
Up is charming, funny, sentimental, and beautiful. With some of the finest animators in the world, Pixar has been a powerhouse churning out critical and box office smashes every year on a consistent basis. Up represents the best of these, the best film Pixar has done and one of the best animation films of the last decade. The film has a beautiful way of appealing to both kids and adults alike with Carl's sentimatal moments concerning his wife and dreams of adventure to Russel's longing to be accepted by somebody. There is a ton of stuff here to appeal to adults and to kids, it's a lot of fun. Up! was one of my favorites of the year because it was hilarious and I loved watching it. I can't see why anyone would want to see it, you'd be a fool to pass it off as just another kid's movie.
1. The Hurt Locker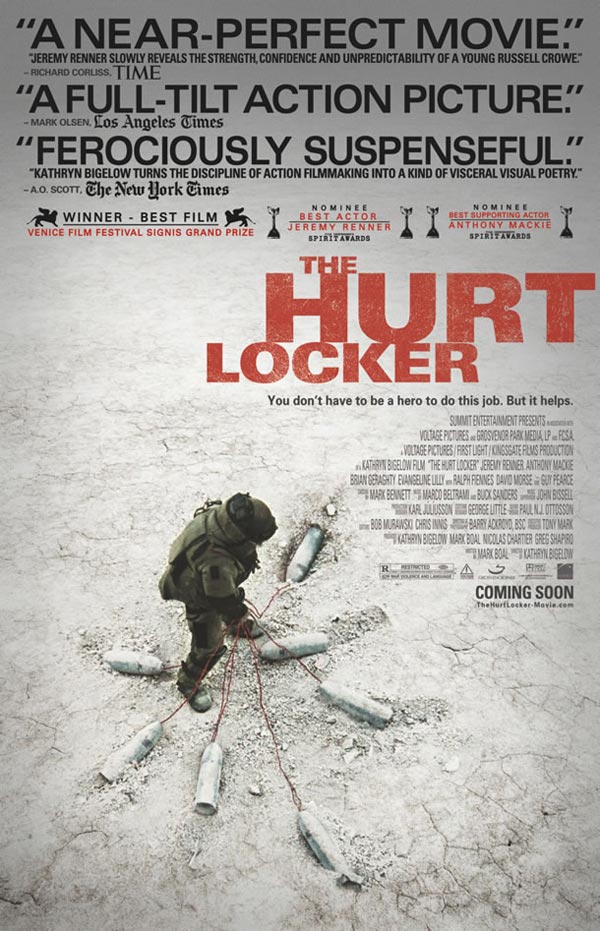 The Hurt Locker really came out of left field to me. I did not hype it nor know about it until around December when the Oscar buzz came about. To be fair too, it was also on the bottom of my list of Oscar contenders to see. It should have been on top. The Hurt Locker is a masterfully told tale riddled with suspense. It is perhaps the most haunting war film in recent memory and the hardest hitting despite its absence of gore and extreme action sequences. In fact, one notorious sniper sequence is surpsingly very lite on violence yet it stands as one of the greatest battles within any war film made. The film is riddled with excellent characterization and Jermey Renner delivers a wonderful performance. His character is perhaps one of the most interesting of last year and his actions and the disdain he receives from those around him lifts the movie up in both it's suspense and it's poignancy. The Hurt Locker is the best picture of last year, there is no going around that. It is a must see.