There is that old saying for Thanksgiving that goes, Thanksgiving is about Food, Family and Football. I suppose thats true for alot of people, but not for me. For me the saying goes Food, Family and Gaming. Yep thats what it means for me this time of year, and especially with a week of from the arduous twelve hour days of college I have this is a good time to catch up on some gaming. So this blog is about what I am gaming and what is going to go good with that gaming once I have made the rounds to my family and the inlaws are complete.
So first and foremost, I will probably be taking my handhelds to the Inlaws, as that they are ok, I just donot have anything in common with them. So with that said lets take a look at whats on the Handheld front for me...
Star Ocean the First Departure. I have had this for two years but for some reason never go into it. Then I started up the game Monday after ****and then went full head into it. It starts off a bit slow, but boy does it pick up and how I absolutley love the combat, considering that this remakes combat is completely the same as Star Ocean The Second Evolution/Second Story system. and I absolutley adore that game. Now I am not too far into it but the story of Roddick seems familiar fair, but I am a sucker for JRPGs so this will serve good to pass time.
Oh this is a favorite of mine. Now I never beat it as I have had gone through a couple of DS's but none the less I am in Draculas Castle, and I am really enjoy it. In some ways this game reminds of the structure of Lords of Shadow where you go through level to level on a map and have the option to revisit it. As you get better abilities you can visit previously unaccessible areas. Also like the character of Shanoa, she is a true Castlevania Heroin and I been down playing as her. I adore the Glyph Mechanics and absolutley love the magnes glyph. Now on to what I am playing on the...I-Phone???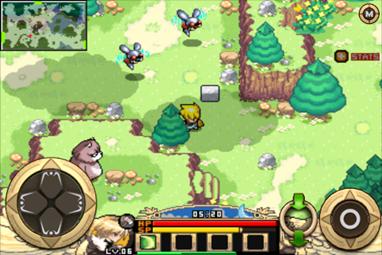 Zenonia, a game thats available I believe on numerous platforms from I Phone, Ipod, and the DSI Ware. This is a very lengthy Zelda throw back that imo is a ton of fun. Sure I may not be the biggest fan of the touch screen control pads, but this game seems to have good controls and no response problems.However if you prefer ****c controls for this game, pick it up on your DSI and download the game. None the less wherever you get Zenonia, it is a surprisingly good game and for the prices it goes, I believe 5 bucks on Iphone, and 800 Nintendo points on the DSI, its quality surpasses its price as well its length. You get forty hours of gameplay for that, and the game so far has nto gotten repetitive. Now on another side note, there is a sequel called Zenonia 2 thats available on the Iphone, and I Pod Touches, but its not available on the DSI Ware yet. However I have it and have not played it, but once I do I will give you more of an update.
Now off to Console Land....
And yes for this I am not posting a pic since there is a pic of our good pal Ezio over on the top I will not post a pic here at the moment. However I have been playing Assassins Creed Brotherhood which came out last week and I am really like it. Its Quite alot of fun and a good expanions of AC2 from last year. Surprisingly I love the Multiplayer, but aside from the handhelds this is what I am really digging at this moment.

These games, turkey and pumpkin pie, hell with football. I rather sit around and game and eat. So to my readers, I ask what are you playing this thanksgiving? What games are going to be great for your holiday?