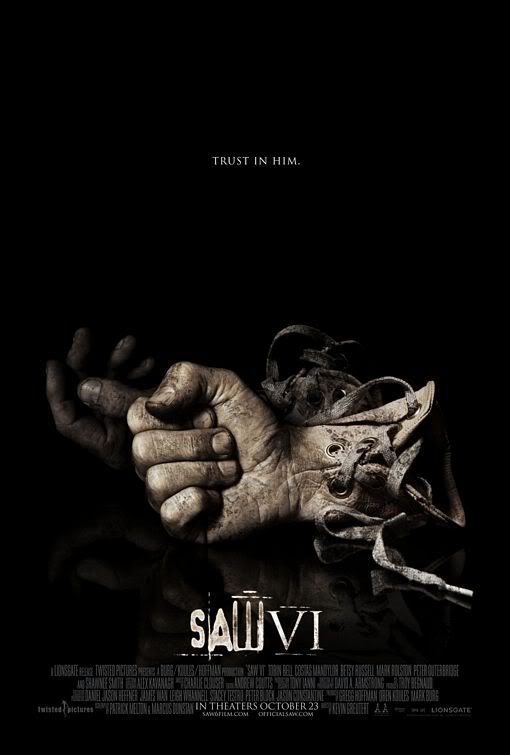 Saw has finally reached the big number of six. that's a lot of slaughter, death, loss and twists if you ask me. I am a big fan of the series and after the poor entry of Saw V, I was little skeptical of the next one for obvious reasons. However, I walked out of the theatre very pleased. I haven't been this happy with a Saw film since 2005's Saw II.
The twist and pacing of the film were both incredibly well done. The series was given a new director and it really shows in the story and filming techniques. I am so happy that the series has been redeemed. Here's a list of all the gore scenes for the people who don't give a crap about the movies and just want to know about the gross stuff:
*** BIG SPOILERS ***
- Two people get screws drilled partly through their temples.
- A woman butchers off her own arm with a knife for the sake of winning a trap.
- A man, in the same trap, slices off some of his own stomach fat.
- A security guard is shot in the chest.
- A sound tech in shot multiple times.
- A detective gets his throat gashed open.
- Another poor detective gets stabbed multiple times in the stomach while the knife is twisted.
- A life-long smoker has to hold his breath. For each breath he takes a clamp around his waste will tighten. He can't hold his breath and gets crushed.
- People's skin is burned to a sizzle by hot steam coming from pipes.
- A woman is shot with what looks like a tent stake through her lower jaw into her head.
- Someone is hung with barbed wire and dies immediately.
- People from the same insurance company are chained to a rotating playground carousel and are systematically blown apart by a shotgun.
- A man gets screws drilled through his hands multiple times.
- Someone escapes the reverse bear trap (as seen in Saw I) and gets his face torn open.
- Finally, someone is stabbed with multiple plungers and his whole body is injected with acid. He burns from the inside out.
*** END BIG SPOILERS ***
Wow, that's enough violence for 20 action movies!