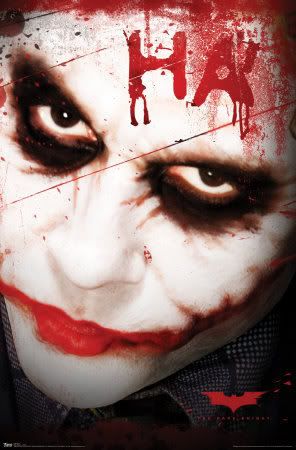 The Dark Knight
Yes,yes,yes.I saw the Dark Knight.What a movie that was,indeed.It was amazing,breathtaking,freaking sweet.
And then you peeps ask: "But..Why Lto_thaG?"...I'll tell you why.
The movie locations,the acting,the actors,the story..All perfect.I loved it from the very beginning 'till the very end and I was really depressed when the movie ended...It just shouldn't.
Batman,The Joker,Harvey and so on.All actors perfectly fit for the role.
The Joker is probably one of my favorite characters of all time now.I'm not kidding.
Heath's performance was amazing..Unbelievable actually.He was made for that part.
The story itself was pretty awesome,the whole mafia things and such...I don't really wanna talk about it too much because I am afraid I'm gonna spoil a few things.
On a side note.The movie was spoiled by a 'fellow' GS user.He was mature enough to post the ending for a few of us users,but fear not.I will not do the same to you guys.I am quite human.
I can't wait for this baby to come out on DVD.I hope there's gonna be a special edition or something.I'll be getting that immediately.
Anyway I just thought I should share my quick thoughts about this masterpiece.If you haven't seen it,then you should as quick as possible.This movie is good even when you're not a fan of the comic books or the DC universe.Go watch it now!
Thank you for reading.
By the way..I'm working on my Joker now,things are going quite good.
RIP Heath Ledger