Children.
In a survey taken by Asuki Research asked grade school children between 1st Year through 6th Year (about 6 - 13 years of age) were asked a simple question. "Do you want a Wii U?"
It turns out that most in fact do. Specifically 70% of boys between 4th and 6th year of grade school.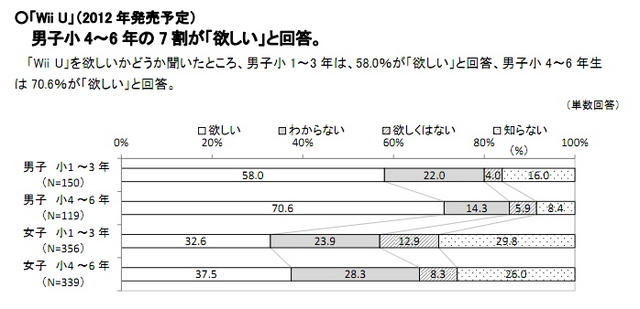 While the overall sentiment of both critics, older gamers, and investors of Nintendo have been mostly uneasy about Nintendo's new direction, it would seem for now, Nintendo at least has the backing of children; a major key demographic in the overall sales of video games.
On the topic of handhelds, when asked the same question involving Sony's Vita, it seems younger gamers are not as eager. At least 50% or more in both age and gender groups were unsure or simply didn't know if they wanted one. This could be a vital key to their promotion of the new handheld as Sony's PSP never attempted to attract children at first until they realized that they needed to in order to compete with the Nintendo DS. Perhaps this time Sony will attempt to be more cautious? Only time will tell.
Lastly, the 3DS has a more favorable turn amongst the children asked. The surveryors note the price decrease also playing a possible influencial factor in desire to own as the survey was taken prior and after the price drop. This may help for this holiday season and the forseeable future in 2012 as Nintendo begins to push their own new software titles for the 3DS.
Children definitely have been an essential demographic to Nintendo. It not only is one of the larger groups for overall sales but also companies like Nintendo want to build customer loyalty from an early age. This survey sample only proves that as long as Nintendo commits to children's interests it assures its own survival.