Hello all, its been quite some time since I updated this crusty ol' thing so it's good to be back. I only wanted to post on subject matter and topics that I felt strongly about, but since there has been virtually no news of substance (save for maybe the Ouya) I haven't really felt inclined to post much less interact on the site. That and the myriad of issues GameSpot has been having, such as the infrequent podcasts and video features (which thankfully seem to be getting on track to regularity) as well as the jumbled commenting system and the odd way blogs are mangled when transitioning from MS documents, has generally given me a dismissive tone about GS. But GS seems to be heading in the right direction, and the community while diminished still seems to be lively enough. But anyways on to what I've been messing around with these last couple of months.
In terms of gaming I've been sinking much of my time in the Star Wars Jedi Knight Collection that I got off of a March-ish Steam sale for around 5 bucks. I already owned Jedi Knight Jedi Outcast and Jedi Knight Jedi Academy for the original Xbox (notable members of the International Redundancy Bureau of Redundancies), but I had no idea there were early entries in the series like Dark Forces released in 1995, Dark Forces II in 1997, and its expansion Mysteries of the Sith also in 1997 (most of which--Dark Forces excluded-- were PC exclusive).
Dark Forces while very dated in terms of graphics still is a rather solid shooter. There is no Y-axis in terms of the first-person aiming so the game makes concessions with an auto-targeting system. This can lead to rather frustrating instances when you are targeting from afar or trying to halt fast moving enemies hovering in your face, only to miss due to inconsistencies within the game engine. Positioning the gun in the accurate X-axis position means that the player has completed all the prerequisites for defeating the enemy, the computer should compensate for the limits it imposes with greater reliability...but oh well. Despite this, the game is very well made, and the level design is quite impeccable despite being linear in the grander scheme of things, which only get better with the sequel.
...And good lord does it! Dark Forces II is easily the most fun I've had this year in gaming (which perhaps is a commentary on the current state of the industry). The level design is quite open, giving an illusion that all the spaces that you are traversing are very much a functional part of the world. There are great deals of hidden areas, unused houses, galleries, and enclosures that really give the feeling of a lived in world. All levels are simply stunning at just how diverse and expansive the level design and the art direction is. It also helps that the minimal story of the previous game has been replaced with surprisingly good Wing Commander-esque FMVs. The combat also is a significant improvement over its predecessor, with full control over the weapon, and get this...lightsaber combat w/ force powers!
Hell...Jesus Buddha Yoda...yess
The lightsaber combat is a bit clunky in the first person, but it still quite adequate given how early this attempt was in the grand scheme of things (heck it's still more satisfying than Skyrim's melee combat). Plus the inclusion of a 3rd person perspective makes melee that much smoother. Add that with a host of Jedi powers (both light and dark side granted) and you've got one hell of a fun game.
I would like to see how the Xbox version of Jedi Outcast holds up against the PC version when I finish DFII. I have a feeling that melee combat would be far superior in the console version. The only trade off would most likely be the precision of the 1st person shooting aspect which I'm not sure I want to give up. Plus the game for all I know may emulate terribly, rendering it unplayable (just try playing the slideshow bonanza of KOTOR and Half-Life 2 on the 360...geez). But who knows...three more levels to go.
E3 was pretty underwhelming for me. I actually went as far as to take a day off from work just so I could watch the coverage all day and blog about each conference. But then I realized that I really wasn't saying much of substance given the trailer-heavy, QTE-laden, sugary sheen given to most of the games on display (a shame since they're all written up). Journalists could hardly extrapolate about major titles that were on the show floor, so what could my "coverage" accomplish. It was a rare oddity to find a clip of actual unedited gameplay that ran above 5 minutes. Not to mention my virtual indifference of most of the games shown. The only thing I really want to play is Last of Us, Watchdogs, and that David Cage game by virtue of being so elusive. Bioshock Infinite not only wasn't even present, it among the glut of other titles has been shoved to the pie-in-the-sky ethereal haze of "Q1 2013". So I guess I won't be able to fulfill my paternalistic protection of Lara Croft until later. Which by the way...eww...I really hope this game doesn't make a wrong turn into the Frank Miller/Sucker Punch creepy route that I feel it's headed. I swear game developer blunders are inadvertently turning me into a beret brandishing Feminist. Seriously devs, either remove this misogynistic pandering tripe, or the only progress we'll get is Princess Peach and her unshaven armpits waving a M16 in one hand with the SCUM Manifesto in the other...and no that's not amusing in even an ironic hipster way. Fix it! (or should I say patch it?)
Speaking of catsuits, I also just saw the Dark Knight Rise, the supposed left-wing conspiracy trying to corrupt our youth. It was a decent enough of a film with some issues here and there. I felt the series could have easily ended with the second entry, with Batman running in the darkness, police sirens enveloping his caped silhouette. In this film, its mostly "Bruce Wayne Gets his Groove Back", with him brooding about reluctantly donning the batsuit while a not so crazed, surprisingly stable (and subsequently bland) mercenary tears the city apart with revolutionary monologues. I didn't really feel any sort of stake or investment with the film. The scene in which Bane holds a stadium at hostage could have easily been a memorable watershed moment for the film. Instead it pulled all of the predictable quasi-patriotic emotional strings clumsily and mixed in with cliché that had little effect. I know I should have felt something, but I couldn't help but roll my eyes at the dumbfounding degree of formulaic tropes tossed about the film. Bane was a cool-customer throughout the experience, however his motivation and back story was awfully thin both before and after the "big twist" (which should be somewhat obvious to fans deeply in-tune with Batman mythos anyways).
Catwoman was surprisingly the best part of the actual movie, imparting a nice dash of moral-ambiguity and mystery, while also being fairly competent in her own right. Which only made it that the more frustrating (yep here we go again) when she decides to change her callous self-centered ways only through the chivalry of her big hunky black stallion. It's a completely last minute inclusion that only served to undermine her character. And no this last-minute romance wasn't even alluded to (the very opposite in fact--subtle jab--you'll get it when you see the movie). The plot while needlessly convoluted in parts, is well written, well acted, and for the most part well directed. The few action scenes that are there (save the initial confrontation between Bane and Bats) is well put together as well. The movie as a whole just never seems to gel as well as the second movie. This is hardly scathing criticism given the second movie is easily one of the best superhero movie of all time, but overall it's a weak entry.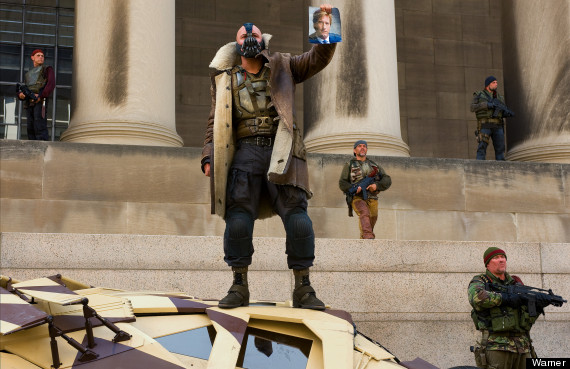 I mostly attribute the film mis-fires to the fact that hardly says anything. Despite the off-handed slights at Wall Street and other nods to proletarian war-drum beating, the movie never really goes anywhere with it. Plus the whole dark knight message isn't really furthered in any substantive way. We kinda got all we needed from the first and previous entry, so not much really is left. Plus the movie totally trains gas-mask wearing radicalized terrorists (...too soon?).
Overall I would recommend any fan of Batman to see it, but just have your fever-pitched, yes fever-pitched, anticipation put in check before enjoying. I enjoyed my time despite some inconsistencies. Plus having Christian Bale screaming "WHERE IS HE !!?" in that blotchy slurred Batman voice is full of comic gold potiential that will last at least until the end of the year.
Also been reading a bit as well. I'm currently on the fifth Honor Harrington novels, which surprisingly have kept fresh over time. I started the novels a few months prior to the launch of ME3, absolutely famished for militaristic, exhaustively detailed Science Fiction. If the Hard Sci-Fi militaristic variant of Arthur C. Clarke sounds interesting, this series just may be for you. I also have been consumed by Gang Leader for a Day by Sudhir Venkatesh after getting on a bit of a sociology, Gentrification, damn-it-must suck-for-inner-city-blacks kick. While certainly biased up the wazoo (and virtually useless as a quantifiable sociological experiment) if merely taken as a personal account, it's quite a fascinating read. Anyone familiar with There Are No Children Here by Alex Kotlowitz, which also details the Robert Taylor homes in Chicago during the 90's should know what to expect. Just be prepared to be depressed.
There are others like American Gods by Neil Gaiman and a boat load of movies like the exciting Vengeance Saga, some El Hazard anime whimsy and some bizarre Takashi Miike stuff but I'll save that for another day. Dear god, I even forgot to talk about the massive whale that is Persona 3...no no no must not resist...must...move...on. It's just good to be back. I really hope GS can hit their stride like in the past. Tell me about what ya'll have been consuming of late. Knighty night and "Hirasugi!!!"