Hello everyone, so for this review I decided to review a lesser known game, , that game is MDK.
MDK was developed by Shiny Entertainment, the makers of Earthworm Jim and Aladdin (well , Aladdin wasn't made by Shiny as such , but the team that made the game, went on to form Shiny), and released in 1997. MDK was Shiny's first big attempt at a 3D game, , MDK is really just a 3rd person shooter, but its one infused with Shiny's trademark sense of humor and wacky and innovative thinking.
MDK was originally released on the PC, and I will focus on that version (all of the screenshots, unless stated otherwise , are from the PC), but I will talk about the PS1 version too.
Story - MDK surprisingly has a story , Dr Fluke Hawkins, a rather crazy scientist and inventor, has had enough with the laughter of the scientific community at his theories and inventions. To this end Hawkins travels into space to live alone in his space station...Well , almost alone, he does take his janitor , Kurt Hectic, along with him (convincing him to stay due to the programmable VCR on the space station). After a failed attempt to create a coffee-making robot (due to the robot having world domination plans), Dr Hawkins finally creates a sucessful robot, a 6 legged dog called Max.
All is calm until the earth is invaded by aliens, who deploy minecrawlers across the earth. These minecrawlers are huge harvesters (the size of cities) who scour the earth for mineral wealth and destroy everything in the way.
Kurt is thus forced to wear the Dr's experimental coil suit, and save the world.
MDK has a pretty wacky story, although for the most part the game itself has no story, most of the story is there through the manual.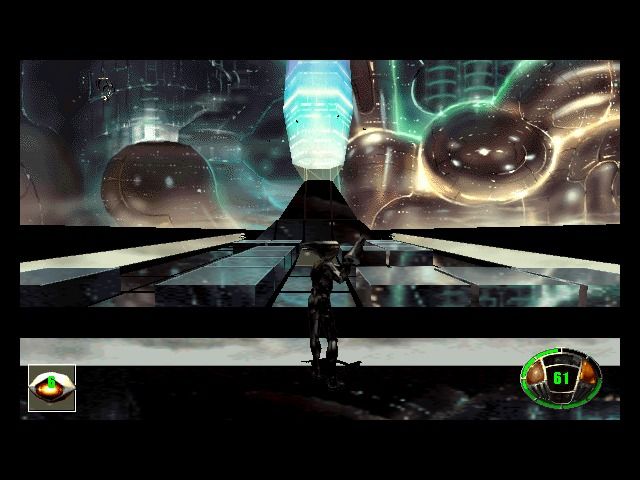 Gameplay - As mentioned before, MDK is a 3rd person shooter, you run around shooting enemies,  use items and solve the occasional platforming section.  Each level is seperated into sections, or rooms, and each has a different feel and challenge to it, some areas are more open and are really more of a suvival round where you have to fight past alot of enemies, while some other areas are more enclosed and generally have more platforming elements to them. Alot of areas are also very creative in their design , and require you to adopt odd strategies (such as defeating a powerful enemy , while also jumping from platform to platform , and escaping a wrecking ball)
The interesting thing is that even the weaker enemies are not that much weaker than you, they die quicker, but there are many more of them. As such , the game requires you to use alot of strategy strafing and taking cover behined objects and walls is key .
Not to worry though , Kurt has a number of things to help him , pickups that give you extra health or a temporary extra firepower,  As well as a trusty sniper scope hidden in his helmet. the sniper mode lets you fire a number of rounds , be they normal shots, or mortar shots.  Beyond that,  Kurt has a chaingun mounted on his arm , which is the game's standard weapon. To help with the platforming , Kurt has a glider of sorts which he can use to stay in the air longer.
Every level has an end of level boss, which is more of a puzzle than a fight, since they require you to hit specific places and such , There is a also a bonus section at the end of each level. The controls are also good, though you will have to use the keyboard (there is a joystick option , but I can't get it to work)
The wacky and crazy nature which all of Shiny's games is here, the enemies are wacky, the jokes are wacky, and overall, while MDK is not that innovative as such , its very well done , and has gameplay which keeps the game interesting.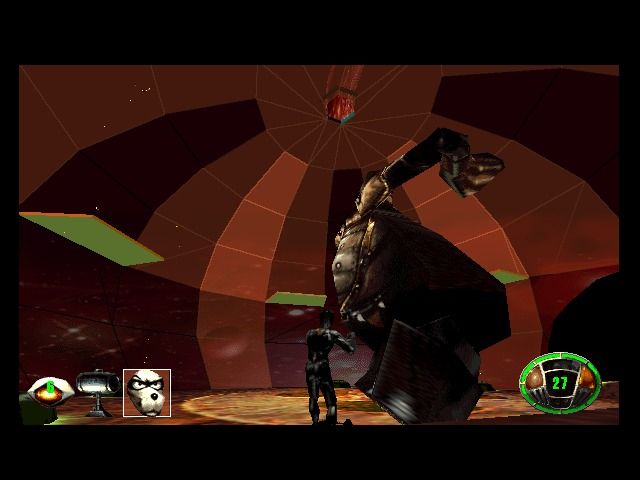 Graphics and Sound - Graphically, MDK is a great looking game, with a colourful and wacky design , as well as some great looking areas which have a very long draw distance. Great transparent and reflection effects also help alot . While Kurt himself is a 2D sprite, the entire game is in 3D, and for a game in 1997 , the game still looks great due to its art design .
MDK was also one of the earlier games to support the use of a 3D accelerator , to those who did not play PC games at the time,  there were 2 options for PCs . You had a normal 2D graphics card, which ran your DOS games , and such , and an optional 3D accelerator card alongside it if you wished , games which supported it took advantage of it, usually had sharper textures, smoother polygons, better effects, etc. MDK has various patches for it for both Direct 3D and 3DFX Glide mode.
Software mode MDK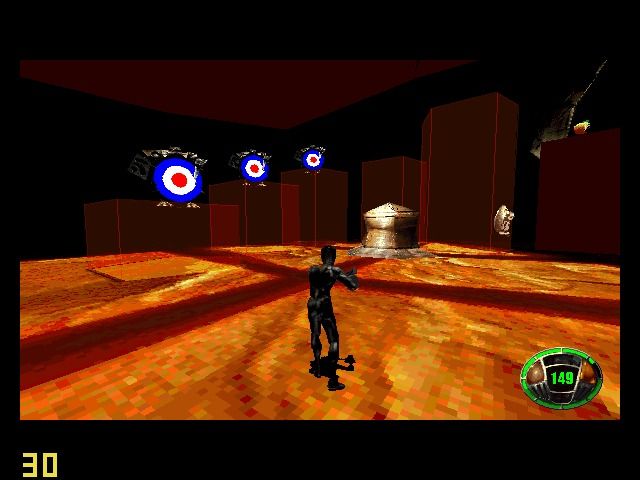 3DFX/D3D MDK
admittedly its not a huge difference in MDK (this was built with the 2D cards in mind after all)m but the difference is there
From a sound perspective , MDK is quite good if a little generic, its the kind of music one would expect and it fits pretty well , although alot of times, the game is pretty silent, where you might hear the engine of the minecrawler you are on.
MDK on the PS1
As mentioned before, MDK was eventually ported to the PS1 , the developers had numerous challenges in porting this game over to the PS1 .  So did they suceed in bringing the game over?
In short, yes, although things had to be downgraded. The resolution is halved (320X240 on PS1, as opposed to 640X480 on the PC) , slightly simplified enviroments and characters, and a general lack of sharpness in comparison , and the frame rate can occasionally get choppy.
For comparison , here are 2 screenshots from the PS1 version , although sadly it was taken with a webcam since my capture card is broken (it will do)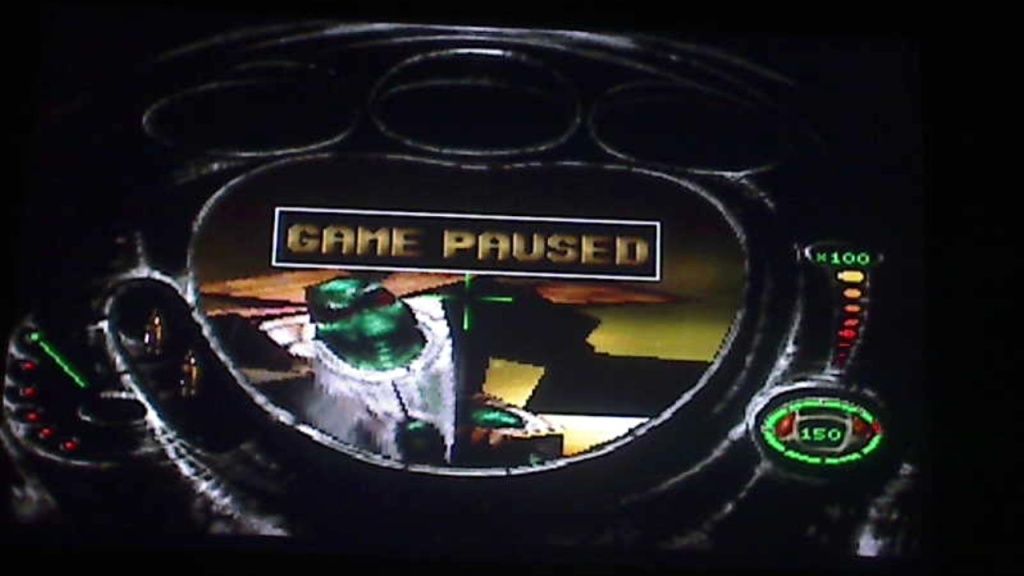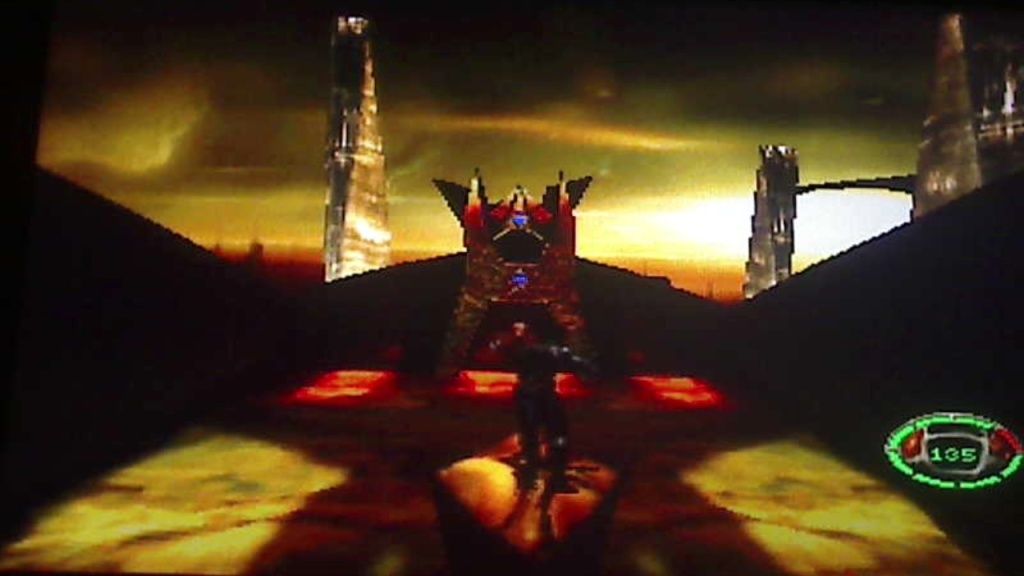 That said, the PS1 version doesn't have any compatibility issues, and proper gamepad support, which might convince some. Don't get me wrong, its a good version overall , just a downgrade at the same time.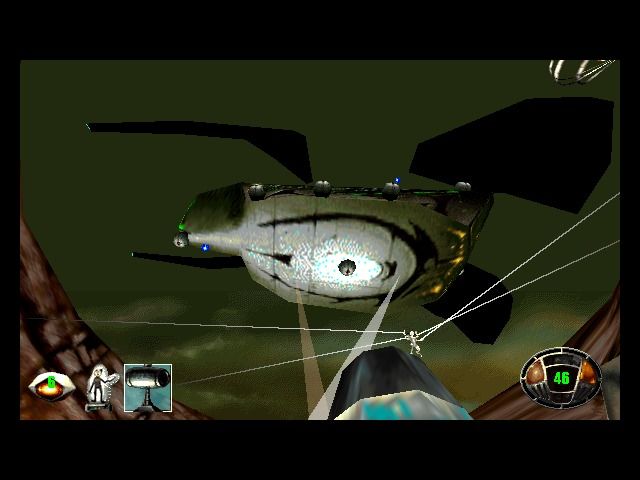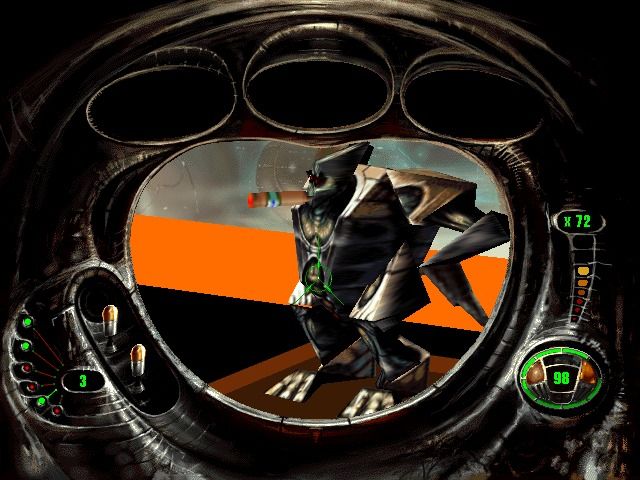 So in conclusion , MDK is a great game with a wacky sense of humor and some great level design , with visuals to match (for the time of course). The game is not hard to find either, besides the physical copies for both the PC and PS1, you can buy the games on GoG and Steam, I personally haven't tried those as I have the physical copy ,but I suspect they will run fine on a modern computer.
Whichever way you decide to play MDK , you will find a great and inventive 3rd person shooter .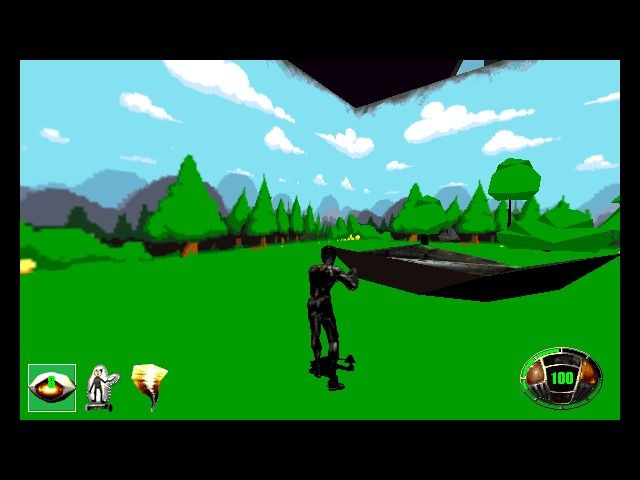 So this was my review of MDK , I highly recommend it in one form or another. There was also a sequel released a few years later, but that is a different story altogether.
Thanks for reading :)