Today, 21 December of 2006, Reggie changed her hairstyle in the most drastic way.
The world will never be the same when Reggie the Mighty roams the Earth in her search of handsome game characters, sushi and strange french comics. Fear her red glasses and blue hair of DOOOOOOOM!!!!:
I've also managed to get my fingers on World of Warcraft since my Visa card finally found out that cooperating is a good thing.
I'm playing as a Tauren Huntress named Anuket and right now I'm lv 8 and usually hang out in Bloodhoof Village. I'm on the European server called Stormscale. Come visit me!!!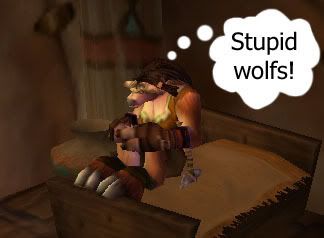 And I hate wolfs. Because of them, I have probably died over 20 times!!! And I've been playing for two days!!! *mumble grumble*