Disclaimer: I typically review games. I have reviewed one or two movies, but I don't do it often, so bear with me. And since this is actually a series of short films, I won't be assigning it one large score. I will score each short separately. And Finally, while most of you watched the DVD version of the film...I watched the Blu-Ray. I have no idea how big of a quality jump exists between the two, and as such, I won't be mentioning it. Enjoy! Oh yeah...and spoilers are imminent...so use caution if your avoiding them...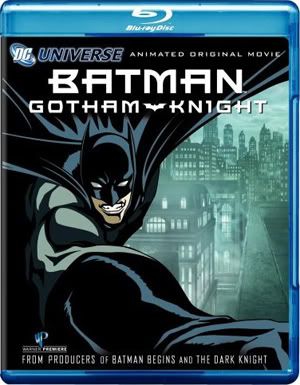 Batman Gotham Knight (Anime)
Something of a mixed bag...but mixed to mostly good results...
Best Feature: High production values, generally awesome art. Kevin Conroy. ITS BATMAN DUDE!
Worst Feature: One short falls victim upon a rather generic idea. None of them really seem to connect to the movies aide from a few mentions. (Like I was led to believe), one short in particular is pretty meh...
Now understand one thing, I LOVE ME SOME BATMAN! I love comic book Batman, I really love The Animated Series Batman...I even like Adam West. So when I heard about this Anime/Bat collaboration, I flipped my cowl. Some months later, it's finally in my hands...but is it any good? Well there isn't a finite answer to that. You have to rate each respective short, so here we go!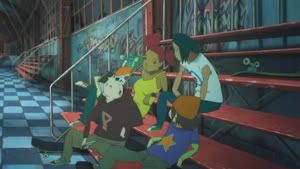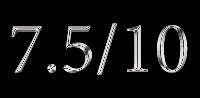 Have I Got A Story For You
Now, the very first thing anybody is going to notice about this opening short, is the heavily stylized visual **** This one is is easily the most heavily stylized of the whole lot of em, but this kind of graffiti based animation isn't really anything new. But it gets points for trying.
"Have I Got A Story For You" tells the stories of several kids and their various experiences seeing the still mysterious "Batman," only it's from their own exaggerated point of view. This story tries to go for the childlike innocence vibe, and does it reasonably well, but again...it's hardly anything new. (It actually kinda feels like something I might think of)
That's not to say that it's not entertaining, as I rather like the first story presented by the first child. Where Batman isn't even a being at all...just a living shadow, shape shifting into the floor like T-1000.
Another features him as an actual man/bat creature...flying around, savagely ripping his opponent to shreds. While this one was chock full of good action...the very concept bothers me. As some of you may know, Man-Bat is one of Batman's villains...and is a creature of that very description. Kind of a minor quibble, but it did bother me nonetheless. That and the sorta hokey ending (Which I won't spoil) to this one kinda burned me a bit. A good effort, but not great.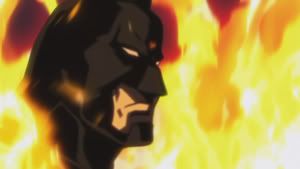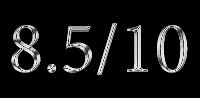 Crossfire
I love how solid the art is in this one. It's not trying so hard for ****points like the last one, it's simply being solidly drawn. The art is dark and seriously toned like a Batman should be.
Anyway, it opens up by introducing two cops (both good...but one frustrated) as they discuss what their thoughts on Batman. When Lt. Gordon sends them on an errand to deliver a prisoner to Arkham Asylum in "The Narrows" however...things take big turn south, as they get caught in the middle of a gang war.
Pinned down with backup nowhere in sight, who comes to their rescue but The Dark Knight. And this is where things really pick up, the action isn't particularly stylish, it's actually very direct and to the point which works well. But more then that, the imagery used with Batman walking through the growing inferno was nothing short of awesome.
The story in
Crossfire
takes some pretty predictable turns all the way to the end, but it wasn't any less enjoyable as eye candy alone.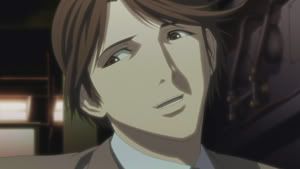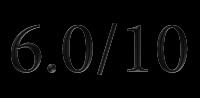 Field Test
Wowzers! And I don't mean that in a good way. Field Test is easily the low point of this set. The art isn't anything special, seems like basic TV Anime fare. That's not to say it's bad, it's well drawn for what it is, just not particularly engaging or unique.
What really bothers me though, is the plot itself. It begins when Luscious Fox invents a small electromagnetic device powerful enough to deflect gunfire. Obviously thinking it useful, Batman takes it along with him on his next night out, where he out to bust up a gang hit taking place at sea. But before he does that, they are going to stop off for some unnecessary extra conversations with people who don't have much to do with the overall theme of the story.
This is where I fell off the boat, throwing out stuff I don't necessarily need to see, is an easy way to make me bored. But when it finally gets back on track and Batman gets into a fight with some gangsters during the previously mentioned gang hit, his bullet deflection device works too well. That's all I'll say.
I can see exactly what
Field Test
was shooting for, (pardon the pun) but it's simply shooting for the cost in collateral damage to others to being a super hero angle, which has been done in other much better ways. (Spider Man losing Gwen Stacy I think is the most iconic example of this ever) It's not horrible, but it isn't really good either....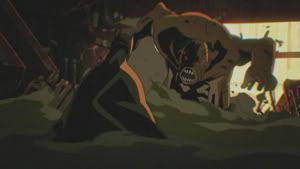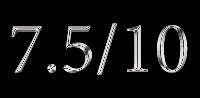 In Darkness Dwells
This one caught me off guard. How? I had no idea where it was going all the way until the end. It was a very nice way to keep me interested, as it's again passably drawn, it's nothing really special.
The mayhem starts when a church cardinal is abducted during a riot at a cathedral. Batman sets off to look for him while staying in contact with Gordon over an earpiece. Things get violent when Batman catches up to the kidnapper and he is revealed to be Killer Croc, a Batman regular who I thought was a rather neat inclusion.
After dealing with Croc, we are introduced to some psychotic inmates of the narrows and The Scarecrow, who are left over from the riot of the first film living underground. I thought The Scarecrow was portrayed rather well...visually and in personality. Some good action round this one out, but it isn't anything crazy awesome. Just another good one.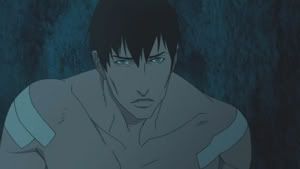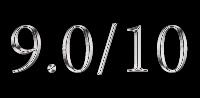 Working Through Pain
Here is where I might get into some trouble with a few of you. Be forewarned, this one has the absolute least amount of action out of any of them.
Working Through Pain
is almost entirely engrossed in its own theme. But it's an angle I almost never see perceived alongside Batman, and it executes it rather well to boot. So I have a feeling most people will be bored by this one, but while I usually multitask while watching movies, this one stopped me and focused me solely on it, and I loved it.
The overarching theme this one throws at you pretty blatantly, is Batman simply finding the will to keep up his crusade through his physical and emotional scars...as they pile up higher, and he buries them deeper and deeper and keeps pressing on.
Through a series of flashback sequences, your sent to an (what I assume) was a village in India where Bruce Wayne trains with an exiled guru, who teaches him to deal with his pain. (Who is a very interesting character in herself) She takes a stick to the face...and doesn't flinch as blood pours out of her forehead. His tenure with her also ends in a very interesting way, when she comes to her own realization.
This short also had a few moments that made me cringe a bit and say things like "Oh Snap!" Not the least of which being Bruce removing a bullet from his own body with his fingers...or even more cringe inducing, Bruce assisting on a surgery...on a fully conscious patient. (Who is screaming his lungs off, watching himself cut wide open)
The art again, isn't anything really scream worthy, but it works. (Though I think Bruce looks to Asian) More about story then action, I really enjoyed
Working Through Pain
. It had me hooked to my TV for the 15 or so it lasted.
Deadshot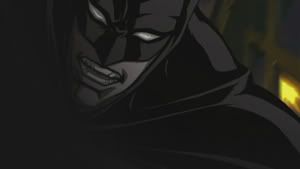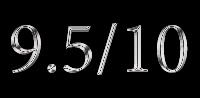 As much as I enjoyed that last one, I'd would have to say that
Deadshot
is my most favorite of all of the shorts. And for the most simple reason. It is almost like a lost episode of
Batman: The Animated Series
. A simple plot with a pretty cool villain at its helm, great visuals and lots of good action to boot, equals a fantastic show.
Deadshot, to put it quite simply is an assassin, who's trademark is his insane accuracy. (He's DC's equivalent of Marvel Comic's Bullseye) Deadshot is hired to eliminate Gordon by some gangsters who see him as a threat. Upon hearing this Gordon is on 24 hour watch, not only by cops, but Batman as well.
A pretty awesome narrow save for Batman culminates in a very rockin train fight with Deadshot, where Batman narrowly avoids death at his hands. The whole thing is awesome from beginning to end, with Deadshot being a very cool villain to see up against Batman. (I almost feel like he'd fit right in were he plopped into Trigun) It really does feel like a lost Animated Series episode with high end production values. (Not just because of the Kevin Conroy voice over either) That rings as a major plus for someone like me, who is a huge fan of The Animated Series. I loved this one.
All together:
Overall, it's not a completely tight package, but it's mostly good, as I enjoyed myself for the large majority of it. For a Batman fan, I'd say yeah definitely get this. If your a casual fan...maybe not, just watch the last two if someone you know owns it. But I would say buy the DVD, even if you have a Blu Ray player. It's cheaper, and while the Blu Ray has a few extra features, they aren't the extra $10-$15 worth of features your gonna pay for. Overall a pretty good pickup that I'm sure I'll watch again...unlike other movies that rot on my shelf. (*Cough* The very pretty, but plot handicapped
Final Fantasy VII Advent Children
...*cough*)