So you just bought your Xbox 360 and you have some questions about it. You've come to the right place. Below, this thread will hopefully answer some commonly asked questions about the Xbox 360 and suggest some games you might want to buy. If you have a question that you do not find on here, please feel free to either PM me or post the question directly on this thread, and I'll try to update the thread with the question if it is good enough. If you find a mistake, or think I should add/remove something, just tell me. If me, you and a few other users agree, it'll happen, ight?
Thanks for the read. Hopefully the board can be cleaned a bit up now because of this topic
- choffy
*NOTE* ALL"What game should I get?" or any similar questions relating to game recommendation threads outside this stickied thread will be locked. This is THE ONLY place to ask for recommendations in the 360 board. Thanks. - Caddy06_88
______________________________________________________________________________

Q:What are the differences between the three different Xbox 360 SKU's?
A: Microsoft has made a handy chart that tells you the differences between the three console SKU's. You can view the chart below.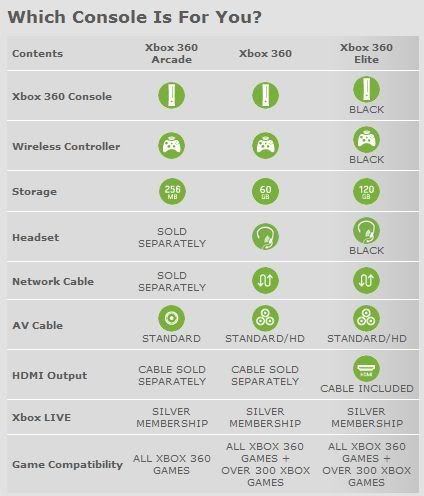 The prices are $199.99 (US) for the Arcade, $299.99 (US) for the Pro and $399.99 (US) for the Elite.
Please note that you can purchase a Refurbished 20 GB Hard Drive and a 3-Month Xbox Live Subscription Card if you bought a console without a Hard Drive. The offer is through Microsoft, but it's only for a limited time.
______________________________________________________________________________

Q:How much is Xbox Live?
A:There are 2 Membership Levels, Gold and Silver:
Xbox Live

Silver

does not allow you to play games, yet still allows you to access System Updates, Xbox Live Marketplace, keep a friends list, etc.
Xbox Live

Gold

allows you all the features of Xbox Live Silver, but allows you the access to play games like Halo 3 and Call of Duty 4: Modern Warfare online. There are 3 different options: a 1-month ($7.99 US), a 3-month ($19.99 US) or a 12-month ($49.99 US). If you buy a

12-month Xbox Live Subscription Card

from a store, you get an extra month for free.
Q:Why do we have to pay for Xbox Live?
A:There is not exact answer for the question.
Q:What exactly are Microsoft Points?
A:Microsoft Points are Microsoft's currency that they use on Xbox Live. It costs $.125 (US) for every 1 Microsoft Point. Many things on the Xbox Live Marketplace cost 800 Microsoft Points, which is equal to $10 (US). You can buy points bunches on Xbox Live, either 500 MS Points ($6.25 US), 1000 MS Points ($12.50 US), 2000 MS Points ($25 US) or 5000 MS Points ($62.50 US); taxes do apply. You can also buy a 1600 MS Point ($20 US) or 4000 MS Point ($50 US) Prepaid Card from your favorite retailer.
Q:What can I buy with Microsoft Points?
A:Everything that you can buy on the Xbox Live Marketplace. Map packs for games, Xbox Originals, Xbox Live Arcade games, Music Videos, TV Shows, Movies Rentals, and much, much more. Microsoft Points are also the currency used on the Zune Marketplace, so you can buy music/videos on there as well if you own a Zune.
Q:How come I can't purchase any M-Rated content off the Xbox Live Marketplace?
A:Because you probably signed up for a Child's Account on Xbox Live, which means you were under 18 when you signed up. The only way to fix this is to wait until you're 18 and then you can download all the M-Rated content in its glory.
There are also other ways around it, but it involves lying on your part, and that's all I'm going to say. You can figure the rest out on your own if you really want to.
______________________________________________________________________________

Q:Isit better to have your Xbox 360 vertical or horizontal?
A:Horizontally, if possible. There are many reports of Xbox 360's putting deep scratches into discs if the console moves (even the slightest of bumps have done the trick according to reports) when placed vertically.
Q:What are the Red Rings of Death (RRoD)?
A:The Red Rings of Death are lights that turn red on the front of your Xbox 360 when it malfunctions. There are three different types of Hardware Failure, each representing a different problem:
One Red Light:

General console failure and depending on the severity, may have to be sent into Microsoft for repairs

Two Red Lights:

Means that the console has overheated and needs to be turned off for 2-3 hours to allow it to cool down

Three Red Lights:

Means that the console has experienced general hardware failure and must be sent into Microsoft for repair

Four Red Lights:

Means that the console can not detect the AV Cable, and another AV Cable must be purchased
Launch Xbox 360's were believed to have about a 30% failure rate, but Microsoft has since released new chipsets that have dramatically reduced the amount of breaking Xbox 360's
Q:What happens if I do get the Red Rings of Death?
A:Not much. Microsoft simply sends you a "coffin" (or box) to put your Xbox 360 in and you ship it back to Xbox Headquarters in Seattle. The process can take anywhere from 1-4 weeks, depending on how far away you live from Seattle.
Q:How can I prevent the Red Ring of Death?
A:There is no fool-proof way to completely stop your Xbox 360 from ever receiving the Red Rings of Death, but there are some general tips that if you follow should greatly reduce your chances:
Allow 3-6 inches of breathing space between your Xbox 360 and a wall so your Xbox can breathe.

Try to avoid using Air Blasters on your Xbox 360. It will blow the dust back into your Xbox 360, which can potentially clog some vents, increasing your console's chance to Red Ring. Instead, try to using a small vacuum to suck up the dust.

Do not move your Xbox 360 while there is a disc in the disc tray, even if the console is off. It can scratch the disc or break the disc drive.
Q:How much does it cost to repair my Xbox 360 if it Red Rings?
A:Depends. Microsoft covers Xbox 360's from the Three Red Rings of Death for 3 years from the date of purchase. All other forms of Hardware Failure occur are covered for 1 year.
Q:Wait, what do you mean 'other forms of Hardware Failure'?
A:By that, I mostly mean the One, Two and Four Red Rings of Death. However, there is an extremely rare form of Hardware Failure called the E74 where the screen turns black, and says "System Error. Contact Xbox Customer Support" in multiple languages.
Q:How much does it cost to repair my Xbox 360 if something besides the Three Red Rings happens?
A:Usually around $100 (US). But keep in mind that you have the in-store warranty, an extended in-store warranty you may have purchased, and the 1-year warranty offered by Microsoft.
Q:When do all of these warranties start?
A:The warranty starts from the date of purchase (so basically once the cashier scans your Xbox 360).
______________________________________________________________________________

Q:Is there a cheaper alternative to connect wireless to Xbox Live than the $100 Xbox 360™ Wireless Networking Adaptor?
A:Yes, there is. If you can find the Xbox 1 Wireless Adaptor, it's probably a lot cheaper than the Xbox 360™ Wireless Networking Adaptor. A good place to look is Amazon.com, where you can find it for about $50 (US), compared to the $100 (US) Xbox 360™ Wireless Networking Adaptor costs.
Q:What is the best Headset to use for Xbox Live?
A:The Headset that comes with your Xbox 360 is fine and should get the job done. If not, you can buy the Xbox 360™ Wireless Headset for $59.99 (US)
Q:If I buy an Xbox 360 Arcade, will I be able to buy a Hard Drive for it eventually?
A:Yes. All Xbox 360 Hard Drive are interchangeable. Simply press on the little button on the front of the Hard Drive, push it in with your thumb and press up.
Q:I just filled up my Hard Drive, but I don't want to delete anything. What should I do?
A:Microsoft has the Xbox 360™ 120GB Hard Drive available for $149.99 (US). It also comes with a Transfer Cable so you can move your saves from your old Hard Drive to your new one.
______________________________________________________________________________

Q:Whatare Achievement Points/GamerScore?
A:Achievement Points are basically little trophies you receive for completing certain accomplishments in-game that are worth a different amount depending on how complicated/time-consuming they are. For example, in Halo 3, you receive 125 Achievement Points for completing the campaign on the Legendary difficulty.
Every game has Achievement Points. Retail games have 1000 Achievement Points, and Xbox Live Arcade games have 200 Achievement Points. Some updates to retail games add an additional 250-750 Achievement Points.
Q:Sounds fun! What are some easy games to get my score up?
A:There are a lot of different places on the internet you can go, but a good site to visit is Xbox360Achievements.org. There you can find Guides for many games telling you how to achieve the Achievements.
Q:Is there any purpose to Achievements?
A:None whatsoever! It's just a pointless little number.