This thread was made and updated by darkspineslayer!  Check it out here.
Click on the image of a fighter for more pictures
Systems: Wii U/3DS
Release date: 2014
Developer: Nintendo, Sora Ltd., with collaboration from Namco Bandai
Previous entry: Super Smash Bros Brawl (Wii) (9.5 Editors choice)
Super Smash Bros. for Wii U and 3DS will be the fourth and fifth games in the fan favorite Nintendo brawler, as well as the first handheld entry to the series, which only grows more popular with each entry. Super Smash Bros could very well be the shot in the arm the Wii U needs to pick itself up!
-------------------------------------------------------------------------------------------------------------------------------------------------
Latest info, Click Here!
Hot off Neogaf, Sakurai recently did an interview with a french publication. Link above.
The takeaways:
-One team is working on both games, there is no "lead platform" but they did consider 3DS exclusive at one point.
-Both games will have the same characters, looks like no version exclusives there.
-Sakurai is not opposed to DLC, he just isn't thinking about it while he's making a complete game on it's own. Little more hesitant on patches.
-Single player will NOT be structured like the SubspaceEmissary, disapointed the cinimatics from it made their way online (welcome to 2005, Sakurai)
-No promises, but he does enjoy introducing new combatants with the same kind of cinematic treatment Megaman, Wii Fit Trainer and The Villager recieved.
-"You cannot disable stage damage...It may as well be PSASBR!" (Shots fired)
-The time for considering new charecters has past. Sorry Geno fans.
-------------------------------------------------------------------------------------------------------------------------------------------------
-Each version will have the same characters
-Stages will be different between the versions, with the Wii U focusing on home console environments and the 3DS following suit for portable worlds
-Unfortunately, this difference means the game will lack cross-play
-Versions will still have some connectivity between them, with an as of yet unexplored customization element at play. Suggestions are that it won't affect power of attacks, as much as directionality.
-Tripping has been removed (huzzah!)
-Speed of the game will be somewhere between Melee and Brawl. Director wants to strike that balance between those who prefer the pace of melee with the accessibility of Brawl
-Not sure how the fact the 3DS version gives each player a separate screen would be used.
Mega Man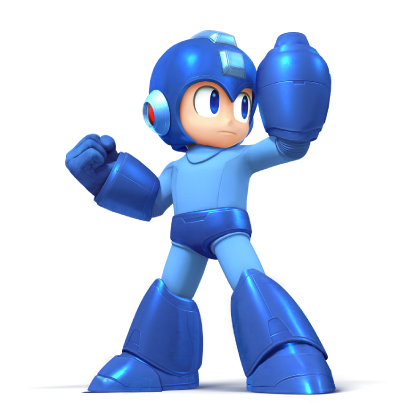 Longtime request Megaman enters the fray, bringing along a whole armoury of Robot Master weaponry he's acquired over the years. Known weaponry includes the Super Arm, Metal Blade, Crash Bomb, Leaf Shield, Hard Knuckle, Spark Shock, Top Spin, Flame Blast, Slash Claw, and Flame Sword, pulling from throughout the classic series. His weaponry is rounded out by his natural abilities, such as the chargeable Mega Buster, sliding, or the Mega Upper which looks suspiciously like a move from another Capcom Legend.
The Villager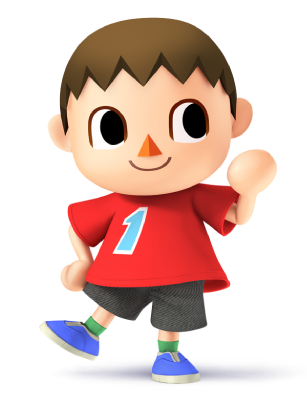 Does this look like the face of mercy? The animal crossing villager comes to town, and he is ready to pay back some pain. He carries around all sorts of paraphernalia to attack with, and is always ready to pick up more souvenirs, such as Samus's missiles, Mario's fireballs, or any other projectiles and use them for his own carnage. He also does one hell of a balloon fighter impression.
Wii Fit Trainer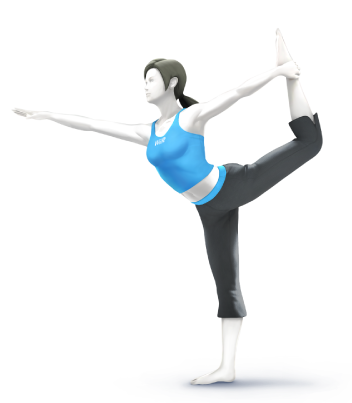 One of the more....interesting new combatants, the Wii Fit trainer has come to put the Nintendo all stars through their paces. As a health nut, she moves gracefully and many of her moves are based off of the Yoga and other exercises Wii Fit has players do.
Smash Bros. petition calls for Reggie Fils-Aime to be playable character.