8 THINGS YOU NEED TO KNOW
1. GRAND THEFT AUTO IV LOOKS BETTER THAN YOU
Look guys, I know most of you (not counting the Sheep, obviously) are really used to seeing ultra high quality graphics that blow the lid off of everything else out there. I mean, the Cows have Uncharted and Heavenly Sword, The Lemmings have GeoW and Bioshock, the Hermits have Crysis and a ton of other games, and all of us have Call of Duty 4 (not counting the Sheep, obviously).
Having said that, does every game need to push the graphical bar further in order for us to say that it looks good? Because I have been hearing alot of criticism with regard to GTA IV's graphics, when, to me at least, the game looks awesome. There's alof detail applied to textures, there's great lighting and special effects, and the main character models look pretty slick. And remember: It's an open world game. It's not going to look as good as Gears. I think SW as a whole needs to realize that, sit back an relax, and just bask in the multi-plat glory that will be GTA IV (not counting the Sheep, obviously).
2. DUKE NUKEM 3D FOR XBLA? HELLZ TO THE YEAH!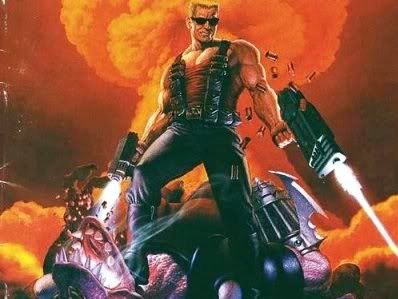 Videogamer.com has some story up about Duke Nukem 3D going to XBLA. That would be ****ing awesome! Somehow though, I feel as if this is just a smoke screen to distract me and other DN fans from the sad reality that Duke Nukem Forever has been in development since the time when Michael Jackson was still black.
3. SUPER SMASH BROS BRAWL: DELAYED AGAIN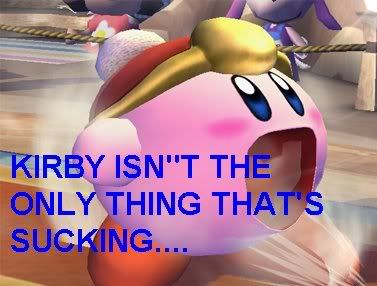 Super Smash Brothers Brawl has been delayed again, this time until March 9th. This makes me wonder how people who exclusively own a Wii manage to survive. Whilst Hermits, Lemmings, and yes, even Cows, constantly have a current of solid and many times amazing games arriving for their systems, the Sheep seem content to sort of meander around for a few months, following the pieces of bait that are Nintendo's flagship titles.
Sure, when they finally arrive they can be awesome. Look at Twilight Princess and SMG. But my question to the Sheep is this:

In those long months between quality games on the Wii, what is it that you do? Do you replay RE4 Wii for the 4th time? Do you look for every poe in Twilight Princess? Do you pretend that Sonic and the Secret Rings doesn't suck? Just curious.
4. NO DENNIS DYACK, I DO NOT TRUST YOU
Congratulations Dennis Dyack, you made Eternal Darkness. But listen up DD, I have something to tell you about Too Human:
Your history with ED does not mean I trust you to make TH a good game, do you understand me DD?
Seriously, don't even think ED will gain a sympathy vote in my mind, DD. You still have to do a good job on TH. Rise to it. Make a stand. Be firm about it. I know it's difficult, but don't let your past with ED go to your head. This deal is only going to get harder from here on in.
5. FABLE 2 IS GOING TO BE REALLY CONTROVERSIAL
Think about it man: This game has dogs, women, and impregnation. I can see the Kevin McCollough headline now:
FABLE 2 FEATURES DOGS IMPREGNATING WOMEN: YOUR CHILDREN CAN NOW ENGAGE IN BEASTIALITY ON THEIR SEXBOXES!!!
Peter Molyneux better get his ill-informed d-bag journalist shield ready...
6. THEY SHOULD TOTALLY MAKE A KILLDOZER GAME
Woudn't that kick ass? It could be a free roaming sandbox game set in Maui and would use CryEngine 2. The basic idea of the game would be to drive around Maui and Killdoze stuff. That would be GOTY 2008 if someone would just make it...
7. WESLEY SNIPES TO WORK WITH TEAM ICO?
I heard a rumour from a source that I cannot disclose that Wesley Snipes may be involved in the creation of some sort of vampire themed video game working with Team ICO. Please note that this is pretty much uncomfirmed, and is third hand information, but it certainly seems interesting and somewhat plausible given his involvement with vampires in the Blade movies. My source seemed to think that Snipes would be in some sort of a directorial position rather than a voice acting one. Time will tell, but for now just call BS on this, and if it goes down, remember that I called it.
8. SUDA 51 SAYS THAT 3RD PARTY WII GAMES AREN'T SELLING
LINK
All I have to say to that statement by Mr.51 is...
[spoiler] NO ****ING DIP [/spoiler]
9.
There is no nine. Go away, this topic is over.