usually dust floats around the air like people would normally see, however it accumulates on things that can possibly create a static charge. TV's Computers PS3's for example. you may also notice that dust accumulates quicker on area's with little to no airflow, on the table near, around, and behind the tv, or your game systems.
i found that my game systems could collect dust on the top as well as in the system when i had them on tables on or near my tv, as well as just having them on a table period.
after re-arranging a few things i found that now i have little to no dust in my systems ( i can tell the amount of dust on the inside because i take apart my 360 ) and i notice there is little to no dust on the inside. so i decided to put my PS3 where my 360 used to be in order to better protect it from the dust. so i suggest trying this. take a look at the pics below. i put the PS3 on a 3 tier rack that i have, there is no 'flat' surface for dust to accumulate on at all because the system is basically sitting on bars. i have also put the playstation -- underneath the tv-- as apposed to next to it, on top ( if you have sd tv's) or in front.
basically by spacing out your electronics, and not putting them on a flat surface where dust can accumulate in to a nice big blob of crap that your ps3 will just suck up the next time you turn it on, you could prolong the life of your lil baby.
- few cleaning tips for those who may ask.
try to avoid swiffer cloth. ( static electricy and electronics dont mix )
dont use anything wet, anything will do to wipe off your ps3, i personally grab a cotton shirt out of my dirty laundry and wipe it down with part of the shirt that doesnt include stitching or whatnot to avoid scratches.
dont use compressed air because the vents are so small on the ps3 as well as other systems that your more likely to blow dust thats inside the system to places in the system the dust normally wouldnt reach. the dust follows the airflow pattern that your fans in the ps3 create.
use a vaccuum but dont use high power, and have the attachment pressed against the system itself, give some distance just to be nice ( you wouldnt want someone puttin a vaccuum on your skin would ya?
can cover your ps3 with a towel when your not using it, or if you like to see your PS3 you can do what i did and take the slim foam packing that came with your PS3 (probably stil in your box unless you threw it away) take some scissors and cut a nice square out and place that on top of your PS3, same with the plastic it came in, i cut a square out and just lay it on top for neat appearance.
Notice how there is really no place for dust to accumulate, however if i were to take my finger and wipe the dvd's on the bottom shelf there would be alot of dust, by placin the ps3 on a non flat surface like this, thats dust that will not be in my ps3.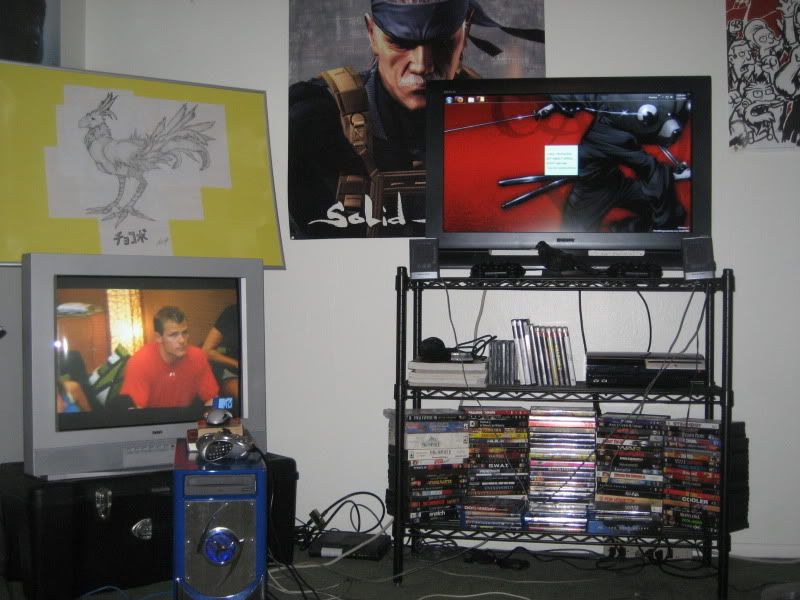 by keeping your ps3 off the floor, out of the corner of your room, off a flat surface your just minimizing the amount of dust you gather inside your system.
remember these are just my idea's and personal experience, hope you find it a helpful idea.