See that? Thats PI. It may seem like just another Mathematical symbol, but the meaning behind PI is so grand, so surreal, so mind-blowing, that the full extent of understanding PI is beyond human comprehension. For those that are somewhat unfamiliar with the concept of PI, read

here.

What exactly is PI? Well, simply put, its an infinite sequence of numbers. Thats it. But what those numbers represent on the other hand....... is far less simple. The numbers encoded in PI (), tell all of the secrets. Let me put it another way: "Pi is an infinite, non-repeating decimal - meaning that every possible number combination exists somewhere in PIs infinite sequence of numbers. Converted into ASCII text, somewhere in that infinite string of digits is the name of every person you will ever love, the date, time, and manner of your death, and the answers to all the great questions of the universe."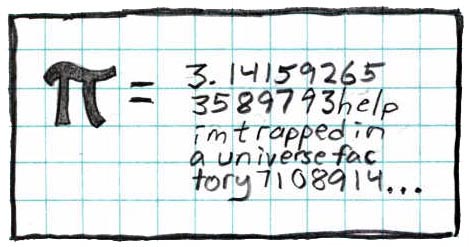 PI is a truly incredible thing, no? I used to see it as nothing more than just one of many useless mathematical symbols, but now I see that in this one, little, simple symbol:
In that simple symbol, EVERYTHING exists. Everything past, present, and future, all exists, everything we want to know, every little mystery from something like who stole money from a bank to the origins of existence, everything we have done, are doing, and will do, every little tiny thing, to every big thing that will happen to us........ all of it........... exists......... in this infinite sequence of digits, where literally, ANYTHING and EVERYTHING is possible....... in this, little symbol.......