MILLCREEK A SWAT situation has developed in Milcreek, where a man appears to have set up explosive devices in his yard possibly neighbors.
Neighbors say the man is David Baker and has a series of websites and YouTube videos in which he talks about the apocalypse and exhibits bizarre behavior. He is also seen using weapons and describing how to make explosive devices using trip wires.
Police aren't sure how dangerous the situation is, but homes in the area near 3750 South 3100 East have been evacuated and police are actively working on the situation. The situation appears to be getting worse and police have expanded the area of the evacuation in the last few minutes.
There are also reports that his home is booby trapped. He is also said to have put explosive devices in the yards of his neighbors. it is unclear whether police were called because a device was found or because of his behavior
Baker allegedly planted an explosive device on a home in Thousand Oaks circle in the east bench.
Neighbors say he allegedly came home in the early afternoon yelling "The police will be coming," then ran into his house and closed the garage door.
It is believed the man is mentally disturbed.
Police are aware of the man and said he has made threats to police before. They also says he has posted many videos in which he makes threatening messages to police.
He also claims to be running for president. On videos posted, he claims God is his vice-presidential running mate and he appears to claim that God's name is Mike Proctor.
"God's my vice presidential candidate," Baker said in a video posted Sept. 17. "It's Mike Proctor. And he said to remind everybody that we're going to put the NRA out of business. Do you know how?"
Baker is seen on the videos unshaven and erratic. He also claims that God speaks to him as he wanders around his home filming himself.
"Hello my name is David Baker and I talk to God," he announces at one point.
"One of the problems talking the God is he says so many things to me, it's hard to keep them all straight," Baker said.
Baker claims in the videos that when he smokes extremely large amnounts of marijuana, which he often calls "blueberry toast" that God begins to speak with him and he feels "God, the Son, and the Holy Spirit."
He also said his role was to "crush" the spirit of "lesser men."
"What I was put on this Earth to do is to crush the spirit of lesser men. Anybody who lies to hurt, I make feel uncomfortable."
In many videos, hetalks about his presidential position on guns(some swearing occurs in the video). He claims that everyone over the age of 25 "must" own a gun.
"When the revolution comes it will not be televised, it will be live, and I want everyone in this country armed," he shouts.
Later he says, "Don't let the Devil take over. Turd-blossom is gonna come and take your guns. Obama's gonna come and take your guns."
Many of the statements made by Baker on his litany of online accounts seem foreboding and disturbed. At one point, heclaimsthat if he is not elected president, there will be consequences.
"If Proctor BAKER is not elected to the white house, this country will know 13 years of HELL - the ultimate BURNING MAN - with Turd Blossom still in charge of World Government."
Many of the videos, blog posts and extensiveTwitterposts seem to coincide roughly with the date Sept. 17. He also claims that 17 is his "favorite number," and that 17 is the only "truly random number." Dozens of posts were made to Twitter and blogs, as well as at least 4 posts to YouTube, though several were made the day before and the day after Sept. 17.
http://www.ksl.com/?sid=22271720&nid=148&title=man-who-claims-he-speaks-to-god-allegedly-plants-explosives-in-neighbors-yards&s_cid=featured-1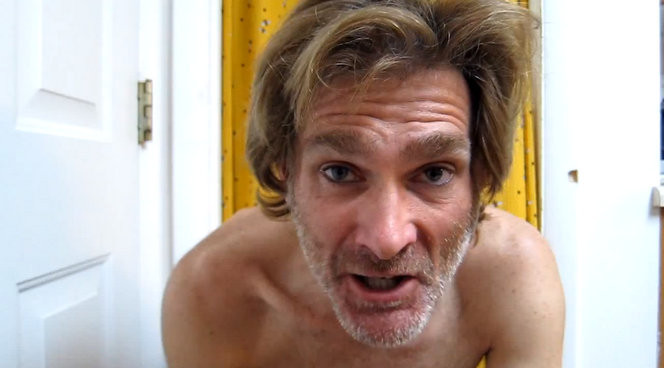 haha damn. you think he's got a chance to the GOP nominee in 2016?ONLY JOKING
In all seriousness: lol Utah.