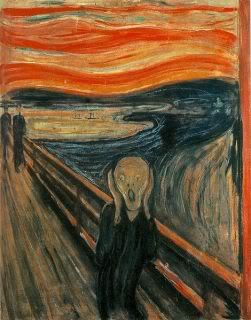 Click for a larger view.
I'm sure most of us have seen this famous painting before, but what does it mean? We see a terrified man standing on a dock. The question is, why is he terrified? Why does the background appear twisted and distorted in the way it is? Is the subject's terror because of his twisted surroundings? Did he just watch "Home Alone" and decided to imitateMacaulay Culkin? The people behind him seem almost fluid, like ghosts. Is this man trapped in a spirit world, and that is the reason for his horror, or are the spectres the source of his fear?
Share your thoughts. All of them!