Hello everyone, and welcome to the new:
Nintendo DS Recommendation Thread
Under New Management
Original thread created by Bio_Spark, credits goes to him.

ALL DS RECOMMENDATIONS IN THIS THREAD.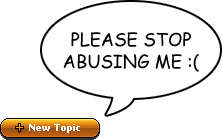 If you want an opinion about which game to get, this is the thread to post it in. If you are going on vacation and want a good DS game, but don't know what to choose, post it in this thread. The DS forum is cluttered with too many of those 'recommendation' thread when we have a big bold sticky thread for it right here! Also, all those x or y recommendations threads will now be locked and the user possibly moderated because those are recommendation threads too and belongs in THIS thread for example Pokemon or Mario Kart should be posted in here! Violate those rules and face the wraith of the Moderators Soulreavercross
Table of Contents
------------------------------------------------------------------------------------
No, really. We need one. The DS has been around for about five years now, and in that time it has amassed a huge collection of games with something for everyone.
Attention: This thread will work with DSi games. Those include DSiware games, DSi enhanced cards and DSi only games. If any of these is worthy mentioning, it will be placed on the DSi section
For comparisons about the DSi, please, use this topic: DS lite vs DSi - Comparison thread
Bio_Spark "tag" system is included. If you're looking for a specific genre, search for its tag (Ctrl+F in most browsers.)
For example, if I wanted a roleplaying game I would search for "RPG7," and it would bring me to the proper section!
Upcoming Games---(UPC0)
Action---(ACN1)
Adventure---(ADV2)
Fighting---(FIG3)
Minigames/ Game Collections---(MIN4)
Platformers---(PLT5)
Puzzle---(PUZ6)
Racing---(RAC7)
Role Playing Games---(RPG8 )
Shooters---(SHR9 )
Sports---(SP10)
Strategy---(STG11)
Text Adventure---(TX12)
Virtual Life---(VL13)
Imports---(IM14)
DSi Section---(DSi15)
--------------------------------------------------------------------------------------------------
UPC0
Upcoming
Those About to be Released (We salute you.)
There are always plenty of games on the way. To save you some time, cash, and brain cells, I've tried to only include those that people have high expectations for. If you think something is missing, tell me! I'll almost definitely include it.
EU and AUS release dates are often vague or unreliable. These dates only apply to US releases unless otherwise specified.
Blood of Bahamut (TBA 2009)
Dragon Quest IX: Guardian of the Starry Night (TBA 2009)
Golden Sun DS (TBA)
Kingdom Hearts 358/2 Days (TBA)
Legend of Zelda: Spirit Tracks, The (TBA)
Ni No Kuni: The Another World (TBA 2009)
Phantasy Star Zero (TBA)
Pokemon HeartGold/SoulSilver (TBA)
Professor Layton and the Diabolical Box (August 24, 2009)
Scribblenauts (September 15, 2009)
Shining Force Feather (TBA)
Sigma Harmonics (TBA)
Tales of Hearts (TBA)
------------------------------------------------------------------------------------------------------
Updates
v2.1.4- Rythm Heaven and a couple of DSi stuff were added.

v2.1.3- Import section is done.

V2.1.2- Added some games like Knights in the Nightmare and Fire Emblem: Shadow Dragon. The DSi section was built, Its lacking an huge list but its there already.

v2.1- Updated with some games, including Dragon Quest V. Working to fix the thread format. A new layout for the thead is under construction.Now works with DSi games too.

v2.0- Under new management by meiaman. Original credits goes to Bio_Spark.

v1.48- Dragon Quest V, Retro Game Challenge, and Big Bang Mini are going up today, and release dates are being updated. I'm going to have to add Fire Emblem later, once GS puts up the review. Then again, the Kirby Superstar Ultra review still isn't up. (HINT, HINT.)
v1.47- Holidays are over, time for another update. Today includes Chrono Trigger, Castlevania OoE, DragonBall: Origins, Civ Revolution, Bleach 2, Disagaea, Age of Empires:Mythologies ,Legend of Kage, Metal Slug 7, and Ninjatown. Also updating the release list and writing my own mini-review for Kirby Superstar Ultra, because GS hasn't gotten around to it after MORE THAN 120 DAYS.
v1.46- All right, enough procrastination. Adding Civilization Revolution, GRID, Bangai-O, N+, Dragon Quest IV, and Lock's Quest today. Also updated the upcoming games list.
v1.45- E3 is over, time to update the upcoming games list. Also adding FFTA2, FF4, Etrian Odyssey 2, et al. It's a busy time for RPGs.
v1.44- The World Ends With You is up, and I fixed more release dates.
v1.43- Today I'm adding Ninja Gaiden: DS and Nanostray 2. I'm also updating the upcoming games list.
v1.42- I finally got the better of my procrastination and I'm now adding Crystal Chronicles: RoF and Apollo Justice. A lot of games have been announcd recently too, I'll get those up here.
v1.41- Whoops! I forgot to add Professor Layton this past week because I've... been too busy playing Professor Layton. Fixed a couple of release dates and added a few games too.
v1.4- Fixed the tags, put back the mysteriously disapearing racing section, and added three new games.
v1.3- The Final Fantasy XII: Revenant Wings review is finally in, I'll add that now. I also updated the release dates (so many TBA 2008s make me sad.) I also just realized my tag system skips the sports games, oops! I'll fix that ASAP.
v1.2- The reviews are finally starting to come in. I'll be adding Contra 4, and Mario Party DS. I'm also adding The World Ends With You, formerly known as It's a Wonderful World to the upcoming games list.
v1.1- Adding DQM: Joker and a GBA list. It was suprisingly hard to picl only 20 series! I'm also waiting on the Contra 4 and Mortal Kombat. Don't make me wait too long, Gamespot.

v1.0- It's finally complete! There are still a few things to be done, but the meat of the thread is here. I also added Dementium: The Ward to "Action." In the future I may add accessories and the top 10 or so GBA games.