UPDATE - Moderator Note: New threads about SSBB should create discussion. If you have a general question that requires a simple answer, post it in this thread instead of creating a new topic. Thanks!
FAQ
Why can't I find any opponents when I try to play online "with anyone"?
The servers are clogged with all the newcomers. It is possible to find opponents, so just keep trying. Playing with friends is not affected by this problem, so you might want to add friends from Gamespot.
My copy of SSBB doesn't work! What should I do?!
According to Nintendo, SSBB uses dual-layer discs, so some Wiis with a dirty disc-reading lens won't be able to read the disc. The best solution is to send your Wii to Nintendo for cleaning. Don't return the game, because the problem is more than likely with your console and not your game. Repairs should take about a week to complete.
For more info from Nintendo, click here.
How do I unlock ____________?
Check one of the guides at Gamefaqs or IGN. You'll probably get your answer faster by searching the FAQs than by waiting for an answer in this thread.

_________________________________
Hey, returning users and new members! Check out the "Why Should I Use This Guide?" section for new details!

This guide will usually be updated daily (at least twice-weekly, depending on if the updates warrant an update to the guide). I am more than open to any suggestions you may have to offer.
Things Acceptable For Discussion
Speculation --- Fan Fiction Links --- New Ideas --- Discussion of and Replies to Constructive Posts --- Minor Hype Building --- Game-Related Countdowns
Things Unacceptable for Discussion
Excessive Hypebuilding (spam) --- Trolling --- Spam -- Off-Topic Posting
Release Date:
March 9th, 2008
TABLE OF CONTENTS
(simply use Ctrl+F to open a Search Box and type in the Roman Numeral associated with the section you want to find)
I. Why Should I Use This Guide?
II. Synopsis
III. How to Play
IV. Music
V. Developer Profile
VI. Single Player
VII. Multiplayer
VIII. Online
IX. Controls
X. Trailers and Gameplay Compilations
XI. Links
XII. The Starting Roster
XIII. Unlockable Characacters
XIV. Transformations
XV. Starting Stages
XVI. Unlockable Stages
XVII. Item Profiles
XVIII. Pokeball Pokemon
XIX. Assist Trophies
XX. Subspace Villains
XXI. Conclusion
GAMESPOT SMACKDOWN
I. Why Should I Use This Guide?
Welcome to my guide on Super Smash Bros. Brawl. It is the ultimate unofficial gold mine of information on this gamethat not only provides you with what you need to know, but also does it in a way that makes it easy on everyone. People are bound to ask, "Why should I use this when I can go to www.smashbros.com?" The answer is threefold...
1. Some people don't know the site.
2. Some people are too LAZY to check the site.
3. There is a TON of relatively useless stuff on the Dojo. This guide helps you sift through it to find what you want, when you want it.
4. The best reason -- a spoiler-free unlockable guide! If you scroll down to Section XIII, you can see all the means of unlocking characters WITHOUT having to spoil what characters you're unlocking (the same can be said for stages in Section XVI, if you care)! Hooray!
So go on, dig in, and enjoy the guide!
--------------------------------------------------
II. Synopsis:
This game is the third installment in what some consider to be the greatest fighting series of all time. Its predecessors, Super Smash Bros. (N64) and Super Smash Bros. Melee (GCN), were both received with rave reviews, particularly the latter, although the former maintains its nostalgic reputation. The previous games pitted various Nintendo characters against each other to battle for ultimate supremacy, while stopping evil forces threating to destroy them all -- namely, the Master Hand, the Crazy Hand, and Giga Bowser. This game follows the same formula, but this time, bringing at least two characters foreign to Nintendo franchises into the mix, as Solid Snake of Metal Gear fame and Sonic the Hedgehog join the crew. Will others from third-parties join them? Who knows?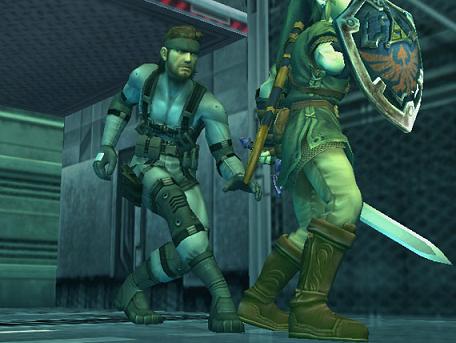 Solid Snake sneaks his way into a Nintendo Franchise!
--------------------------------------------------
III. How To Play:
The game is fairly simple. The basic layout of things 95% of the time will be you and up to 3 other opponents on a set stage, trying to knock the others off the stage, thus defeating them. You will each have a health meter that starts at 0%. As damage is dealt out, the percentage will rise. As a character's percentage rises, hits will become more and more effective when it comes to knockback.

Try not to get yourself in the situation Link is in. Smashing an opponent back into the air upon landing is called "juggling".

Link takes his vengeance on Mario, who loses a life.
-------------------------------------------------------
IV. Music:
In a stroke of brilliance and technological breakthrough for the company, Brawl will feature a fully orchestrated soundtrack. The trailers posted further down feature tracks from the game. The sound effects have also been vastly improved, now that more than ever is happening at once on screen.
Super Smash Bros. Brawl: Main Theme

Battlefield

Yoshi's Story: Ending

Metroid: Boss Battle Music (Ridley Fight)

The Legend of Zelda: Ocarina of Time Medley

Star Fox: Space Armada

Kid Icarus: The Underworld

Animal Crossing: Go K.K. Rider!

Pokemon: Pokemon Stadium/Evolution

Metal Gear Solid: MGS4 Love Theme (Smash Bros. Brawl Version)

WarioWare: Ashley's Theme

Fire Emblem: Fire Emblem Theme

Kirby: MetaKnight's Revenge

Donkey Kong

X: Tunnel Scene

Ice Climber

Mother: Porky's Theme

Sonic the Hedgehog: Angel Island Zone

Pikmin: World Map

Super Mario Bros: Ground Theme
-------------------------------------------------------
V. Developer:
It almost goes without saying, but Nintendo is producing this game. Masahiro Sakurai, the creative force behind both the Kirby and the Smash Bros. franchises, is helming the project.
Masahiro Sakurai, creator of Kirby and Smash Bros.
-------------------------------------------------
VI. Single Player:
As of August 3rd, 2007, this game's Adventure Mode has been revealed! It is called "The Subspace Emissary", and it is a full-fledged story-based sidescroller with bosses. According to Sakurai, the plot doesn't become TOO involved -- it'd told through a lot of cutscenes -- but it has been confirmed that one of the writers from the Final Fantasy series helped with the story.
In SSE, you are given a choice between at least two characters at a time and you play through certain scenarios from various franchises, and face bosses that don't necessarily have anything to do with their respective series. You can boost the attributes of the characters you use by making use of stickers, collectible items alongside trophies. The known modes plus other likely returning modes are below. (non-confirmed in Italics)
C lassic: Choose a character, a difficulty, and a number of lives, then battle through a set number of fights to face off against the Master Hand.
Adventure -- Subspace Emissary: Side-scroller with a story and bosses.
Event: Go through a list of challenges that challenge various aspects of your skill. Sometimes you get to choose a character, sometimes you're forced to play as one!
Stadium: Compete in fun little minigames and try to better your records! (Confirmed Stadium Modes: Break the Targets, Home Run Contest, Multi-Man Brawl)
Stage Builder: Custom create your own stage and submit it to Nintendo for a chance of it being Stage of the Day, played worldwide!
Masterpieces: Play through demos of many games on the virtual console starring your favorite Brawler?
All-Star: Choose a character and a difficulty, but you only get one life as you face off against every character in the game. It moves from 1v1 to 1v2 to 1v3 and beyond.
More TBA
Fox does battle with a Hammer Bro during Subspace Emissary.
--------------------------------------------------
VII. Multiplayer
Multiplayer is most definitely the main draw to the Smash Bros. series. You can always battle with your friends in many different modes. Whether in a free-for-all, team battle, Special Brawl (customizable options make this one very wacky), or a tournament, there are endless options to make sure Multiplayer fits your needs perfectly. You also are given the option to have the game rotate between sixteen participants for you. Certain modes, such as the Subspace Emissary, Stadium, and Events, are confirmed to be Co-Op as well. It is, of course, four player.
Real multiplayer action from Brawl.
---------------------------------------------------
VIII. Nintendo Wi-Fi Connection
As of 9/18/07, it has officially been announced that Brawl will feature online play. Sakurai promises us that there will be many modes inside of the friend battle section, such as team battle, free-for-all, and hopefully tournaments/Special Brawls. Aside from that, there will be random matches. You can also assign four separate catchphrases to use against your friends when battling them over the Wi-Fi connection. According to Sakurai, there will be more updates on this subject in the future.
Confirmed Wi-Fi Modes
-Brawls
-Home Run Contest (Co-op and Vs.)
-Spectator (watch and place bets on recorded matches of Brawl)
-Share (send snapshots and videos to friends)
You can taunt your friends online in Brawl.
-----------------------------------------------------
IX. Controls:
This game has recently been confirmed to use all four possible control methods for the Wii -- the sideways Wiimote, the Wiimote+Nunchuck, the C lassic Controller, and the Gamecube Controller. In an even more exciting update, we learned that all four control schemes are customizable! That's right, now you can Brawl almost any way imaginable. You may be asking "Wouldn't it be a pain to set that up every time you fight?" Indeed it would -- that's why you can now SAVE a control scheme to the previously all-but-useless names.
STANDARD ATTACK
STRONG ATTACK
SMASH ATTACK
There is also a new element in this game known as the Final Smash. All we know is that it is very powerful, is obtained using a Smash Ball, and can be stored, at least for a short time to be released strategically. It is currently unknown how rare these balls are or what causes them to appear.
--->
--->
Mario stores, activates, and unleashes his final smash, the Mario Finale.
---------------------------------------------------