An Overlooked Game That Needs To Be On The VC
The VC has been a great place for people to play games that they loved years ago and for people to play games they never got to experience the first time around. A perfect game for both of those groups IMO would be DEADLY TOWERS for the NES.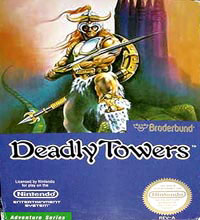 This is a game that had the epic good verses evil feel that made so many of us love the Zelda series back iN the day, along with (during the intense parts) the adrenaline rushing feeling of "OH MAN THERE IS SO MUCH STUFF ON THE SCREEN" like in Geometry Wars.
In all fair warning this is a tough game but its a good tough like most of the great NES titles. Getting to the end of the game is a challenge but its well worth it.
Im not the only one who loves this game either... while it may not be the most talked about game on forums here, there are still pretty big fans out there. Check out this fan made video of the game.