Games, Pictures, Information and Announcements Thread
~About The 3DS Info Thread~
This thread is meant to provide information, pics and vids for unreleased 3DS games. It will also cover the latest downloadable releases. I'll be updating this thread regularly, so be sure to check back every now and again. And make sure you check out page 4 of this thread, which has even more information and videos for future 3DS games.
Please feel free to discuss any of the games, information, pictures and videos that you've seen in the thread. You can also ask for recommendations OR make recommendations for 3DS Retail and Downloadable games that you're interested in. Also be sure to watch out for my most recent posts, which are posted after each thread update. They'll cover whats been added, removed, games now at retail and recent news.
This Week's e-Shop Releases (SEP 20)
e-Shop:
THE "DENPA" MEN: They Came By Wave - FREE DEMO VERSION

GENRE: Role-Playing
INFO:
If you'd like a taste before the full game's launch on September 27th there's a demo on the North American eShop right now! Any items and Denpa Men raised can be transferred over to the full game.

Click here for more pics & vids
Rising Board 3D

GENRE: Action, Adventure
PRICE: $2.99
INFO:
"JOIN THE FAMILY OF SURFERS
Do you miss the sandy beaches?!? Get your board and dive into the happy, colorful world of Pop Island!!! If you are looking for fame or just the beauty of a trick, join us! You're joining a style, you're joining a familiy!!!
YOUR BOARDS, YOUR STYLE!
Put your board in the water and surf the wave!!! Slalom across the islands to collect sun points! You can use them to buy new boards! Whether you are riding a sailboard, or a kiteboard, a wakeboard or a surf, define your style, leave your mark.
A NEW GAMING EXPERIENCE
Launch your best tricks and, carried by the music, create your choreography. These are not just tricks, it is an experience of making a beautiful gesture, with good timing, with joy!!!
STEP ONTO GIANT WAVES
Special events punctuate your progress. Wait to surf giant waves or step onto a stream so fast it makes time stand still!
Features
* 8 different boards to collect and customize!!!
* Unlimited challenges! Unlimited fun!!!
* 3D Pop Island environments at 60 frames per second!!!"

Click here for more pics & vids
Pokedex 3D - Last Chance To Get It!

GENRE: Application
PRICE: FREE
INFO:
"If you haven't downloaded Pokedex 3D to your Nintendo 3DS system yet, time is running out. The free application, which lets you see each Pokemon in 3D with animated motion and sound, will be available in the Nintendo eShop only until Oct. 1, 2012.
If you already own Pokedex 3D be sure to update it to unlock a number of features. This will immediately unlock 6 Pokemon, including Reshiram and Zekrom, that previously required scanning a Pokemon AR Marker. It will also make all other Pokemon downloadable through SpotPass, including all alternate forms which previously were only available by connecting with friends. To update Pokédex 3D, just tap the Update button inside the application."

Click here for more pics & vids
e-Shop + DSiWare:
Retro Pocket

GENRE: Arcade
PRICE: $4.99 / 500 points
INFO:
"Retro Pocket is a fun and exciting video game that brings you back to the glory days of LED handhelds!
Discover eight all-original LED-style games such as Kung Fu Hero, Whale Escape, Mind Your Head, Candy Factory and more! Retro Pocket features Game A and Game B modes in all eight games for extra gameplay variations and more high scores to obtain. Aside from the retro visuals, an all-original retro-game-inspired soundtrack await your ears as well! UFO Interactive Games would like to welcome you (back) into the wonderful world of Retro Pocket!
Features
* Eight all-original retro LED-style games!
* Game A and Game B modes for each game!
* All-original retro-inspired soundtrack!"

Click here for more pics & vids
Also Available Now In The Nintendo eShop:
Fractured Soul
Heavy Fire: Special Operations 3D
MYSTICAL NINJA starring GOEMON
Bookstore Dream
Balloon Pop Remix
Heyawake by Nikoli
Crazy Hunter
Theatrhythm Final Fantasy - FREE DEMO VERSION
3DS Hardware News
In future updates they plan to add:
- Miiverse functionality
- Accessing and purchasing content in the Nintendo e-Shop from PCs and Smartphones
> More Info
Software Updates are now available for certain 3DS Downloadable games:
You can download (free) performance updates for the following titles from the eShop:
Pushmo
Freakyforms
Pokedex 3D
Let's Golf 3D
Super Mario Land 1 & 2
And more...
You can update your downloaded games by going into settings in the e-Shop, tapping on "Your downloads" and then scrolling through your downloads till you find one saying "update available". For some reason the "Update" option inside the e-Shop doesn't show any of your downloaded games even if they have updates available, so you'll need to search manually by tapping on "Your downloads".
Paper Mario: Sticker Star (Retail / Downloadable)

INFO:
"When an accident scatters stickers across the land, Mario sets off on an adventure to repair a torn world. Searching Forests, Deserts and Mountains, Mario collects stickers to solve puzzles and battle monsters. In a first for the series, there are no experience points, so finding power-ups to improve Marios abilities is more important than ever. Mixing sticker-based gameplay elements with the traditional action-battle system of the Paper Mario series delivers a new twist on a classic franchise. Flatten-out characters, roll out towns, and walk through living, breathing dioramas in a brand-new Paper Mario adventure on Nintendo 3DS!"
PICS:
More Pics
VIDS:
(Youtube) August 2012 Nintendo Direct Gameplay Footage
(Youtube) Developer Demo
(Youtube) E3 2012 Trailer
(Youtube) 2011 Nintendo conference trailer
Luigi's Mansion: Dark Moon (Retail / Downloadable)

INFO:
- Luigi's Mansion: Dark Moon gives players multiple mansions to explore, a variety of puzzles to solve and new ghosts to capture
- 3D effect makes the game come off like a living, breathing diorama
- Mansions are wonderfully detailed
- Every mansion is filled with unique puzzle elements and ghosts
- Players must figure out how to defeat each one of them and find hidden clues and keys to unlock new areas

- Shining a light on the ghosts is no longer enough to stun them into immobility
- Players need to activate a new strobe function to stun the ghosts before sucking them up with the Poltergust 5000
- An (A) button icon appears over his head, press (A) with good timing to send out a bolt of lightning
- Simultaneous ghost catching system awards you for stunning and capturing more than one ghost at once
- Multi-capture system supports trapping 3 ghosts at once, but they're trying for more in the final version
- Use 3DS built-in gyroscope to find secrets (tilt the system up to see coins on rafters for example)
PICS:
More Pics
VIDS:
(Youtube) Comic-Con 2012 GameSpot Stage Demo
(Youtube) 17 Minute Full Demo Footage with Direct Sound
(Youtube) E3 2012 Trailer
(Youtube) 2011 Nintendo conference trailer
Animal Crossing 3DS (Retail / Downloadable)

INFO:
- You play as the village chief
- A dog secretary now helps you run the town
- The secretary is a new character in the Animal Crossing series
- She'll point out town areas that look good or may need work
- Upgrade/personalize the Village
- Add benches, street lamps, and more to make the villagers happier
- Art styIe now resembles the Animal Crossing Movie
- Choose where you want your house built (No pre-built houses, and no choosing from a pre-made list)
- Design every aspect of your house; even the design of the mailbox and type of color fencing
- Furniture can be taken to a special upholsterer shop to have it recolored and redesigned

- Village has a new design/layout
- Layout of the village is said to be "bigger than ever with many separate sections"
- The Beach is a larger area that you walk down a cliffside path to, rather than just being a patch of sand
- Multiple players can swim and dive into the ocean
- Train station and Animal Island possibly return
- There may also be mini-islands and a cave to explore
- You'll find a Mall past the rail tracks that has tons of shops and model homes
- The model homes are empty, but they'll give you an idea of how you can styIe your own home
- Each time you walk pass someone with StreetPass enabled, their own house will be added to the collection of model homes
- Tom Nook is in charge of the model homes

- More clothing options for your player (Hands, legs and feet can be changed)
- Females can wear pants, males can wear skirts and vice versa
- Water droplets on flowers to show which one you watered and they shine afterwards
- New StreetPass, SpotPass and Online features
PICS: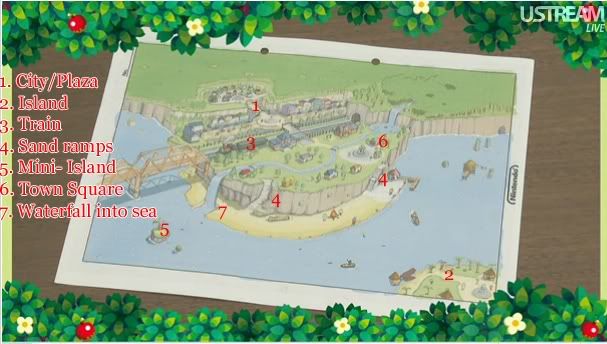 More Pics
VIDS:
(Youtube) August 2012 - Japanese Gameplay Footage
(Youtube) June 2012 - Japanese Gameplay Footage
(Youtube) 2011 Nintendo conference trailer
(Youtube) Translated Developer Interview video