Hi and thanks for looking. I have glaucoma, and because of it I lost my left eye when I was 8. I've never really cared about '3D', I guess because I've gotten quite used to a 2D life; it's like my whole life is on a single screen :) But then, the 3DS is on its way, with 3D as the biggest new factor, and being a huge DS fan, I can't just ignore it.
I'm still having a bit of a hard time trying to understand how 3D works for the vast majority of you, people with two working eyes. Please correct me if I'm wrong, but basically, you always see two slightly different angles of the same object or scenery, therefore being able to perceive depth quite well. As far as I know, the 3DS will recreate this by sending two different images to each side, or eye, without glasses. These quick renders should get the point across...I hope: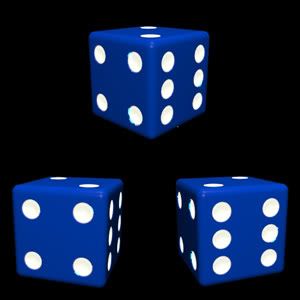 Your left eye would see the 4, your right eye would see the 6. My question is, wouldn't people with one eye be able to see some sort of 3D effect on the 3DS? What I'm thinking is that, if I look at the screen, with my one good eye, from the right, I'll see the 6. As I move the screen to the right, I'll see both numbers (top image), and eventually I'll see the 4. This might happen by...

A) Moving my head horizontally from left to right and / or right to left
B) Moving the 3DS horizontally from left to right and / or right to left
C) Tilting the 3DS on place, from left to right and / or right to left
So I might not get the full 3D experience, seeing both sides of the die at the same time, but maybe one of those three options will let me see some sort of pseudo-3D effect.
Of course, this is assuming that both images don't have to be seen (processed?) at the same time, in which case my whole idea is most likely incorrect. Anyone have any thoughts on this?