Welcome to GGD's official Ninja Gaiden 2 thread. Here you'll find all of the latest Ninja Gaiden 2 information including news, previews, screenshots, and videos. Naturally, I won't be able to keep this thread updated every 24 hours so if you find something that needs updating or if something is wrong with this thread (i.e. a link is not working) please feel free to let me know either in this post or via PM.
Important Links:
Tecmo.com
Gamespot's Ninja Gaiden 2 Gamespace
Team Xbox's Ninja Gaiden 2 Gamespace
IGN's Ninja Gaiden 2 Gamespace
Xbox.com's Ninja Gaiden 2 Gamespace
rragnaar's fantastic GTA IV thread
GG's Weekly What's Update Blog
FAQ:
Q: When is this game coming out?
A: Ninja Gaiden II has been confirmed for June 6
Q: What platform(s) is Ninja Gaiden II coming out for?
A: Ninja Gaiden II is currently an Xbox 360 exclusive.
Q: What is Ninja Gaiden rated?
A: Ninja Gaiden 2 has been rated "M" for Mature by the ESRB. The content descriptors include; Blood and Gore, Intense Violence, Partial Nudity, and Suggestive Themes.
Q: Will there be a multiplayer mode?
A: No. Ninja Gaiden 2 is strictly a single-player game
Q: This game seems awfully bloody, will there be an option to disable the blood?
A: As of right now, no option has currently been announced.
Q: Will there be a demo?
A: Yes. According to Xbox.com, "...get your hands on the free demo coming to Xbox LIVE Marketplace in May, and guide Ryu on his mission to avenge his clan!"
Q: Do I need to have played the original Ninja Gaiden to understand the plot in Ninja Gaiden II?
A: From what I've read, Ninja Gaiden II appears to take place in an entirely different location with different characters (aside from the main protagonist) so no you don't need to have played Ninja Gaiden to understand Ninja Gaiden II. However, it's never too late to experience the original Ninja Gaiden. If you haven't played it yet, pick up a copy from EB Games or download it off the Xbox Marketplace (See Xbox Originals).
Q: Can I pre-order Ninja Gaiden II?
A: Yes. EB Games and other retailors are currently accepting pre-orders.
Q: What are ur favorit games --
A: Stop...
Boxart: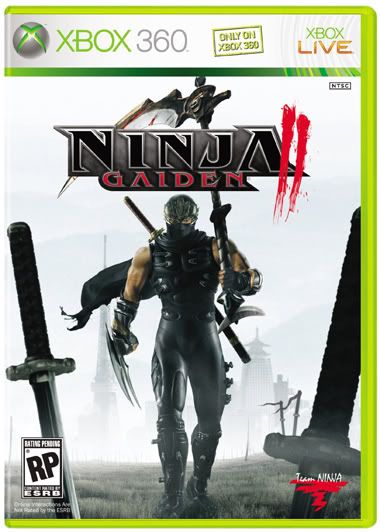 Features:
Ninja Gaiden® II makes its long-awaited debut on Xbox 360® as the blockbuster action-packed sequel to Ninja Gaiden®. Ninja Gaiden II features a new and improved game engine, developed from the ground up exclusively for Microsoft and Xbox 360 by Team Ninja and legendary game developer Tomonobu Itagaki, creator of the famed Dead or Alive franchise.
Guide Ryu Hayabusa on a mission to avenge his clan and prevent the destruction of the human race. Armed with an assortment of ninja weaponry, help Ryu to skillfully maneuver through a world fraught with peril and danger. Ninja Gaiden II features an all-new gameplay engine, new auto-health regeneration system, levels, adventures, enemies, and thrilling combat with an extensive assortment of ninja weaponry, representing a true evolution of the highly popular franchise.
Exhilarating ninja action: Assume the role of a ninja warrior and experience an all-new combat system that requires skill and mastery of your full arsenal of weapons, including Obliteration Techniques allowing you to quickly and stylishly finish off an opponent. In addition to a variety of brutal new primary weapons and enhanced versions of previous favorites, Ninja Gaiden II features unique acrobatic combat and attacks used not only by Ryu Hayabusa but also by his formidable enemies.
Easy to play, hard to master:Ninja Gaiden II's new auto-healing system featuring semi-permanent damage restored at save points is the natural evolution of the franchise's distinctive gameplay, and introduces a new twist to managing health. Featuring a newly implemented auto-healing functionality and save point system, as well as an extensive story mode and multiple difficulty levels available from the start of the game, the gameplay is accessible to more casual players and challenging to even the most demanding gamers.
Massive content and engrossing story: The themes of revenge and friendship in Ninja Gaiden II give rise to a series of dramatic events to create a truly compelling story. From Tokyo to New York and to the Netherworld, the story leads you through a lengthy, action-packed story mode as you skillfully maneuver Ryu Hayabusa through a demonized world fraught with peril and danger. In addition to the single-player campaign, upload Karma scores to Xbox LIVE® leaderboards and participate in an all-new Master Ninja Tournament.
Realistic graphics in next-generation gaming: Built from the ground-up from Team Ninja's in-house gaming engine for Xbox 360, Ninja Gaiden II represents the best in amazing visuals, responsive control, and thrilling combat with an extensive assortment of ninja weaponry.
Screenshots:
Previews:
Ninja Gaiden II Hands-on Impressions (Team Xbox)
Ninja Gaiden II Hands-On Impressions (Gamespot)
Videos:
Ninja Gaiden 2 Sonia Reveal Trailer
Ninja Gaiden 2 GDC 08 Demo Footage
Ninja Gaiden 2 December Trailer #3
Ninja Gaiden 2 Gameplay Footage
Ninja Gaiden TGS 2007 Gameplay Part 2
Ninja Gaiden TGS 2007 Gameplay Part 1
TGS 07: Ninja Gaiden 2 Teaser Trailer
Gamespy video footage.
Interviews:
Ninja Gaiden II Interview: Tecmo's Tomonobu Itagaki
( Last Updated on 4/24/2008 )
Reviews:
Gamesradar - 7/10
IGN - 8.7/10
Eurogamer - 7/10
CVG - 8/10
Gamedaily - 9/10
More to come.