Rank:

Simon Says Bleed

Member since:

Sep 28, 2007

Last online:

05/23/13 10:13 am PT
So after several horrendously long gaming sessions (including an all nighter last night that ended with me finishing the game at about 2 pm) I finished Deus Ex: Human Revolution. And yes, I really loved it! Also I got up to a lot more tomfoolery and feel like I should write more about my exploits.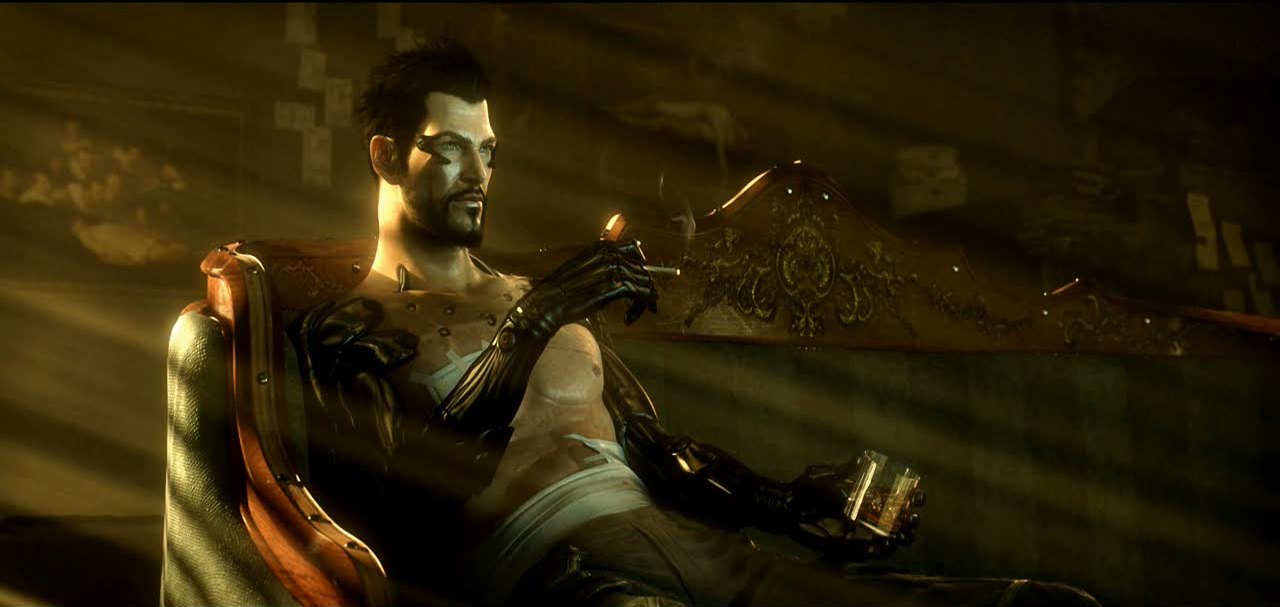 After his success in Detroit, Adam Jensen moved the operation to China. Jensen is a respectable gentleman and was understandably taken aback when he realised he had landed in next to a brothel. Adam hates brothels. What Adam hates more than brothels are people who don't work for their money, there were two hookers outside the brothel on break, refusing to offer their bodies when prompted! Needles to say Adam pulled out his armour piercing pistol and executed the both of them with clean head shots thanks to the fine laser sight. For most people this would be message enough, a clear statement that Adam hates freeloaders, but Adam is a perfectionist. To make sure the message was hammered home he dragged the corpses into the middle of the helipad so that everybody could see what happens to those people.
Adam was emboldened by his success, two clean homicides with no police involvement. He was so emboldened that he decided to step his anti hooker agenda up a notch. He raided the several story brothel and killed every person inside and dragged the few he could be bothered to out onto the helipad with their sisters. Adam is a smart guy though, and he realised one of the hookers was a quest giver. She was spared, Adam then did the quest; which was quite a heroic deed. Then once he had claimed his reward he tried out his lethal takedown.
It was kind of like this picture here, only in a brothel and with a hooker rather than two soldiers. You get the point anyway.
This was all the time Adam had for relaxation, now it was back to work and for a while missions took over his life. He made sure to have fun in his missions though, like naming a turret Terry and setting him to kill enemies. Adam then picked up Terry thanks to his beautifully augmented arms and walked around a hostile area, Terry providing him with full body cover and taking down any enemy nearby all by himself. Tactics such as this meant that it was soon time for a bit of relaxation again, this time in Detroit.
By this point Adam had mastered the art of doing a quest for somebody and then brutally murdering them now that they were of no use. This got quite extravagant in places, in a particular side mission Adam was given the task of looking after an injured informant. The informant was on his last legs and asked for a final large dose of morphine to finish him off. Now Adam is a moral man, he knows that drugs are evil so he refused the offer. He then took fate into his own hands, he remembered how his fabulous robot arms could now pick up fridges so he gave the injured man a real soldiers death. He literally threw a fridge at him. That definitely killed him. Jensen then proceeded to tell his superiors that the man had 'died from his wounds'. Which was really quite hilarious.
This fridge related murder became a bit of an addiction and soon he took it to the next level. Detroit was city lacking in excitement, it needed something the media would be all over, it needed a genuine deranged serial killer. Complete with his own calling card and nickname. Adam Jensen became the Fridge Killer. This is not quite as it sounds. He got this nickname (which he gave himself, or at least pretended to) because he would break into people's apartments, shoot them in face and then steal their fridge. A murder in an apartment with a missing fridge? It could only be the fridge killer.
Illegal activities didn't totally usurp Adam though, he was an ex cop after all. When he heard a random punk say profanity related to the policeAdam decided to kill the lot of them. Bar one. The one left was cowering in a corner; Adam did what any man would do. Drag all the corpses so that the lone survivor was surrounded by them. He then noticed a large object, perfect for throwing. A giant bin.
Just like that.
Which he threw at the survivor. It was poetic really.
All in a days work for Adam Jensen.