Rank:

Abobo

Member since:

Jul 25, 2007

Last online:

05/16/13 10:37 pm PT
LucasArts was a powerful player in PC gaming world when I was growing up. The Dark Forces series, their famous point-and-clicks such as Monkey Island and Grim Fandango, and other miscellaneous works were very popular, and still are for that matter. Unlike my last post, the game I'll be talking about today wasn't nearly as popular. It's another FPS by LucasArts. "Outlaws" by name. This 1997 title was, as the front of the case states, a "First Person Shooter In The Old West," further backed up by its tagline, "Dyin's too good for 'em." Sounds violent for a kid, right? Yeah. And that's why I wasn't aloud to play it at the time I first discovered it. "But I thought you have played it," you might be asking. I did.
It all started at my Grandma's house, my favorite place to be back then, as it is now. My Grandpa has always been into the west. He's seen every western movie to date, follows every western TV series, has boatloads of western memorabilia, etc. So it was no surprise when he received Outlaws as a gift. My Grandpa never has been much a gamer, and never really got into the game. As it turns out, other members of the family were the ones that played it. I was never allowed. But as I watched my cousin, mom, and dad all play this awesome looking game, the evil little voices started to work their mischief. So one day, at my Grandma's house, I told her I was allowed to play the game. My Grandma's no idiot, no doubt, but maybe she really did believe me. Maybe she wanted me to go along with it and suffer my impending guilt as a punishment. In any case, she accepted the statement, and soon I found myself sitting in front of her PC playing the title. I played the game every time I visited that house. But after getting all the way to disk two (oh yeah, double disks baby), my guilt was too much. I told my mom, about what I'd done. She was disappointed in me, of course, and out of curiosity she asked about where I was in the game. When I did I'll never forget her response. "THAT FAR?!" She couldn't believe that I'd made it as far as I did, but hey. Born a gamer I guess. There came a time when I was allowed to play Outlaws legally, of course. Lemme tell ya, it's a classic. The mechanics were the same as any other PC FPS of the time, but there was something about that old west setting that just made it different. The game's plot revolved around James Marshall, a former sheriff who is now a vigilante due to the of his wife and kidnapping of his young girI, whom he sets out to find.
The game's charm comes from simple things, mostly. The HUD is made to look like part of an old-time cash register. Health and ammo were represented by the small cards that made up the display of cash registers of the era, and when you died you would hear a *cha-ching!*. One thing I soon caught on to was that the enemies didn't have to actually be pointing at you to damage you. Since they were actually just flat pixel-compliations that were turned as you moved around them (to give a 3D illusion) all they needed to do was shoot and be near you. It was humorous to watch an outlaw start firing with his face to the wall and inflict damage on you. As you went throughout the levels, if you approached an area with enemies, sometimes sound-clips of the outlaws jeering you would play. Hearing a mocking, "WHERE ARE YA MARHSALL?!" was a great incentive to blow the punks away with your weapon of choice. Humorously enough, if you killed the enemy producing the clip, the clip would continue to play until the end. Speaking of weapons, the game had a nice array. You start off with a pistol and rifle only, but soon you'll gain weapons like the shotgun, gatling gun, and even sticks of dynamite to reap in the kills. The level design of the game was also excellent. Maybe even more so then Jedi Knight, the game I mentioned last post. Environments range from a ranch, to a train, to a mill (the most dreaded level in the game due to it's puzzle-based design).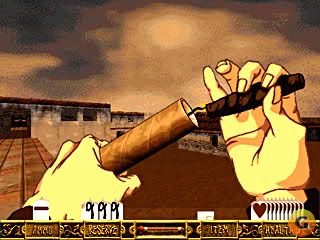 The games visual style was another interesting aspect of the game. I guess you could say it was a precursor to cel-shaded style. Meaning, the visuals had sort of a cartoon-look. The cutscenes (fully voice acted) actually were animated, and the gameplay visuals took on a hybrid-style of that look. The screenshots you've seen explain.Another one of the game's standouts includes it's score. The music of Outlaws is truly something special, because unlike most games of the day that sported MIDI-based music, Outlaws music was actually orchestral. It's quite a soundtrack, western style of course, and is probably the best music of it's kind I've ever heard. Never have I watched a western that had a better score than this game. There are sixteen tracks total, and a cool feature was the ability to pop the disk into your CD player and listen to the music that way. I remember as a kid getting scared half to de@th the first time I tried this. See, you have to skip the first track of the disk because it's actually "game data." Thus, if you don't skip track one within a couple seconds, a horrible sound ensues. Imagine turning up the volume of your player to the highest setting, putting in an "Alvin and the Chipmunks" album, and playing it at 100x fast forward. Not pleasant. And rather horrifying when not expected.One of the things I fondly remember about the game was its easter eggs. In first level in particular, there's an outhouse. If you blow up the seat with a stick of dynamite, you can jump into the sewage, swim through the…liquid waste, and end up running into some sort of futuristic structure. Open the door and you'll find a couple aliens roasting a cow on a spit…Yeah. The game's expansion pack sported other creepy tidbits such as a rabid squirrel, a dog with fiery eyes, and even Max (from the Sam and Max series) who wields two pistols and can actually kill you. Outlaws was an outstanding game then and still is now. It stands out even today among a market flooded with FPSs. You won't find any crazy downloadable deals for it, since sites like Steam and GOG don't presently carry it. eBay copies are a bit expensive, but for a title of this caliber, it's definitely worth it.