...
City of Heroes officially shut down its servers on November 30, 2012, after a run of over 8 years. The game was one of the more unique MMORPGs in that it was not built in the fantasy world but rather the present, and involved highly customizable super heroes, missions, archvillains and a large and relatively loyal community; and while the game takes place in the present, you were free to create any sort of character--fantasy, mech, scientific, futuristic or pretty much anything your heart desired. This blog is about my personal journey into the realm of MMORPGs, and explains why I really don't feel like I will miss the game all that much.
I joined the game in February of 2007. I actually remember getting the game in detail: I was biking home from work and I was really tired. I had always wanted to play Halo, and figured I should stop at the Gamestop at the half way point of my workout and pick it up. I took Halo up to the register and it turned out they were having a promotion for a free copy of City of Heroes with the purchase of any PC game, and I thought that was pretty neat so I grabbed that, too. It turned out to be a very defining moment in my life, and truth be told sometimes I wish I had never stopped at that game store that evening...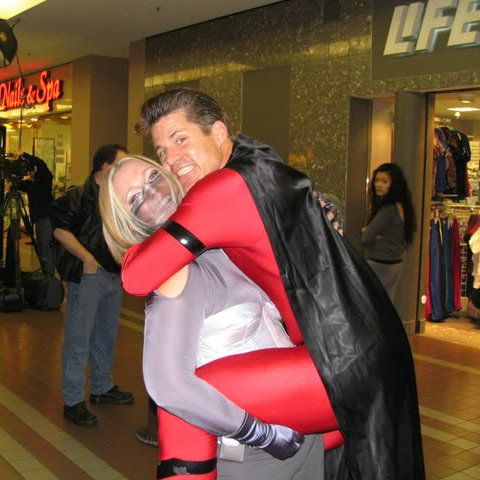 My "Who Wants to be a Superhero" Tryouts with Major Victory in 2007.
I had just tried out for "Who Wants to be a Superhero?" a few weeks prior (obviously I did NOT get in nor should I have with the awful tryout I gave), but I already had created my own superhero, Haiiro Ninja, and wanted to try that out in the game. As it turned out, the character creator was so detailed that I could absolutely make my character in the game, and that was really amazing. I remember logging in and entering Atlas Park, running around and figuring out the controls, not having been much of a PC gamer at the time.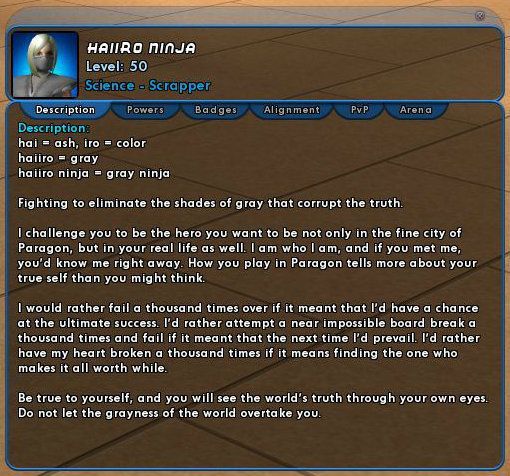 Biography of my Main Toon, Haiiro Ninja.
I thoroughly enjoyed the game as it was unlike any other I'd ever played. I enjoyed the missions, the martial arts powers I had bestowed on my character and the community as a whole. It's almost embarassing to admit, but I met my (now ex-) boyfriend of 4 years on this game, he moved out to California and we were together for 4 years, and it did not end well (see my previous blogs). I quit the game about a year ago after only playing a little over the previous year, partly due to his addiction to it and being sick of his unhealthy relationship with several females on the game (see my previous blogs if you care to know more). So after he left, I still could not stand to play the game. And when I tried quite some time later, the developers had changed it so much it was not nearly as fun, and the magic was gone.
Still, there are things I will totally miss about the game, such as the character and base creation.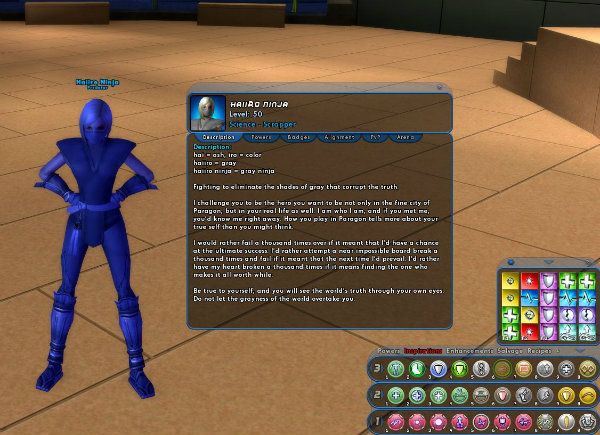 Haiiro Ninja: My Main Toon.
I really enjoyed the teaming aspect of the game and how you could ideally jump into a game with any toon, any level (of the same hero/villain alignment) and play. It was extremely group friendly, especially later as they revamped the sidekick/mentor and team/group/league systems. I grew very attached to my characters, as I saw them as an extention of different aspects of my own personallity, and enjoyed learning about how other people conduct themselves online, even if it sometimes disgusted or bewildered me; one thing I could usually say about the game was that it was "interesting" at the very least.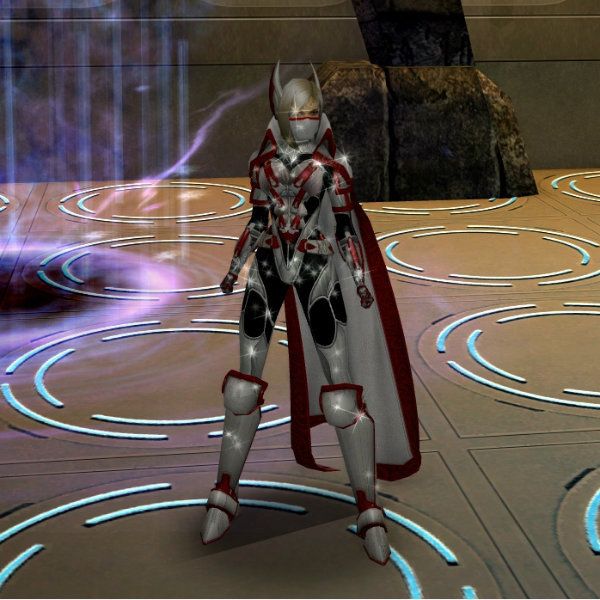 My More Current main Toon: Spine O'Might (CLICK FOR SLIDESHOW OF ALL CHARACTERS).
I also enjoyed building bases. I had at least one hero and villain base on my two servers, Infinity and Freedom, and had started one on the VIP server, Exhaulted, before I really quit the game. The editor was a bit clunky, but it was still a fun and creative activity.
Vindicator Super Group Base (CLICK FOR SLIDESHOW).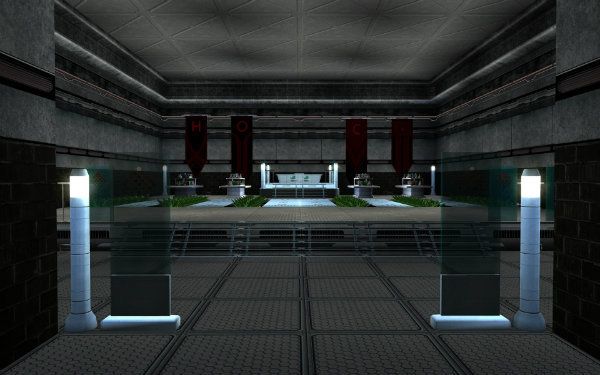 Darkest Days Villain Group Base (CLICK FOR SLIDESHOW).
Silent Sentries Super Group Base (CLICK FOR SLIDESHOW).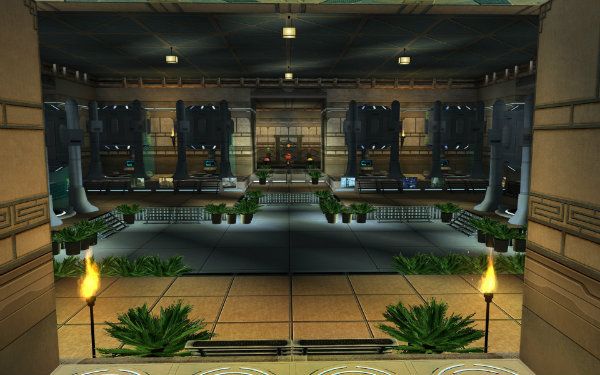 Infinity's Integrity Super Group Base, My First Base (CLICK FOR SLIDESHOW).

Some games have a profound impact on your life, and I would have to say this one was that for me. Besides the terribly personal aspect, I thoroughly enjoyed the game, especially over the first year I played it. It was something to look forward to when the rest of like was ho-hum or difficult. It showed me how some people can portray themselves so vastly different from their true selves online (though that's an interesting question in itself, as to what your true self really is). Over the course of the years, however, the game changes really did have an overall negative impact with the severe changes in PvP in i13, then the F2P model that was just not great for a former subscriber like myself. The game was also reportedly still turning a profit when the doors were closed, which is very interesting.
I have tried Champions Online, DC Universe Online and looked into the upcoming Marvel game, and I have to say none of them so far have had the spirit and grab of City of Heroes. It is sad to not have much in the way of a viable alternative for those of us not entrenched in the world of elves and dragons and dwarves.
Other than that, I really don't know what else to say. End of an era, certainly, but maybe an era best left in the past.
-haiiro ninja, AKA zyxe