Hey everyone, this is my Top 10 Spookiest Villain list just in time for Halloween! Enjoy!
1. The Nihilanth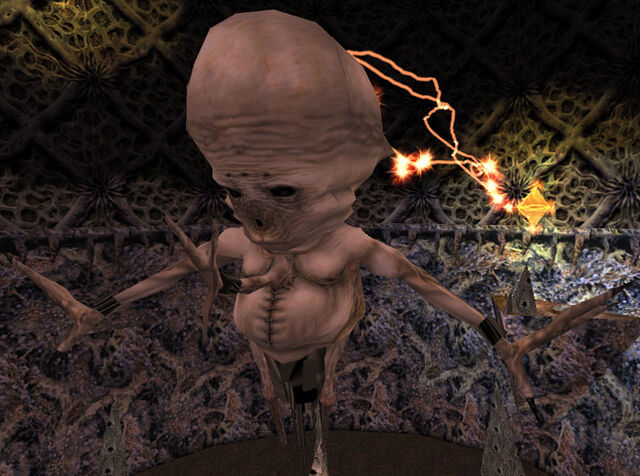 After battling through the amazing single player of Half-Life, this is the last thing you'd expect to find. Not only does he look creepy in a demonic baby sort of way, he also gets into your head with his creepy voice! He fires dozens and dozens of electrical orbs and fires a teleport orb at you which teleports you into the middle of a group of his fellow allies. The only way to kill him his destroy his energy spheres (which makes him pretty much invincible)around himand destroy his brain! I'll never forget the first time I fought him in his lair during my first play through of Half-Life!
2. Poison Headcrabs: Half-Life 2
Ok these guys are the most annoying creepy characters of all time, which is part of the reason why I put them at #2. These guys come out of nowhere. They can be around the corner, in a box, on a shelf, below a floor, or even thrown at you from one of their hosts! I must say these are the most damaging creepy video game characters of all time due to the fact that their poison takes you down to 1HP after one bite!
3. Fast Zombie: Half-Life 2
Once you hear the howl of one these you'll always remember them, the distinct noises they make always are noticeable. Not only are these guys super fast, they can leap great disntances which makes them harder to kill. In groups they always take different paths to surround you and once they do they do great damage with their sharp claws!
4. Alma: F.E.A.R
Alma is creepy from the get-go, she scares the crap of you in the most unsuspecting moments which makes you think twice about going into a dark vent or a dark room. She never stops trying to terrorize you, thinking of many different clever ways to creep you out. She needs no weapons since she can take out an entire squad of police and turn them into a blood mist without the slightest movement of a finger.
5. The Witch: Left 4 Dead Series
The first time I ran into a Witch in Left 4 dead, I'll never forget. I thought she was a regular zombie until she started charging me like crazy. The Witch has to be the 2nd most annoying creepy character of any game. You'll never forget the sound of her crying in the distance and you'll learn to stay far away from her after your first encounter. Not only will she almost instantly incapacitate you with her long sharp claws, she won't stop until either she or you dies!
6. Little Sisters: Bioshock
These little girls may look like little innocent girls trapped in a creepyunderwater worldbut you couldn't be more wrong! Once you see one of these creepy little girls stabbing a corpse with a needle you'll think twice! They may look like they're unarmed but they have the best back up of any character, you may call him BigDaddy. Once you meet him, you'll never be the same again!
7. Berserker: Gears of War
The first time you run into a Berserker in the Gears of War series you hope that you won't run into another ever again. They may be blind but they can hear or smell anything with great ease. They'll break down any wall you happen to alertit to.Conventional weapons cannot hurt a berserker, they must be lured into the open to be taken out by the Hammer of Dawn.
8. Cherub: Doom 3
Babies usually aren't creepy unless you put them into the world of Doom. These things were so creepy in Doom 3, they would just lunge after you with their sharp claws out of nowhere. They were so irritating and freaky at the same time. I always dreaded running into these things in the dark!
9. Slashers: Dead Space
These guys are hiding everywhere! Not only are their bodies creepy but they have long blades for arms! If you don't pay attention to these guys they can do major damage with those arm blades. Not only are they annoying, they never quit going after you! These guys make you rethink every one of your steps in the Dead Space series.
10. The Flood: Halo series
I really hated getting trapped in certain areas with the flood. You'd hear that creepy music play then you'd hear certain noises which made you want to turn around. Their weapon was really their size in numbers, always out numbering Master Chief. I really hated theCarrier ones that exploded when you got near.