Hey guys long time no blog
So I've been playing Psychonauts!
It's an amazing game
Great veriety!
Wonderful Art ****
Good sense of humor!
And a bunch of fun magicky trickidy thingidies!!!! ;P
I believe I'm nearing the end at about 70% complete....
just an estemite!
So far my favorite character is The Milk Man
His milk is delicious
I also like Sasha...in a more I think hes koo kinda way
Also been playing a little game called..........
TERRARIA!!!!!!!!!!!!!!!!!!!!!!!!!!!!!
yup thats right
If youve played it you would know it's a mega ripoff of Minecraft...
but
I think it owns the living liver babies out of Minecraft
Minecraft has a 3D world and some good atmosphere....very misterious...
and the Building is nice....
but Terraria is just a better game...
when night falls WAY more monsters come out and theres just more fighting in general
Whether it's boss's or just a veriety of enemies running around trying to rip you into iddy biddy pieces...
The world has way more going for it
From the Tainted evil lands to the jungle....to Islands in the sky, Dungeons, Hell underground along with many other secrets...
Theres also WAY more things to craft....lots of weapons, armor, tools, stuff to wear, potions(some really cool ones at that) and even furniture!
Minecraft home wise is very limited....and although the building is 3D and block buildingish.....
In a sense Terrarias building is still better
You can build all kinds of decorative stuff and an asortment of different background walls(games2D) that just make the games building feel more man made instead of awkward blocks
Thers also a lot of Magic!
it's just an awesome game!
It's like 10 bucks on Steam and I think you guys should get it....we can play online ;)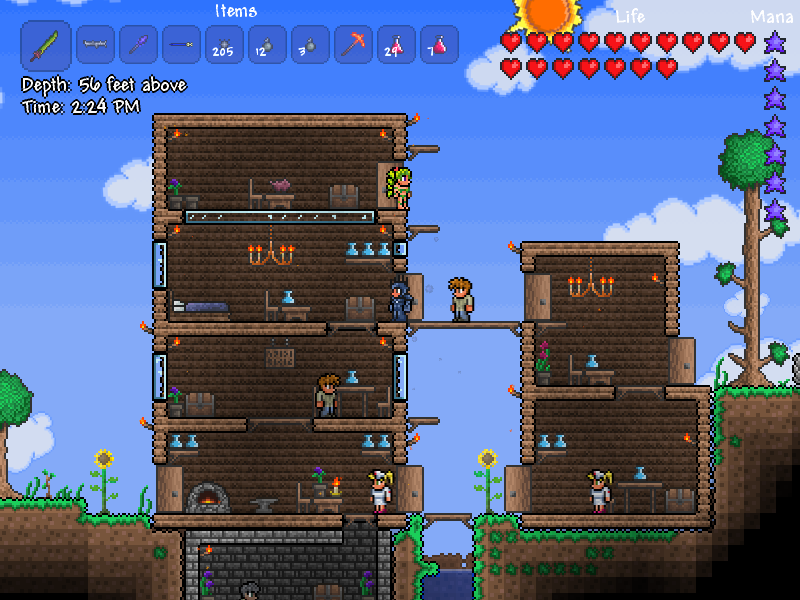 GET IT!
I've also been playing a bit more Atelier Rorona and Innocent Life....both very addicting good games...
But what I can't WAIT FORTHBFURTY!!!!
Is Rune Factory Tides Of Destiny...coming October!
Love the series just like I love Harvest Moon ;)
It's on the PS3 and the Wii
I'll be getting the PS3 version unless reviews say otherwise :)
Thanks for reading peeps....lemme know what your looking forward to
Hope things are going ok for all of you
Peace!