Hello everyone.
We had our first competition over the weekend. The usual competition schedule is: Thursday- practice matches, Friday- qualifying matches, Saturday – more qualifying matches, and eliminations. But, there was a scheduling conflict for Thursday at the arena, so they pushed everything back for this competition, which worked well for me since I have class Friday. I got down to the competition on Saturday around 11:30am, and heard we were doing well. Our robot was shooting great, however the bridge arm didn't have enough force to push down the bridge at the competition, turns out that if you build the bridge from the low cost field plans is a lot lighter. If we were allied with a team that could push the bridge down for us it was no problem, but that isn't always the case, so it's a major weakness in our game that we hope to fix for the LA competition in a couple weeks. We won 6 out of our first 7 qualifying matches, and were ranked as high as 2nd/56 at one point. After the first day of competition our team went to dinner together, which was fun. Afterwards I went to check into my hotel, but as it turned out I didn't have ID on me. I needed to make more room in my wallet, so I had taken my school Ids out, since I shouldn't need them, but I accidentally took my drivers license out with them. Fortunately, the guy at the hotel was willing to accept a copy of my ID that my parents faxed to him. The next morning I get up and am ready to go the competition, and I can't find my keys. I figured that I must have locked them in my trunk when getting my stuff out of there. So, I called AAA to get them to open up my car for me, and oh yeah, I need ID for that too. Anyways, I was able to convince the guy to get me into my car anyways, and headed off to competition. We won our first match of the day, but then lost the next two, which brought us down to 6th seed. This was bad for two reasons 1: we would get a lower pick when choosing our alliance partners. This competition was not particularly deep, so we figured we would end up with a bad alliance the robot that we considered to be the best ended up on the 3rd seeded alliance, who we would play first. Anyways, we lucked out. There was a team we had our eye on who had a very solid bot mechanically, but was having radio issues in some matches and ended up getting overlooked because of it. We also managed to score a decent second pick that complimented our alliance well. My parents texted me to ask how our alliance looked I responded with "If we win the first round we should win the competition, it will be hard though." Our first match starts. It was soon apparent that the good robot on the other alliance didn't have radio communications. We won 27 to 43. Not my preferred way to win, it's always unfortunate when a team has that sort of problems because all the electronics are standard for the competition, so there was no fault on their end. I was still nervous though. We had won by a decent margin, but it looked like our margin of victory was small enough that they could still win if all their robots worked the next match. They did all work, but something amazing happened. The first 15 seconds of each match are run autonomously, no driver control. Our alliance dropped 30 points in autonomous mode, at the time the regional high, and twice as high as what other alliances in the playoffs were hitting at the time. We didn't stop after that, we proceeded to score 71 points, beating the previous regional high score by 23. We won the match 71-37. Of course it wasn't over yet. I had found a new reason to be concerned. Another alliance had managed to do something else amazing: balancing 3 robots on the bridge, something that no other alliance at our regional had done, and they did it 3 matches back to back. The first two robots on the bridge are worth 10 pts each, but the third is worth 20. If they managed to do some decent shooting before going for the bridge we could have trouble overcoming the extra 20 points in bridge points they had over our alliance. But, we didn't have any trouble at all, the opposing alliance failed to balance the bridge in both matches and we managed to make enough shoots that the bridge wouldn't have done it for them anyways winning 60-14 and 58-10. At this point our alliance had 3/4 of the highest scores at the competition. We were unstoppable, and we were going up against an alliance of first and second year teams in the finals. In the first match we scored 34 points on shooting, vs 23 points by the opposing alliance, but they got two robots on the bridge for a total of 43. That's no problem, we balanced 2 robots effortlessly in all four of our matches so far, but something went wrong, and something else went wrong after that. A ball had rolled under the bridge on the side we were to ascend on. The balls are foam and will compress a lot if you force them, but only one team at our competition had managed to successfully lower the bridge with a ball under it. Fortunately, our approach to bridge lowering was unusual. Where as most teams push the bridge down, our approach was to have the third robot on our alliance wedge themselves under the opposite side of the bridge forcing it to tilt towards us. They squished the **** out of that ball. There was no visible gap between the bottom of the bridge on our side and the ground from where I was sitting, but there was just enough of one. Our other balancing bot went up first and got stuck half way on. That's okay, we can push them up and then get up easily ourselves, because we have huge freaking wheels. But we didn't do anything for the next several seconds as the clock counted down to zero. Our robot had lost radio communications. We lost 34 to 43, by less than one balanced robot worth. That is fine, it was a fluke, we are good enough to win the next two matches to win the tournament. We start the next match, autonomous mode starts and our other good shooting team shoots their balls over the top of the field wall into the stands. In driver control we put up a ton of shots, as did our alliance partner. We made most of ours, but they didn't make a single shot. Time was running down. We fired off a few more shots to get our score up to 19. We were down 24 points. We started going to the bridge I yelled at our drive team to try to make more shots, even though there was no time left, since the bridge wasn't enough, but they couldn't hear me, they were hundreds of feet away in a loud arena. We tried to balance the bridge, but even though we had more time than we needed we failed under the pressure. If just two of our partner's shots went in we would have been within winning range, and we probably could have gone for the bridge with enough time for us to balance. After the match I found out that the camera they used to aim had failed, so that they couldn't aim properly. The amount of bad luck that went into our finals loss was was staggering, and hugely disappointing. We will compete at our only other regional event in Long Beach from the 15th-17th, and we will be better then, since we will have drive experience, and we should have a totally redesigned bridge mechanism by then, which will be invaluable in the qualifying matches, and enable us to get a better seed. Also, I hope that our drivers can get some good experience in shooting ranged shots during the practice rounds, this will make our game more complete and make us harder to defend. On the down side Long Beach will be a much harder event to win. There will be four former world champion teams there, and a couple more teams that are almost at that level. I think we have an advantage over them in that we have one regional event worth of real drive experience over them. But, many elite teams build two robots, so they can practice with one (after the 6 week build phase is over you are not allowed to touch your robot except at competition) to get practice outside of competition. I hope that our experience is worth more, since it was at a real competition, and because we got playoff experience all the way to the finals. (the playoff matches are way more intense that regular matches). Despite the disappointment, this is still already one of our best seasons ever, and I would say easily our best robot. I am really proud of what the kids on the team managed to accomplish in both the design of/ building of the robot and in driving it. TLDR: I'm absent dumb and almost got myself into trouble. Our robot is a boss, our drive team is made up of bosses, and despite being a low seed we managed to put together a boss alliance and beast on everyone until we got triple bad luck in the finals which resulted in our alliance play well below our capability and losing. Begin Pics
Set up for our favorite shot, a close 3. Not many teams at the competition had shooting mechanisms that could shoot at a high enough angle for this shot, which gave us an advantage in terms of accuracy. [IMG]http://i7.photobucket.com/albums
Shooting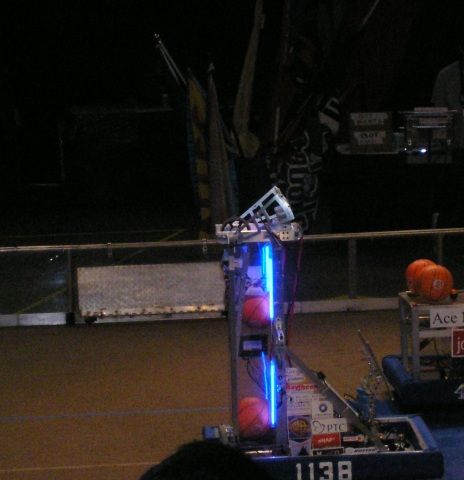 Our lights look really cool in this picture.
Us with our alliance in the playoffs.
This is how our alliance tilted the bridge.
Balanced on the bridge. The 20 points for two robots balanced has not yet been added to our score (blue).