Ah Monday. It's gloriously sunny today, I've been up since 6.30 and am industrious of mood. It's clearly a hangover from the weekend which has flown by at very high speed.
Saturday I went on a nice ride off to the coast. Ten mins from my house I was on the quayside and this is the view: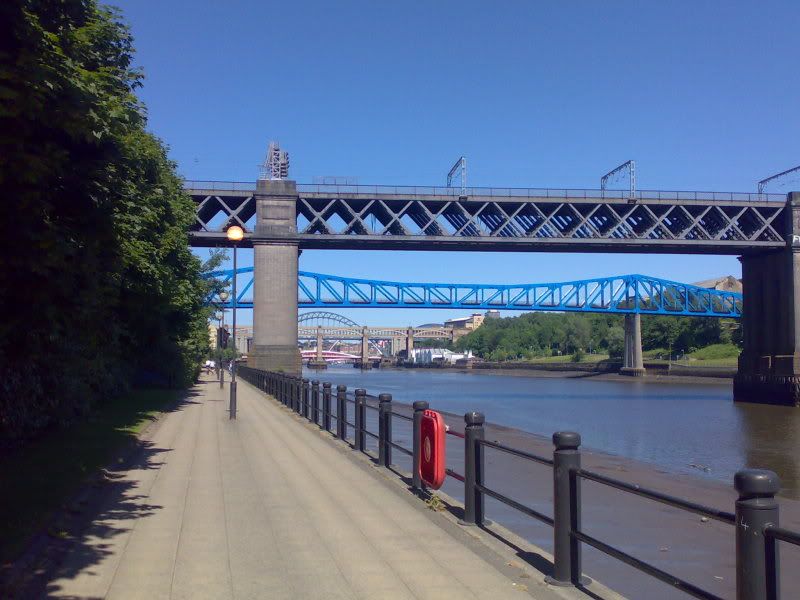 No time to mess about so it's off as quickly as my legs would carry me to the old briney. On the way there I often pass this creepy old pub which is all by itself on the edge of an old trading estate and almost underneath a big railway bridge.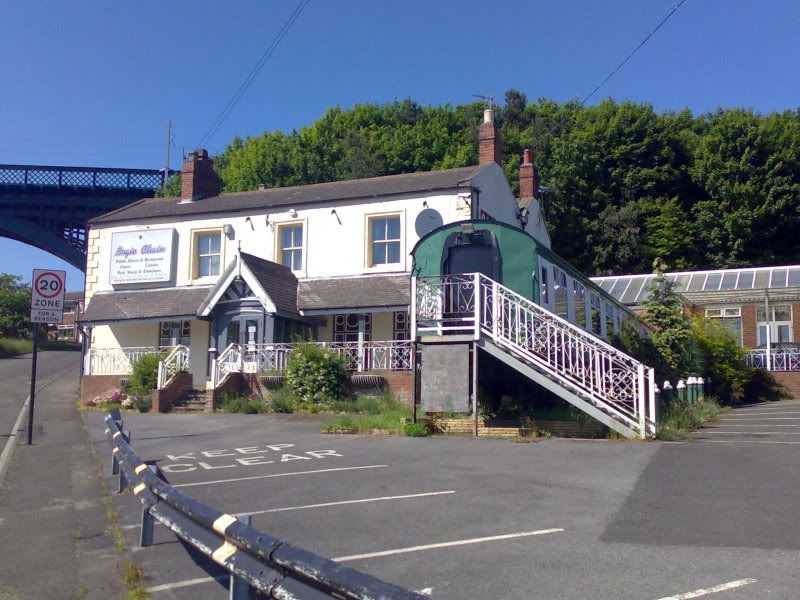 It's called the Bogie Chain and advertises "Juke box, Darts & Dominos" on it's pub sign. It looks very like the sort of place that has a rape dungeon of some sort in it's basement. Brrr. It's proper spooky.
After an hour and a bit I arrived at the coast and after summoning the ice cream man from his pint of lager in a scruffy pub garden, to the winner...the spoils!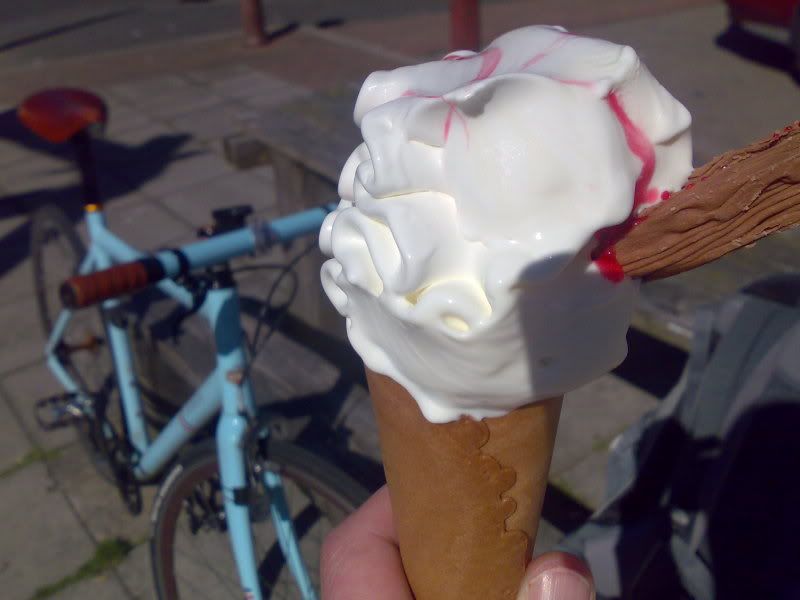 He was called Jim and he gave me that strawberry sauce for free (apologies but I'd already licked most of it off by the time I took that pic... for the record, Jim ain't stingy with his stawberry sauce m'kay?). Bless him, although I'm sure it must be some sort of offence to be drunk in charge of an ice cream van. It was the first ice cream I'd had for years and it was just dandy.
Sunday I found myself facing, *takes big breath* 1.5KG apples, 1 kg of Shallots, 15 cloves of garlic, 1.5kg of tomatoes, 1kg of dates, 1kg raisins, 250g fresh ginger, 1kg of soft brown sugar and 600ml of malt vinegar.
So, armed with a sharp knife, a peeler, a gigantic cauldron and 20 jam jars I banged on a techstep Drum & Bass CD at considerable volume (@kleggnutt thanks for the last ingredient there chum) and set about making some chutney.
Now, I don't know how many of you have peeled and chopped this quantity of food before but it's jolly hard work let me tell you. After 2 hours it was all done and simmering in the pot with a spice bag I made from a stolen stocking off the missus which contained black peppercorns, coriander seeds, dried chillies, allspice, mace, bay leaves, celery seeds, cloves, fennel seeds & mustard seeds.
After an hour and a half we set up a production line sterilzing, filling, sealing and labeling jars. 19 in all and only one spoonful of the lovely stuff went in the bin. Now, all we do is wait 6 months before it's worth eating.... so you now know what you'll all be getting for christmas this year.
Sunday afternoon went out for a good ride to Ovingham - perhaps a 25 mile round trip. I got two punctures (including one in my spare innertube two mins after I'd fitted it) and ended up having to beg some gaffer tape from a pub in order to makeshift tape the inners. It was pretty pathetic but it managed to get us home. It took bleedin' hours and was one of the most arduous times I've had on a bike.
So we were knackered but I still managed to find a wee bit of time to play MW2 - I actually did rather well and excitedly I'm a whisker away from unlocking Fall for the M16 which is by far my favorite gun these days - armed with it I'm a menace on Storm getting two emergency airdrops in one single match. Nicely.
HAVE A GREAT WEEK YOU LOT!