"Games were so much harder back in the day." Recognize that statement? It's probably one of the most common remarks I witness on gaming sites these days. Older gamers enjoy reminiscing about the hardcore days of gaming, and they're quick to point out how much easier we have it now. But is that just selective memory or are they correct? Being an older gamer, myself, I figured I'd throw my hat in, try to avoid the bias of nostalgia, and take a shot at this question.
Going back a few years, I remembered the killer games of my early gaming days. Ninja Gaiden 1 and 2 (the NES version), Ghosts and Goblins, and even Super Mario 3 were ones I never could beat. Remember these bad boys?
No matter how much time I spent on them, I never finished them. Fast forward to more recent times and people rave about the difficulty of games like Demon's Souls for the ps3 and Ninja Gaiden for the original xbox. They certainly were challenging, but they had one thing in common. I beat both of them. So the answer to the initial question seems easy. Of course games are getting easier! But hold up a sec. Apply some critical thinking and suddenly a few problems pop up.
How do you compare the difficulty of games across different generations? Gaming back in the 1980's was a much different process than gaming in the new millenium. There are lots of confouding factors other than gameplay that contribute to how tough a game is to beat. So is gameplay really easier or is it something else? I figured we should look at some aspects of gaming that have changed.
1. INFORMATION
It's very easy to overlook this one, but it's probably the largest reason gaming has become easier. I can almost guarantee that each of you has gotten stuck in a game at some point. No matter what strategy you try, you can't figure out that puzzle or how to beat that boss. If that happens, you most likely jump on your computer, google it, and instantly have access to plenty of guides or strategies on how to beat that specific part. Problem solved. What if you couldnt do that? That's what gamers in the 80's were faced with. Hard to imagine now, but back in the 1980's they didnt have the internet (well not in its current and accessible form). If you got stuck in a game, it was up to you to figure out the solution. No guides. No walkthroughs. No faqs. No strategies on how to take down that pesky boss. Either you bought an expensive game guide or hoped you knew someone whohad the answer. Other than that, you were stuck.
2. SAVES
Any game becomes instantly harder if you can't save your progress. Checkpoints, save points, autosaves, etc. are LIFESAVERS. Try playing through call of duty or halo and having to restart the entire level after any death. Not so easy anymore, is it? That's what people were dealing with back in the early days of gaming. I still remember the dry mouth I'd develop as I'd try to navigate through some areas of super mario 3. One fall, one slip-up and it was back to the start of the level.
As frustrating as that was, imagine having to beat a game in one sitting! We take for granted that we can pick up right where we left off in a game, but that wasn't always the case. Save systems for games in the 1980's were rudimentary at best. Many games had no way of saving. If you turned off the console, your progress was wiped. So if you didnt beat that game in one session, you weren't beating that game. Other games had some way of saving progress, but it was cumbersome.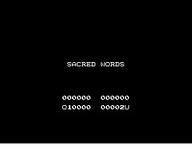 Remember inputting those codes? Not only was it time consuming, but it was prone to error. God forbid if you mixed up a zero with an "Oh" or a one with a capital "I". Frustrating.
The advantage of games today is that you can frequently save your progress - often times at will. Eventually, if given enough tries, you can get by most hard areas. Rather than having to go back through 20 minutes of gameplay to reach the point where you died, you can just reload and try that same area again. Massive advantage for the present gamer.
3. LIVES
Kind of similar to the above "Save" section. Many games had a limited number of lives.Run out of lives and you're not just restarting the level, you're restarting the entire game.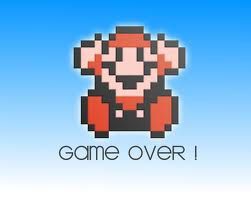 4. ADJUSTABLE DIFFICLTY
Not going to spend much time on this as it is pretty self explanatory. Games used to have just one difficulty level. Hard. Now you can frequently adjust multiple factors to control the challenge. If you really cant get past a part, you have an alternative that wasn't there in the past.
So now the answer becomes a little less clear. There have been many innovations in gaming that make it easier to finish a game. Many of them without changing the difficulty of gameplay. If you control for those, then are games really easier than in the past?
Hard to say, but I'd still go with a yes - though no longer the resounding "yes" I had earlier. I believe there are lots of reasons that developers have to make gaming easier. From shorter attention spans to more competition from other developers, the reasons are many. Gamers are getting older and no longer have unlimited amounts of time to spend on one game. If they find it too hard, they'll likely move on. There are just way too many great games out there, to spend all your time on just one vexing game. Plus, from a creative standpoint, dont developers want you to see what they've made? If you spent all this time making wonderful environments, colorful enemies, etc., wouldn't that be a shame if no one could ever reach them? Well those are my thoughts, and I'm sticking to them for now.