Well i was in a hurry the other day so i didn't really have time to finish what i was going to write on the last blog so i thought i'll do it here.:D Anyway when i was talking about the band i actually found a pic of me and the Drumline in competition.:D
This was taken at our school quad and i am the guy with the biggest bass drum. Just to inform you i have upgraded and am now playing the 2nd bass drum ( The second smallest one):D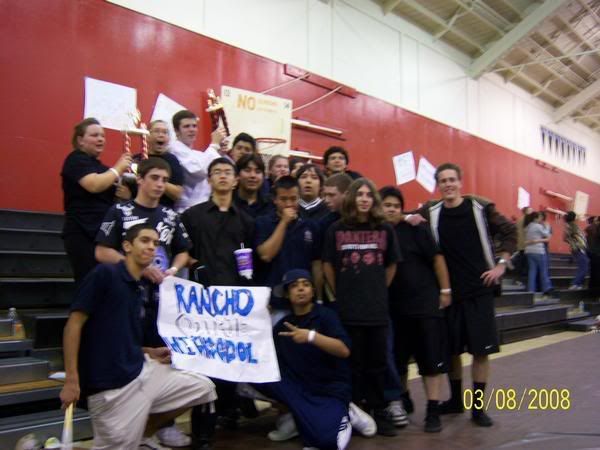 This was us at the vallejo Winterline show and it was our very first year for The Drumline through out our whole school's history of competiting at a Drumline competition. We ended up actually placing in third place novice division.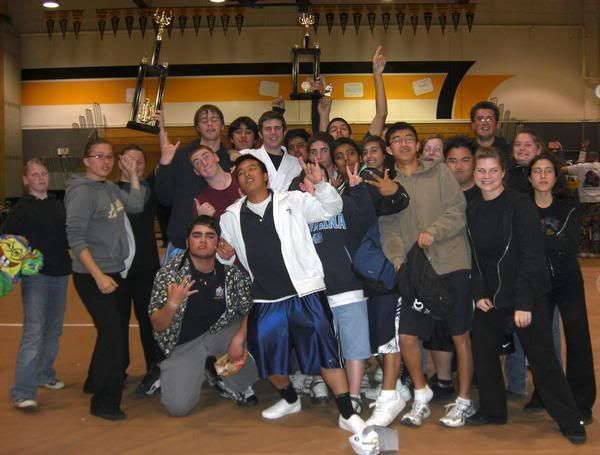 This was Us at the Grenada Winterline show and it was our second competition this year for Drumline. WE were hoping to take home first place in the novice division but we ended up getting suprised by the Judges saying we were so good that they bumped us up to the Advance division and we placed third. I also made a video of youtube of our porformance.Here it is.I dont know how to actually make it show up on the blog as the actual video so just copy and paste the site on your url address and watch it.:D
http://www.youtube.com/watch?v=W2HuQtORfUc
Next year will be great for me. I will be a junior in high school and i will only need two more years till i graduate.:D Also i can now get an off campus school pass and actually leave at lunch to go out to eat. :) MY schedule next year will be PreCal, Chemistry, Drumline, English 11 honors, Yearbook, And AP U.S. History. I'm going to have a very busy school year next year, but i'll find time to mange to get back on here as much as i can.:D
So far my summer has been pretty chill and i am actually spending time with my Friends. Just the other day i went over to my friends house and we just stayed there from 11 am to 5 playing some intense Brawl and some old Nintendo 64games. After that he got out his electric guitar and started playing. He started teaching me how to play too. :) And today i am going to be hanging out with the Drumline and were going to go play some guitar hero 3 and make a video of us and put on youtube. I'm going to be the one editing it.So i'll tell you guys when i actually make it and you can watch it. I'll tell you guys how today will go when i come back.
Also for those of you who didn't know i am not dead and i do exist.:P Well this long has been going on for a while and i dont want to make this extremly long since my blogs are usually short so i just want to thank everyone who is still my friend and hasn't forgotten me. And i will be posting back on unions and being more active in gamespot. :wink: You can't get rid of me that easily.
Ciao!
~Sithlord300~