Hey there ladies and Gent long time no type. How has everyone been with the end of February and the start of March. March is looking like a awesome month for games, got my God of War pre-order already and I know I'll pick up the new MLB The Show just cause I love those games so much.!! !! But hey guys I'm doing really well, Playing LEGO Harry Potter and the Hitman Collection. BUT with those games, In LEGO Harry Potter I'm at the end and I have 1 student missing and 4 Gold Bricks missing which means hunting though Hogwarts again -_- Not fun. Playing Hitman 2 on Professional.......NOT FUN. I don't remember the controls and the game doesn't help with helping you at all. Its been years and years sense I played the old ones makes me remember why the new one is so good. Between all that to keep me sane I play Black Ops 2. I am having a fun time online. I have made it to one gold camo weapon and know I'm working on my shotgun. The thing I like is the emblem maker which I have some fun with with the help of youtube. Here's what I'm using at the moment.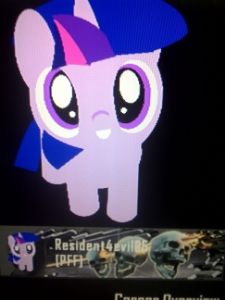 Pretty awesome Filly Twilight :D I want to make more Pony ones. I'm thinking about The Great and Powerful Trixie next and make Apple Bloom cause some others I play with have Sweetie Belle and Scootaloo. The Youtube user who makes them is amazing.
Here is his youtube his got some good anime ones as well
I would really like to get my own Pony Clan going but I doubt that will happen hahaha. OH SHOOT I almost forgot!! Everypony remember about my minecraft project I was working on??? Well she is done and she looks amazing.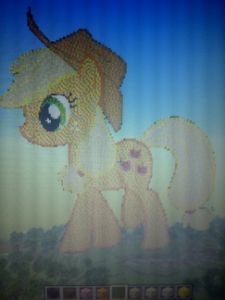 When I get bored I'll work on the rest of the mane 6 and maybe some others as well :P Well I'm off to my backlog watching Maria Holic Alive...Season 1 is still better so far. See Ya Next Time Luckies.
Something for the people at the end. [spoiler]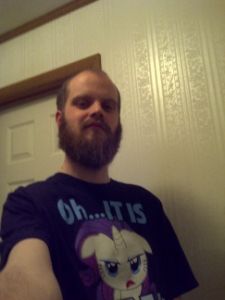 Me in all my glory haha [/spoiler]